In March, Soco Restaurant in Thornton Park kicked off a new series of whiskey paired dinners with spectacular results. The five-course feast, designed and executed by Chef Greg Richie and his team, was exactly what Soco fans have come to expect from this highly-praised downtown eatery, which has so far caught the attention of USA Today and New York Magazine.
Dinner at Soco is top-notch any time (read all about our recent visits here) but these new Whiskey Dinners take the experience to a whole new level thanks to exciting and informative pairings that are sure to surprise and delight.
Throughout the evening, courses are presented by Chef Richie and the cocktails by Michael J. Ring, brand champion for the likes of Jack Daniels, Old Forester and Gentleman's Jack.
Michael shared a wealth of knowledge. As we sipped and munched, he doled out details about each cocktail, historical tidbits about each spirit and gave us all some tutelage in the art of appreciating the notes and flavors that makes each whiskey special.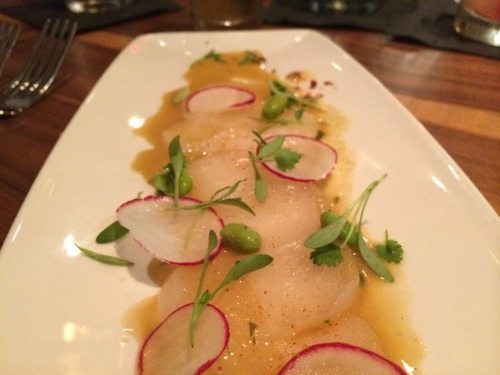 Even guests who aren't regular whiskey drinkers (count me in that group) will find that when carefully poured and mixed by a skilled whiskey aficionado, the paired cocktails exude so much more than simply a boozy slug. All five cocktails (yep, five!) were absolutely delicious. And while we were all given a free pass to not finish each drink, it was difficult to leave anything in the glass.
Of course, the cocktails didn't upstage the cuisine; they were perfect co-stars. In fact, Chef Richie infused many of his dishes with the paired spirit in the course. Such was the case with our first dish, Diver Scallop Crudo, which was drizzled with a whiskey soy dressing and just the right amount of cayenne to give it a little spicy kick.
This was the first of many such dinners to come, the next of which is slated for Tuesday, April 21 at 7pm. Cost is $75 per person including five delectable courses paired with wine!
Soco will also host its first Derby Dinner on May 2 at 7pm.Chef Richie pairing tasty twists on the traditional cocktail with a festive, four-course feast. Seats are limited! Please call 407-849-1800 or email contact@socothorntonpark.com to purchase tickets.