It's time to kick off another Couple at Large giveaway, which will give one lucky couple the chance to experience an unbelievable, unforgettable, all-expense-paid date night. The winner will have just one favor to return: the pair become the Couple at Large and are tasked with reporting back with a short, first-person blog about their experience.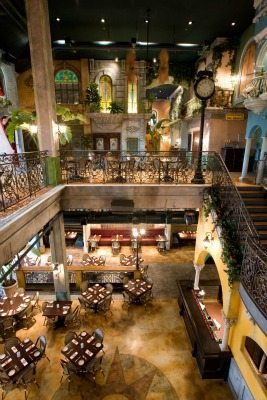 This month, the Couple at Large will experience the best of Cuba Libre Restaurant & Rum Bar, the Cuban-style restaurant and nightclub at Pointe Orlando.
The evening will begin with an 8:30pm reservation inside Cuba Libre's magnificent dining room, a spectacular space designed to transport you to a starlit courtyard in the heart of Havana.
Before the epicurean adventure ensues, the winning couple will sharpen their cocktail skills with a Mojito-making lesson at the bar, where they'll learn from the mixologists who expertly craft Cuba Libre's 10 different styles of Mojitos each day.
Dinner will follow with the 15 Tastes of Cuba menu, a fabulous array of small plates created to give guests the opportunity to experience the best of Cuban cuisine. The couple will each be served 15 different taste-sized dishes including: ceviche, empanadas, Chimichurri marinated grilled skirt steak and desserts
After dinner and dessert, the couple can keep their table reserved for the evening while Cuba Libre transitions into Orlando's hottest Latin nightclub. With a pitcher of sangria for the couple to enjoy all night, they can hit the dance floor where DJs spin tunes beginning at 10am. In addition, Cuba Libre regularly features performances by professional dancers & master percussionists.
Here's what's included in this unforgettable night:
• Mojito class
• 15 Tastes of Cuba dinner for two
• Pitcher of Sangria
• Reserved table
• Valet parking
TO ENTER: Enter using the Rafflecopter widget below and cross your fingers. **Be sure you are viewing this page in a browser (not a reader) in order to see the entry widget.**
You and your sweetie can each enter… double your chances. The winner will be chosen—completely at random—on Friday, April 17, 2015 using the random number generator at Random.org. Watch your email that morning; that's how we'll be contacting the winner. We'll also be announcing the winner on Twitter and Facebook. Official Rules and Terms.
Good luck!