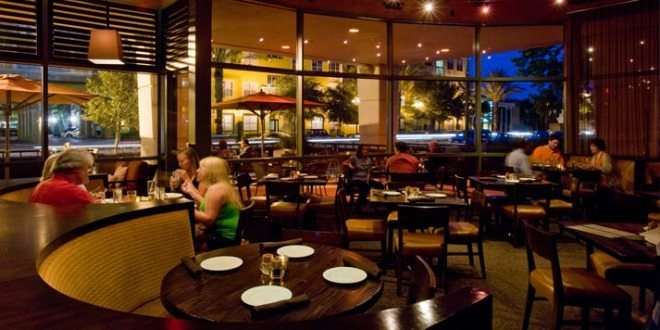 Wander through the "Eats" section of Orlando Date Night Guide and it won't be long before you realize that I love chef's tables. If every dinner out was comprised of a series of small plates, each designed to showcase the chef's current passion and creative flare, I'd be in epicurean heaven. I don't need to see a menu; just start sending out food and I'll be squealing with delight!
Citrus Restaurant, a highly local-focused spot on North Orange Avenue near the new Nora development, offers a chef's dinner experience I haven't stopped raving about.
The brainchild of Chef Lucas Reid, a Florida native, this five-course celebration of food begins with an opening cocktail and amuse. It's also the first opportunity for guests to meet the mixologist and Chef Lucas, who both regularly visit the table to chat about the food and the wine pairings.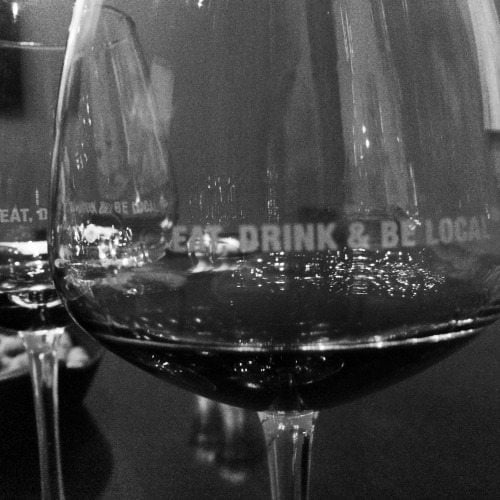 It's also Chef Lucas' chance to talk about the local farms and purveyors he partners with at the restaurant. You'll sip from wine glasses etched with the restaurant's motto, "Eat, Drink & Be Local," throughout the night, but local sourcing is not just a trendy tagline at Citrus; it really is the cornerstone of the kitchen.
During our Chef's Dinner experience, we were served a huge bowl of boiled peanuts with a kick thanks to the local Datil peppers Chef Lucas sneaks in. This dish stayed on the table throughout our feast and served as a delightful snack to occupy us in between courses.
Chef Lucas followed with a local strawberry salad for the amuse and then a lamb carpaccio with hearts of palm. Then we paused to enjoy a cucumber and key lime granita as a palate cleansing intermisso.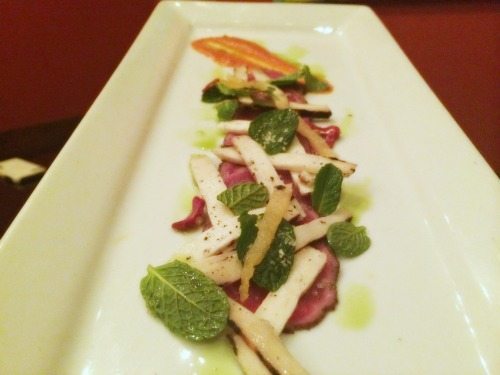 Braised pork cheeks with Anson Mills grits from South Carolina and local turnip greens followed. We soon dove into another delicious intermisso, this time a mountain gold tomato gazpacho with a terrific zing to it.
Toulouse style duck sausage with a white bean puree was next and it's pairing with a Cabernet Sauvignon and Merlot blend was spectacular. The intersection of fatty meat and dry wine was perfection.
Dessert was a wonderful trio of treats that included a sweet and salty peanut butter mousse and a chocolate terrine that married incredibly well with the house-infused orange brandy that arrived as our final course pairing.
We left with very full bellies but also with a deep admiration for Chef Lucas' unwavering commitment to showcasing really tasty local food prepared with an imaginative finesse that made each dish such an exciting journey.
And the price tag: $60 per person INCLUDING starter cocktail and wine pairings. That's seriously awesome value!
Need-to-Know Details
The Chef's Dinner experience at Citrus Restaurants is designed for a minimum of four. At least 48 hours notice is required, especially if you have food aversions or special preferences. The dinner is typically served in a small, private room. Complimentary valet is offered onsite.
Citrus Restaurant
821 North Orange Avenue, Orlando
407-373-0622
www.citrusorlando.com