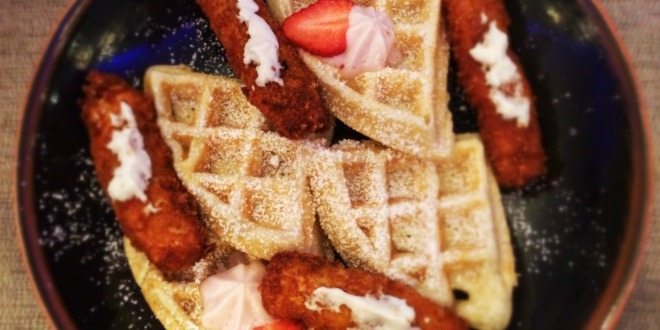 CLOSED
We're launching a new series on Orlando Date Night Guide to give readers the details about all of Orlando's amazing brunches. The series is kicking off with a restaurant you might not think of when you're looking for eggs Benedict and waffles, but we assure you; this restaurant has a stellar brunch offering.
American Gymkhana, the chic Indian restaurant that opened last fall on Sand Lake, launched a brunch menu earlier this year with rave reviews. Served Sundays from 11am to 3:30pm, this brunch is designed as a prix-fixe style feast with a $25 price tag that includes one brunch entrée, one side and two brunch cocktails or mocktails.
The Scene
Inside this second floor space you'll find a huge dining room lit with purple hues and furnished in black and grey. Hunters Lounge, the bar to your left as you enter, is filled with cushy seats and decorated with bygone rifles and pistols. Antler chandeliers, candles, gauzy drapes and an exhibition kitchen on the entire east side of the restaurant round out the restaurant's eye candy.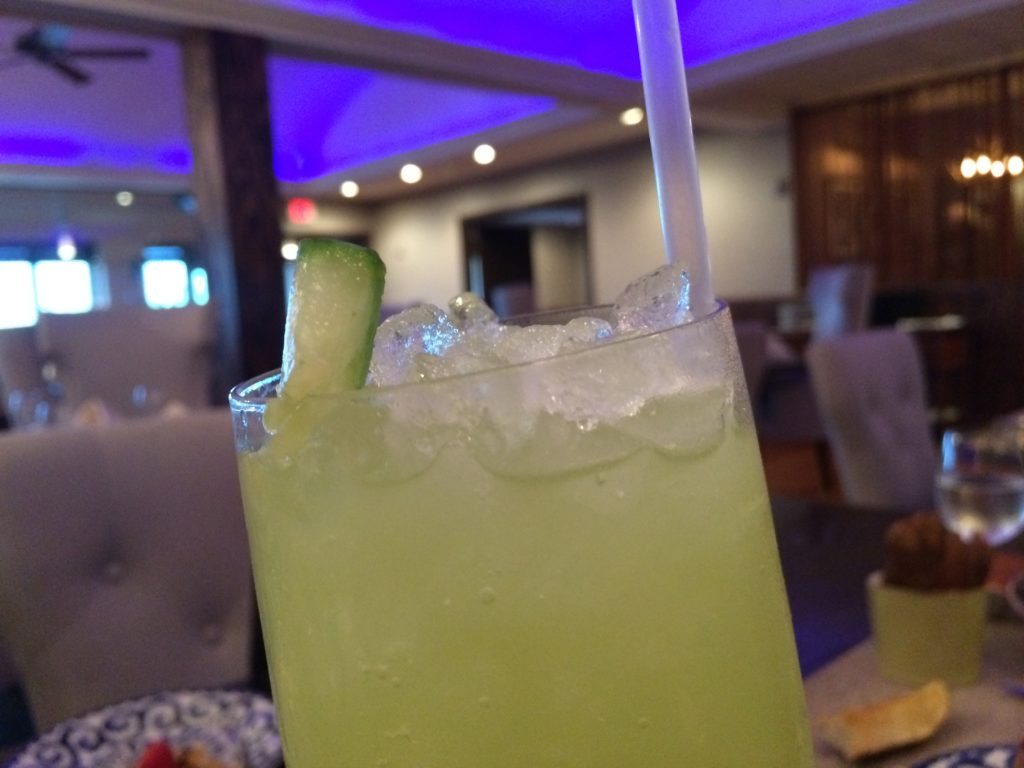 The Food
When it comes to brunch fare, many prefer not to veer too far from traditional egg dishes. Chef Aarthi Sampath clearly knows this. Her menu pays homage to classic American breakfast food but she's masterfully snuck in the flavors of India. The result is comfort food we love but with little kicks and spicy nuances that only serve to make each dish delightfully delicious and special.
On a recent visit, we tried the Lamb & Eggs, a perfectly poached egg set atop slow cooked lamb. The ooze of the yolk and the richness of the lamb paired wonderfully.
We also tried the Juhu Beach Lobster Benny (a $5 upgrade is applied), which was also served with a poached egg but on pao bread (very much like a buttery dinner roll) and dotted with tandoori lobster and roasted corn. What a terrific blend of savory and sweet.
Finally, we tried the Banjara Chicken & Waffles, fluffy buttermilk waffles with several pieces of spicy fried chicken on top. For our sides, we enjoyed the Masala Potato Wedges—huge potato slices with a salty crunch—and Spiced Granola & Berry Parfait, which was served with raspberries and dried apricots.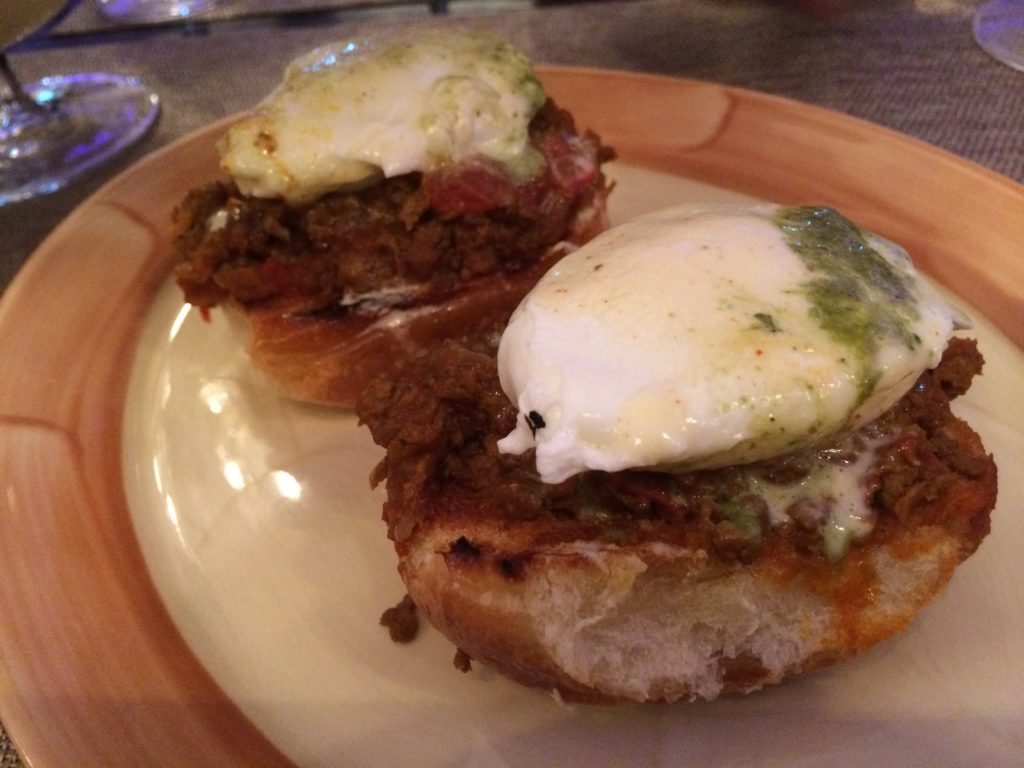 Our sever let us know that the following dishes were also very popular:
French Toast Gymkhana, stuffed with choice of gymkhana chicken or cinnamon- raisin mawa
Gymkhana Club, a twist on the classic sandwich served with sharp English cheddar, mint coriander chutney, spiced potato, red onion and tomato
Overall, we thought the inclusion of Indian spices and little lifts of hot were welcome additions to each dish. The brunch offerings were creative without being too divergent from regular brunch fare.
The Drinks
Clearly the mixologists at American Gymkhana have been given lots of leeway to be creative and adventurous. Dine during dinner and a delightful list of 12 imaginative cocktails will be in your hands. During brunch, that list is a little smaller but we loved how the drinks stayed in the brunch cocktail wheelhouse with an added oomph.
We tried the Peach Ginger Bellini and the Lychee Mimosa… both were delightfully sweet and effervescent. Those looking to skip the booze will appreciate the subtle layering of fruity flavors in the two mocktails offered: the Morning Glory and the Jaswal.
Need-to-Know Details
Brunch: Sundays from 11am to 3:30pm
7559 W Sand Lake Rd.
Orlando, Fl 32819
407-985-2900
americangymkhana.com