By Autumn Sirmeyer
Have you ever wanted to re-enact the scene from the movie Ghost with your special someone? You know, the one where Patrick Swayze and Demi Moore are using the pottery wheel and the romantic sounds of "Unchained Melody" are playing in the background? Well, a date night at Super Awesome Cool Pottery is one step closer to having that fantasy come true!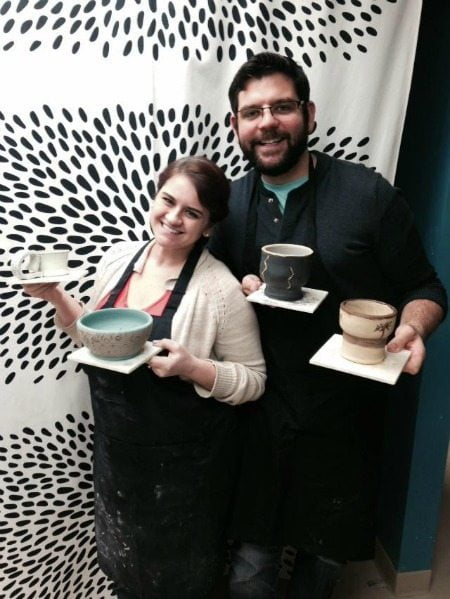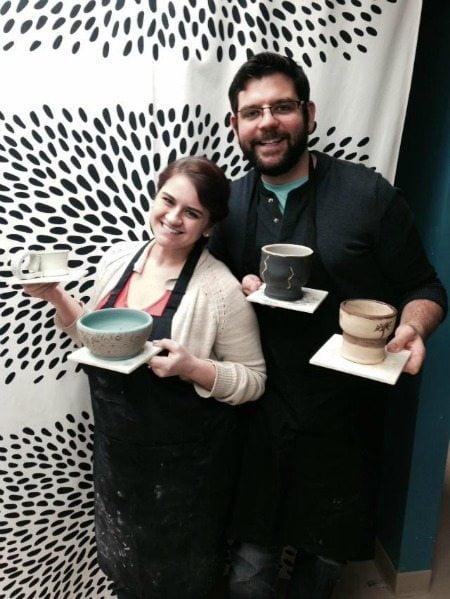 Every Friday night they offer an ADULTS-ONLY date night and a chance for you to learn how to use the pottery wheel. In fact, I can guarantee that you will make at least 2-3 pieces of pottery that night, molded and painted and ready for pick up in two weeks.
Of course, you won't be doing this completely on your own. Pottery wheel is an art that takes years to master. Luckily, you have some pretty talented teachers to help guide you along to create your masterpieces. It was a perfect balance of teaching and learning to make me feel like the creations were totally unique. After working on the pottery wheel you then have a chance to sit down and wait for your pieces to dry out a bit before going to the next step. You're not done yet, but while you wait for them to dry you can pop open your BYO bottle of wine! (Yes, they have bottle openers!)
Once your pottery is dry you can begin the really fun part… painting! Super Cool Awesome Pottery offers all types of colors for you to use to create your art. They also have some examples around the room of various techniques if you feel creatively stuck. Pieces will take two weeks before you can pick them up and then you can display them in your home for all to see.
Date night is every Friday for ages 16+ and reservations are strongly encouraged.
Got kids? Bring them along with you and drop them off downstairs at Applause Dance, which normally has a Friday night program for kids. $12 from 6-9pm… hey, that's cheaper than a sitter and the kids get pizza and get to play games. It's a win/win for everyone. Call Applause Dance ahead of time to verify (407) 858-5299.
Friday Night date starts at $35 (per person) and includes pottery wheel and painting. If pottery wheel sounds too challenging, you can also paint pre-made pottery with prices starting at $12.
Super Awesome Cool Pottery
6100 South Orange Avenue
Pine Castle, FL 32809
407-452-2452
www.superawesomecool.com