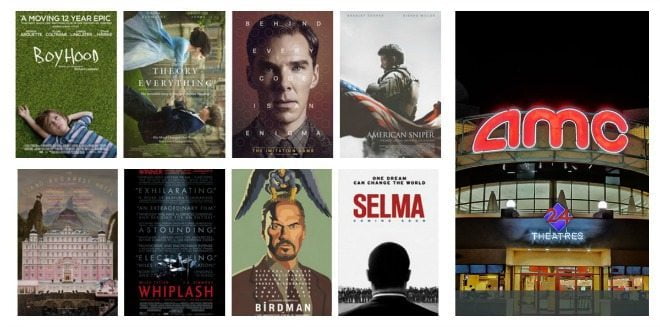 Calling all serious Oscar fans!! If you're the type who loves to watch the Academy Awards each year but loathes the feeling of being clueless about the nominees, here's your chance to become the savviest of silver screen aficionados.
This year, AMC Theatres is presenting the Best Picture Showcase, which will feature all 8 of the nominees in the Best Picture category. This is a fun way to see all the films ahead of the 87th Annual Academy Awards, which will broadcast live on Sunday, February 22 beginning at 7pm EST.
AMC is giving you two options: see all 8 films over two days (Feb 14 and Feb 21) or attend a marathon and see all 8 Best Picture nominees over the same 24-hour period. Details, with the exception of the $65 ticket price, are yet to be announced for the marathon option.
However, lots of details are live for the two-day showcase option.
LOCATION: So far, Orlando's only participating AMC Theatres are the Altamonte Mall 18 and the Downtown Disney 24.
PRICE: Tickets are $30 per event, but that gets you access to all four films shown at each event… so, not such a bad deal. Advance purchase is recommended.
WHEN: The Showcase events will take place on two consecutive Saturdays in February: Feb 14 and Feb 21. You do not need to attend both events to participate.
WHICH THEATER SHOULD YOU CHOOSE? If you're not picky about driving out to Disney, I would go for Downtown Disney option. Why? Because you're going to want to eat some real (non-movie theater) food and Downtown Disney offers several nearby spots, including Wolfgang Puck's, where you can grab a quick bite during each movie's intermission.
For more details, www.amctheatres.com/events/best-picture-showcase.