At minus 5 degrees Celsius, 23 degrees Fahrenheit, minus5° Ice Bar in Orlando gives you the perfect excuse to cuddle with your sweetie (if you need another one) and to turn up the heat in your relationship. Jesse and I recently had the opportunity to check it out, and shared some drinks that warmed our insides. One of the best parts? No need for ice in these drinks–or worries that the drinks will be watered down. The glasses themselves are made of ice, so your beverage stays chilled. (Don't worry, they give you gloves to keep your hands warm and rubber coasters to make sure your drinks don't slip away from you.)
In fact, everything in minus5° except the floor and ceiling is made entirely of ice. The walls, the chairs you sit on, and even the lights above your head. There are beautiful ice sculptures–from large chandeliers, snowmen, penguins, and even a frozen wave and surfboard where you and your partner can hang 10. The staff changes out the sculptures every few months. Located in Pointe Orlando on International Drive, this chill watering hole (ice hole?) even has a permanent ice luge at the bar, for nights when you went to get a little crazier. They even have arctic-themed cocktails, but when the bartender offered to make us his secret speciality drink, we opted for that and did not regret it.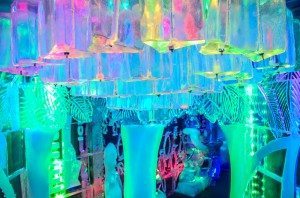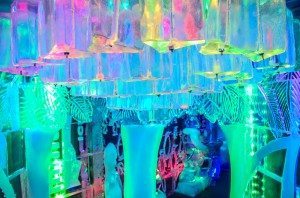 It's $14 just to get in, and that includes a parka and gloves to keep you warm. For $34 per person, you can add two drinks. There are also the VIP options, starting at $55 a person, where you can upgrade to faux fur coats in your choice of white or black.
You're not allowed to take your phone in with you, which at first made me a little a nervous, until I embraced the opportunity to disconnect and focus on each other during date night. For those of you like me who like to capture every moment on camera, there is a professional photographer on hand to memorialize your best frozen tundra look. If you're into it, the kissing booth, complete with a smooching fish ice sculpture in the background, is one option for your date night photo opp. Printed photos start at $20.
With an LED light show and upbeat music, it's a great place to dance. Or just chill.