Florida isn't the first place that comes to mind when I think of zip lining. That probably has something to do with our lack of mountains—or, well, elevation. We are, afterall, the flattest state in the union, reaching only 345 feet at our highest point.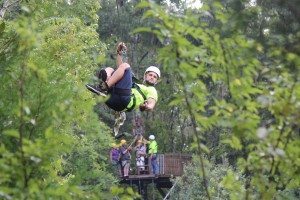 I was shocked, and more than a little intrigued, then, when I first saw photos from the Canyons Zip Lining & Canopy Tours, located in Ocala/Marion County. The images looked like they could pass for another state entirely. That's thanks in large part to the limestone quarries, which do look something like canyons, with rocky cliffs, wide turquoise-colored lakes, and towering trees.
When we arrived at Canyons early one Saturday morning, our two tour guides, Clay and Tony, suited us up and told us about the quarries, which have been largely untouched since the miners left in the 1930s. Or, as Clay informed us, the 95-acres have "been nothing but nature and rednecks" ever since.
We ended up doing the Canyons express tour ($59 per person), which includes five zip lines and one rope bridge and lasts about an hour and a half. Admittedly, we were both nervous. Neither one of us is particularly fond of heights, but Clay and Tony were fantastic. They explained where to put your hands (and where not to), how to break, and took Jesse and I and the four other members on our tour through a training course before we even went up into the canopy. Once we proved we could follow instructions and not injure ourselves (or them), they took us to our first line, the shortest of the course.
I thought the course was a lot of fun—feeling the wind against your skin as you zipped from oak to oak, past cliffs, and over lakes. It was an ecotour of natural Florida by way of zip line. And after the first couple of lines, I felt like a natural, ready to try even higher and longer courses, which they offer.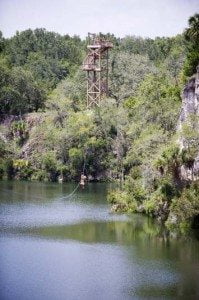 There's a full zip and canopy tour ($96 per person), which includes nine zip lines, two rope bridges, and a rappel, and lasts about three hours. A super zip ($30 per person), which is one zip line that's 1,600 feet long, for people who are in more of a hurry—or want to zip a la Superman (that's right, you're face down for this ride).
On nights when there's a full moon, they offer night tours ($79 per person), which is the express tour but with only the light of the moon to guide you. And for those of you who prefer your feet a little closer to the ground, they also offer horseback riding ($60 per person) through the 95-acres of private property—it is horse country, after all.
Canyons Zip Line & Canopy Tours is open daily and located at 8045 NW Gainesville Road, approximately one mile off Interstate 75, exit 358, in Ocala. For more information, visit zipthecanyons.com.