(updated 2015 menu below)
It's hard to believe that in the 11 years since Seasons 52 opened, the restaurant chain has never offered a happy hour. They skated along its edge last year when they unveiled the Flights and Flatbreads promo, which is still running, by the way. You can read more about that here.
But perhaps the success of that initiative is what prompted executives to venture into happy hour waters. Regardless of their motives, the results are outstanding. In fact, the new Sunset at Seasons 52 is the best happy hour offering I have experienced this year.
Seven small plates, each priced at $5 each, make up the happy hour menu, which includes: Caramelized Sea Scallops, Grilled Chicken Yakitori Skewers, Citrus-Grilled Shrimp, Sonoma Goat Cheese Torte, Kona-Crusted Lollipop Lamb Chops, Heirloom Tomato Crostini, and Roasted Almonds with Rosemary and Garlic.
I tried them all during a recent visit and was blown away by the food quality, delicious flavors and the epicurean finesse used to create these robust dishes.
Along with the savory fare, the Sunset at Seasons happy hour menu also features eight wines priced at $6/glass, $4 beers, $6 cocktails, and $8 specialty cocktails. I sampled both the Cucumber Basil Smash and the Prairie Mule… and loved them both.
Here is an updated (2015) menu: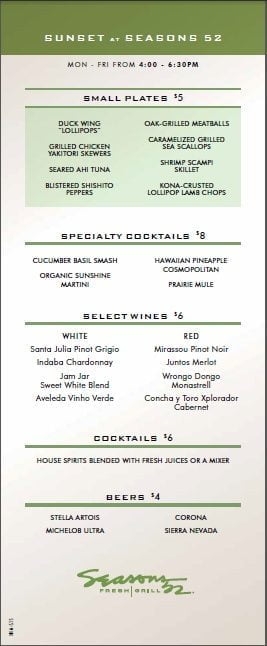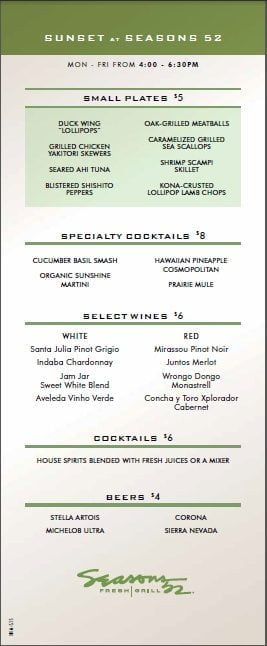 Sunset at Seasons Happy Hour is offered Monday to Friday from 4pm – 6:30pm.
Want more happy hour info? Check out our Guide to Orlando Happy Hours.
Here are some pics to whet your appetite: