If you want to share a daredevil experience with your sweetie, iFly Indoor Skydiving is the date night for you. Specializing in simulating the weightless sensation of skydiving without you having to jump out of a plane, this gravity-defying thrill is unlike any other attraction in Orlando and is sure to WOW you both.
No prior skydiving experience is necessary to have fun at iFLY Orlando and anyone can fly, including those with physical disabilities. There are only a few exceptions—a recent dislocated shoulder or neck injury will have you grounded. If you're susceptible to motion sickness, you might want to sit this one out as well.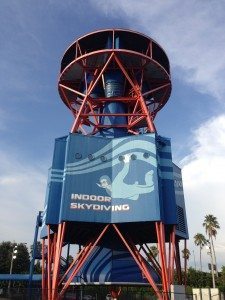 Nevertheless, if you're a thrill seekers at heart, a reservation online or in person will set you up for your flight time. While you're waiting to get your crash course in skydive basics, you get to watch from the observation room as people before you take their dives, which can be hilariously hypnotizing.
iFLY Orlando uses a 1,000 hp vertical wind tunnel to create the cushion of air on which you float. It's loud and powerful so you have to wear the supplied helmet, safety goggles, earplugs and jumpsuit for your safety. 
The introductory couples package gives you and your date two jumps each, during which you get to fly with minimal assistance from your instructor. You can even add high flight to your package for an additional fee where you and your instructor shoot up to the top of the tunnel during your second flight. When you're back on solid ground again, you get a DVD of your flight session and a personalized flight certificate showcasing what you learned and performed. You can even purchase individual printed photos of your experience or a flash drive of image files.
Located just a block from International Drive, iFly's close proximity to several restaurants and bars means you can easily toast your bravery. 
Orlando's iFly Indoor Skydiving is located at 6805 Visitors Circle, Orlando, FL, and offers the Spread Your Wings for Two package for $129.95, which can be reserved for morning, afternoon, or evening flight times. Learn more by visiting orlando.iflyworld.com