When thinking of a great date night dinner experience, you might not immediately turn to a local coffee bar. But when offered the opportunity to try out the locally sourced, fresh, farm-to-table menu at Barnies CoffeeKitchen on Park Ave. (118 S. Park Ave., Winter Park), hubs and I jumped at the opportunity.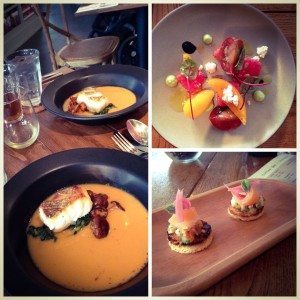 We arrived at 6pm on Saturday evening, just as Park Avenue was starting to bustle, and we were greeted by a friendly and courteous staff who immediately sat us and welcomed us to the coffee shop turned restaurant. With just a handful of tables set inside and outside, the atmosphere is relaxed and comfy.
Taking a quick glance at the menu, we were excited to try a variety of items. When Chef Camilo Velasco stopped by our table to say hello, we could tell he had a true passion for food and we knew we would be in for a great evening.
Our first course was a beautiful salad comprised of local watermelon and tomatoes, dressed with feta cheese and a drizzle of balsamic and avocado oil. The flavors complemented each other in a very fresh and flavorful way and the Chardonnay we  paired with the salad enhanced the sweetness of the melon perfectly.
Next we were treated with a surprisingly delicious cauliflower dish. Pureed to perfection and topped with roasted cauliflower on top, this turned out to be a favorite. It is a must have dish!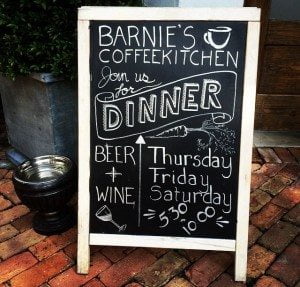 Our entrée was a pan-seared Florida grouper over a bed of sautéed spinach and in a roasted red pepper broth. So yummy!
Finally, we finished our evening with a dessert trio sampling, consisting of a chocolate pudding, coconut sorbet, and of course, a macchiato coffee, a Barnies favorite.
If you're interested in trying this unique experience on Park Ave., a few things to note: Dinner is only served Thursday, Friday and Saturday, so plan your date night accordingly. You can check out the menu here.
They do offer breakfast and lunch daily with a brunch on Sundays too. Prices are reasonable, between $10-$16 a plate, so come hungry and willing to try and share a few dishes! Oh, and Barnies has way more than coffee. It offers lots of wines by the glass as well as a wide selection of craft beers to enjoy with your feast.
The outside dining is beautiful, so if weather permits, grab a table outside. Enjoy!