I know there was a time when I didn't like beer, but that time is long past. I love a good IPA and find a thrill in trying new brews, so when I heard that Napa restaurant at the Hyatt Regency Orlando was partnering with Unibroue (pronounced uni-brew not unibrow) to offer a craft beer pairing ($70 per person), I was all over it.
On the first Friday of most months, the Hyatt features a wine or beer pairing dinner open to anyone with a sense of epicurean adventure. See the 2014 calendar here.
The four-course meal and pairing was a foodie's dream, and the serving sizes were perfect—enough to get a sense of each beer without filling up on it. A representative from Unibroue was on hand to talk about each of the five beers and to give tips on how to fully appreciate the tasting experience. His tips?
Start by taking in the aroma of the beer several times to appreciate the subtleties of its bouquets. Then, take a sip and let the beer move through your mouth to appreciate the texture (effervescence, temperature, fullness) and to let it connect with all parts of your tongue that are sensitive to various flavors. As you taste, exhale through your nose, and allow the warm odorant molecules to connect to your olfactory receptors and enhance your appreciation of the various flavors.
That's how the night's beer adventure began, starting with a reception to meet all the guests—you sit at long banquet-style tables, which offers a great way to meet new people. During the reception, we were served Ephemere, an apple wheat ale that's slightly sweet and tart, paired with a baked Wianno oyster with chorizo creamed spinach and crispy pecorino.
After a brief introduction from the chef, the courses began with one of my personal favorites: La Fin du Monde, a triple golden ale with a delicious chorus of fruit, spice, and hop notes. It was paired with one of the best salads either of us had encountered, a grilled farmers vegetable salad with Serrano ham, coconut carrot sauce, and Meyer lemon oil. My fiancé didn't say much during this dish other than "Oh my god."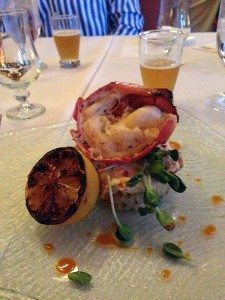 For the second course, we had Don de Dieu, a triple wheat ale that has a fruity, malted flavor, paired with Maine lobster tail atop a spicy blue crab, crispy tarragon, and potato salad with charred ramp butter. It went so well together, and left me and a few others at the table asking for the recipe. While most people wouldn't pass on this dish, my fiancée isn't a fan of seafood. When the staff noticed he wasn't eating it, they asked him if something was wrong and promptly brought him another option: a beet salad that he devoured and that still paired well with the ale.
We then moved on to the third course, which paired Terrible, a quadruple that is a dark ale with rich fruit and spice aromas with wine notes, with a trio from the grill: wagyu flank steak with spicy BBQ sauce over sweet corn salsa; lamb sausage with a goat cheese fritter over roasted pepper coulis; and braised beef cheek with smoky beans. The braised beef cheek was so tender that it easily fell apart at the touch of the fork, and the lamb sausage was some of the best I've ever had. But it was the goat cheese fritters that had everyone talking. They were scrumptious with the roast pepper coulis.
We weren't sure if we would even have room for dessert but we found it. Trois Pistoles—a Belgian-style strong dark ale that has notes of ripe fruit, prunes, and lightly roasted grains—was paired with warm bittersweet chocolate beignets with fresh peach compote.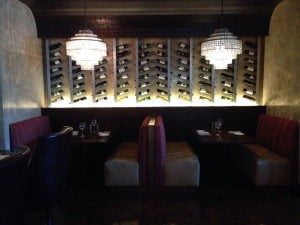 At the end of the night, they gave us each a memento glass and a book of Unibroue recipes—I'm looking forward to trying the Ephemere Cherry Mojito:
6 oz Ephemere Cherry
¾ oz cane syrup
½ oz fresh lime juice
1 handful fresh mint leaves
Though that was the craft beer pairing of the year, be sure to check out the upcoming wine pairings:
August 1: Merryvale/Starmont Wines ($80 per person)
Reception – Starmont Sauvignon Blanc paired with yellow beets in crème fraiche with green apple and fennel on a crunchy whole grain crostini
First – Starmont Chardonnay paired with crispy duck breast with kale, white asparagus, pecorino, pistachios, and grilled apricots
Second – Merryvale Pinot Noir with goat cheese agnolotti with butternut squash, toasted hazelnuts, and tat soi
Third – Merryvale Cabernet Sauvignon with dry rubbed smoked veal breast, rice beans, and escarole in a rich tomato broth
Fourth – Merryvale Antigua Muscat paired with a roasted hazelnut torte with praline cream and sautéed apricots
October 3: Silver Oak Wines
November 7: Freemark Abbey Wines
December 5: Schramsberg Sparkling Wines
Be sure to register soon. Reservations can be made over the phone (407-345-4570) or by email (orlando.regency.dining@hyatt.com), and more information is available at orlando.regency.hyatt.com.