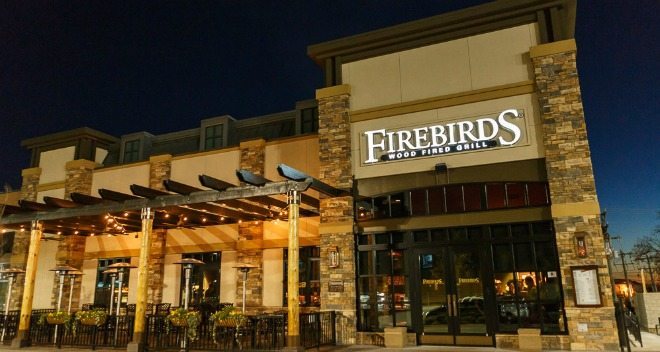 The Mills 50 District just keeps getting better. On that small strip of space on Mills Avenue between Princeton and Colonial, there are great restaurants like Pho 88, Tako Cheena, and Hawkers, and some of the best local watering holes like Quantum Leap Winery and Lil Indies. And on Monday, July 21, it gets even better: Firebirds wood-fired grill and bar, located near Fresh Market, opens its doors to the public.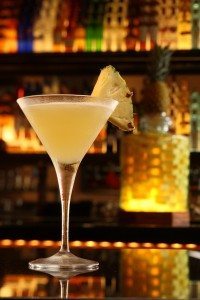 We had the opportunity to check it out before it officially opens to the public, and were pretty impressed with the selections, the ambience, and the service. We arrived a little early and had the chance to check out the bar, which features a waterfall of bottles stunningly lit and meticulously arranged. They offer seasonal craft cocktails and martinis for $10. Their showstopper and signature martini, however, is the Double Black Diamond (also $10), which features Svedka All Natural Citron Vodka that is infused with fresh pineapple for at least 21 days. You can see the infusing happening right at the bar in a giant pineapple-shaped glass jug that's filled with vodka and layers of pineapple rings and lit up to show off all that yellow grandeur. And that's all that's in the drink—the bartender has only to pour, shake, and serve.
There's also a rather extensive wine selection, showcased along two walls in the dining room and behind the hostess station, and they offer four wines on tap at the bar and Wine Down Mondays (half-off full glasses of wine and select bottles).
The 7,450-square-foot restaurant features an exhibition kitchen and an indoor stone fireplace. I tried the New York Strip ($29) with spiced pecan green beans ($5.50). The steak was perfectly cooked, crispy on the outside and tender on the outside. It's how I always hope my steak turns out on my grill, but only sometimes does. And while the steak was delicious, it was those green beans that I won't soon forget. Green beans are green beans, right? Wrong. I can't say I've ever been this excited about them before. They were perfectly cooked and the spiced pecans took up the flavor notch, bringing a sweet and savory touch.
Our waitress also highly recommended the Cilantro-Grilled Chicken Breast with smoked tomato jack cheese sauce and parmesan mashed potatoes and the wood grilled salmon, served with parmesan mashed potatoes and fresh vegetables.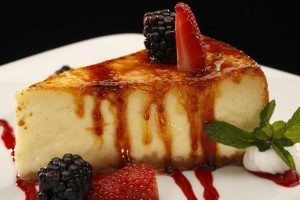 For dessert, try their signature Crème Brûlée Cheesecake ($7.50). It pairs the best part of crème brûlée—the caramelized topping that you have to crack with your spoon—with the creaminess of cheesecake. All of their desserts are priced the same and come with two spoons, perfect for sharing.
Firebirds is open Monday – Thursday from 11 a.m. until 10 p.m. and Friday – Saturday from 11 a.m. – 11 p.m. Half-priced appetizers and drink specials from the bar are served from 4 – 6:30 p.m. Monday – Friday at both the bar and outdoor patio.