The next PechaKucha Night in Orlando is slated for Friday, June 13 at 7pm. If you've never been, the night can be summed up as simply a series of speakers, from all walks of life, who are each given 6 minutes and 40 seconds to share a topic of interest to them.
8 to 9 speakers present, for what takes about 75 minutes, and the whole evening is bookended by a happy hour with beer and food truck fare available for purchase.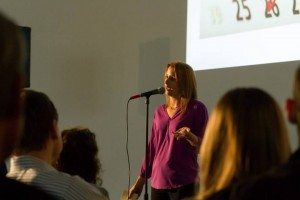 Having been a presenter before, I can tell you that presenters spend hours and hours perfecting their talk and the result is an eclectic array of topics presented in a very polished but authentic way. Here's a link to my February 2014 talk.
Here are the PechaKucha Orlando v13 presenters:
Sunshine J. Baker – Walking Through Conflict
Jacob Crawford – Kindred
Rob Cowie – West of West
Derek Demeter – Your Universe in 400 Seconds
Kelli Hastings – Letting Go
Joe Montisano – What Your Mama Never Told You About the Zoo!
Diana Portillo – The Power of Participation
Dave Russell – My Talk is Full of Crap
Rob Sloan – Man is Eminently a Storyteller
Tickets are $10 in advance and will likely SELL OUT about 10 days prior to the event. Click here to buy tickets.
PechaKucha v13
Friday, June 13
7-10pm
The Orange Studio
1121 N Mills Ave
Orlando FL 32803
** Entrance to The Orange Studio is at the rear of the building. Parking instructions will be posted on Facebook prior to the event.
For more information, visit the Facebook event page.
(Image credit: Davina Hovanec)