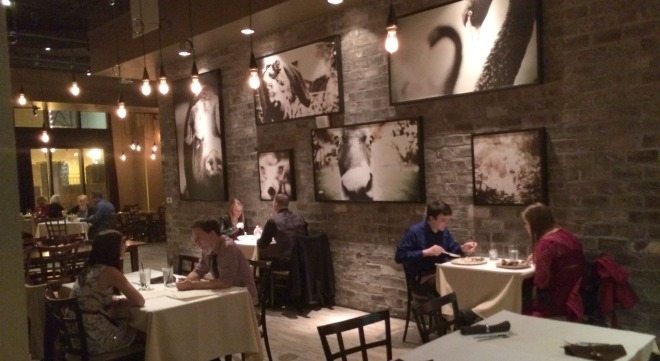 It's going to take some time for Church Street to return to the glory it achieved in the 80s when places like the Cheyenne Saloon drew millions of visitors and made it the fourth-largest tourist attraction in the state. The last decade has seen its share of openings and closings, along with some controversial development deals that put the district in the papers for all the wrong reasons.
But the dust has settled in recent years and even though new restaurants and bars still don't quite have the odds in their favor (R.I.P. Eternal Tap) there is one restaurant that seems to weather the storms: The Rusty Spoon.  With James Beard nominee Chef Kathleen Blake at the culinary helm, this farm chic restaurant at the foot of 55 West is one of just a handful of Orlando restaurants throwing around phrases like "local" and "farm-to-table" with a menu to actually back them up. It's not an extensive menu but quality will always trump quantity in my books.
THE SCENE
Muted wood floors and bricked walls with close-up animal photos anchor the minimalist décor in the large open dining room where diners cozy into a few dozen white-clothed tables and booths. There is also an expansive bar ideal for noshing apps and watching bartenders artfully rally bitters and small batch liquor into their signature craft cocktails.
THE DRINKS
Bartenders at Rusty are known for their inventive craft cocktail menu, which boasts about 7 eclectic concoctions, including The Kentucky Red, a marriage of Makers Mark, ginger syrup, averna, orange bitters and fresh lemon. Flavors are bold and the alcohol content is more than ample, as you'll soon feel after a few sips. If you're a lightweight like me or just not up for a liquid adventure, stick to the wine or beer list.
THE STANDOUTS
Definitely get the Haystack, a pile of shoestring potatoes accompanied by three sauces, including the house ketchup. The "55" burger, made with 1/2 lb of grass-fed beef and stuffed with bacon and gruyere, is a local legend and definitely a great choice for lunch or dinner. You can't go wrong with the Seasonal Crisp dessert, a warm bed of seasonal fruit topped with a sweet oatmeal and brown sugar crust and served with ice cream.
THE FOOD
Rusty Spoon's menu changes often based on what's seasonal and available locally, but what's constant for entrees is there is always a game, meat, fish and vegetarian offering. Don't be afraid to ask your server what they love; you'll get a highly informed and passionate recommendation that demonstrates the staffs' genuine love of the fare. That speaks volumes to me.
THE PRICE TAG
I thought the prices at Rusty Spoon were really reasonable considering the quality of the ingredients and the ample portions. Our bill with two salads, two entrees, two drinks and a dessert to share came to $100.
THE BEST TABLE
I'm particular to booths so if given the choice, I would snag one of the three little cozy coves that line the dining room's south wall. On a recent visit, Marc and I sat a the deuce tucked into a window side alcove and felt quite secluded. Of course, the bar is a great option too, especially if you like to chat up the bartenders about the food and the cocktails.
NEED-TO-KNOW DETAILS
To park, you can either valet after 6pm in front of Kres for $6 or park in the Garland lot for about the same amount. It's a very short walk to Rusty Spoon from either of these spots. Know that SAK Comedy Lab, Mad Cow Theater, and the Plaza Cinema Café are all within a very short stroll from this restaurant, which makes it a great beginning to a fun night out in downtown Orlando.
INFO
The Rusty Spoon
55 W Church St
Orlando, FL 32801
(407) 401-8811
www.therustyspoon.com