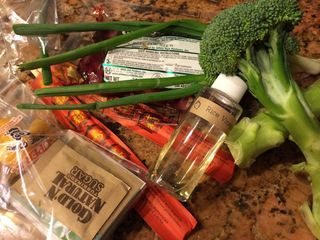 I'm always looking for fun ways to jazz up at-home date nights because, let's face it, sometimes getting a sitter and spending all sorts of money to go out just isn't in the cards.
After I blogged about dinner delivery kits by Blue Apron and Hello Fresh, the folks behind PeachDish reached out to see if I would test-drive their product. They sent me a box and I was impressed.
PeachDish does the home dinner delivery thing a little differently. Yes, you still get all the (mostly organic) ingredients for a dinner for two, much of it already pre-measured, but in this company's case the menus are not a surprise; they are posted on the website and emailed out a few days before the order deadline.
While I sort of like the surprise element that Blue Apron and Hello Fresh deliver, I know that pickier eaters will appreciate the choice that PeachDish provides.

For instance, this week's menu is Homemade Pita Chips with Herb Goat Cheese Lemon-Dill Chicken and Orzo Soup PLUS Kale Salad with Pecans and Kumquats Pecan-Crusted Mahi-Mahi Potato and Turnip Mash with Horseradish.
If that sound enticing, you just order by midnight on Monday and the box complete with everything you need to whip up two gourmet feasts arrives on your doorstep on Thursday.
Cost is $50/week (that's $25 per meal) and there is no minimum obligation. You can cancel any time.
It's good price for a turnkey date night ideal for couples who love to cook together. And as an added bonus, if you love the recipe you make you can add it to your regular repertoire of dinners.
For more details visit www.peachdish.com.