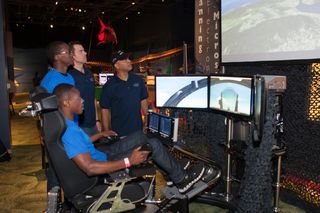 Otronicon returns to Orlando Science Center this weekend  (Jan 17-20) and for the ninth consecutive year will celebrate the role interactive technology has in the way we live, learn, work and play.
This interactive event, ideal for video game, interactive technology and virtual reality enthusiasts, partners with Microsoft, Sony, Walt Disney World Resort, EA SPORTS, Lockheed Martin and the University of Central Florida to demonstrate Orlando's impact on the world of entertainment, simulation, education, training, health care and more.
While the event is very family-friendly, OSC has planned adult-centric activities on Friday and Saturday evenings including a "nerdy burlesque" show by Skill Focus, a cash bar provided by Tuxedo Catering and geek trivia courtesy of The Cloak and Blaster. Live music with the band A Brilliant Lie will excite audiences on Saturday night only.
And for the price of admission, guests can see a Hollywood movie in the Digital Adventure Theater: A National Geographic Experience including "Wreck-It Ralph 3D" or "Pacific Rim 3D." Guests can also get the first look at the newest traveling exhibit, "Zoom Into Nano": a hands-on, interactive exhibition that focuses on how scientists make things that are too small to see.
Admission to Otronicon is $19 for adults and $13 for youth (ages 3-11). Tickets also include access to the new traveling exhibit "Zoom Into Nano," giant screen and 3-D educational films, one Hollywood feature-length film, and live programming. Science Center members can experience Otronicon for free.
Otronicon is open 10 a.m. to 10 p.m. Friday, Jan. 17 and Saturday, Jan. 18; and 10 a.m. to 6 p.m. Sunday, Jan. 19 and Monday, Jan. 20.
For more information, please call 407-514-2000 or visit http://www.otronicon.org/.