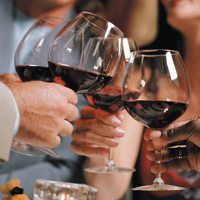 Every Friday from now through August
31st, Flemings Prime Steakhouse & Wine Bar in Winter Park
is featuring a Summer Nights "Wine & Cocktails" event ideal
for date night.
Scheduled from 5:30pm – 7pm, this
culinary shindig gives guests the chance to try a sampling of 3 cocktails
and 3 wines paired with tastings of 3 hors d' ouevres.
Cost is $25 per guest (not including tax
& gratuity) or $20 per guest with a dinner reservation (not including tax
& gratuity).
In case you're wondering, the nightly
happy hour dubbed "5 For $6 'Til 7" is still offered and includes a bar menu
featuring 5 appetizers, 5 premium cocktails and 5 distinctive wines by the
glass, each priced at $6 and served nightly until 7 pm.