I have to admit that I really didn't know what to expect when Marc and I made plans to check out Marlow's Tavern, the newest restaurant to descend on Winter Park's dining scene. I could only wonder how a tavern concept, a chain out of Atlanta no less, could possibly find a place among WP staples likes The Ravenous Pig and Prato.
Will "chef-inspired American tavern fare" work in a town already filled with culinary stars? As we walked through the door at 6pm on a recent Saturday night, the wait-listed crowd spilling out of the dining room and into a busting bar of high tops was the first clue that yes, Marlow's is going to work. In fact, it's going to thrive in Winter Park.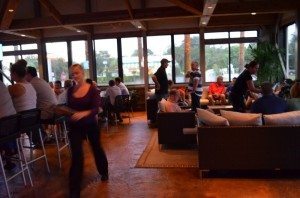 THE SCENE
If the word "tavern" has you thinking about dark and dusty English pubs that constantly smell like old beer, scrap that mental picture and imagine instead brick walls, plush booths, amber-hued lighting, and a bright exhibition kitchen where chefs make everything from scratch. There are several televisions perched throughout the restaurant, which could be a good or bad thing.
THE FOOD
Open daily at 11:30am, Marlow's serves lunch, happy hour, and dinner from a menu filled with everything from burgers and fish tacos to brick chicken and shrimp & grits. Thank to a handful of inventive and healthy choices (such as the Pan Seared Ruby Trout served on a bed of quinoa fried rice) the cuisine is a definite step up from pub grub but not so much so that it's unappealing or unapproachable for people who just want a solid comfort meal.
THE DRINKS
Besides local beer and dozens of wines by the glass, Marlow's offers a menu of 10 "craft" cocktails worthy of attention. I favored the Grapefruit Ricky (Smirnoff Vodka, grapefruit juice, lime juice, St. Germaine and fresh grapefruit) as well as the Royal Squared (Square One Basil, Royal Rose rose syrup, fresh lemon, simple syrup, smack of mint and Prosecco).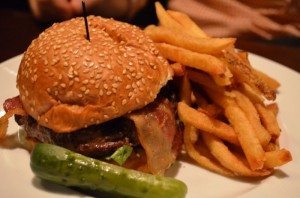 THE STANDOUTS
The Ahi Tuna Poke appetizer, which was drizzled with a sweet Hawaiian-style sauce and topped with fresh avocado and scallion, was a light beginning to our meal. While far from healthy far, Marc's Black and Blue Burger came slathered in Gorgonzola cheese and Applewood smoked bacon and was well worth the gastronomic guilt trip.
THE LITTLE EXTRAS
My favorite part of Marlow's is its expansive lounge area just beyond the bar. While the windows were closed on this warm summer night, the lofty ceilings and the abundance of natural light pouring through the countless windows made us feel like we were sitting on an outdoor patio… minus the unbearable heat and humidity. After dinner we settled into the lounge's cozy couches to sip another craft cocktail and to listen to the extraordinarily talented acoustic musician playing in the corner.
THE BEST TABLE
Most of Marlow's is booth-style seating, which, in my opinion, is ideal for date night. Booths make us feel like we have our own private space and they are so much roomier than the typical table for two. That being said, if you can't score a booth, don't hesitate to snag a table in the lounge where there might be a live music playing. FYI: Marlow's is pretty packed on weekends and they don't take reservations.
THE PRICE TAG
2 appetizers, 2 entrees and a shared dessert will set you back about $60.
Marlow's Tavern
1008 S. Orlando Avenue (17-92)
Winter Park, FL 32789
(407) 960-3670
www.marlowstavern.com
NEED-TO-KNOW DETAILS
– Seating is first-come, first-serve. No reservations.
– Marlow's features live entertainment Thursday through Saturday each week beginning at 7pm.
– There's now a Sunday Brunch served from 11:30am to 3pm.
Sign up for Marlow's Insiders Club if you want to get discounts on food and beverage via a regular email newsletter. It's free to join.