By Kirsten Maher
** Several times a year, the Orlando Date Night Guide sends a different couple on an awesome date night. This Couple at Large then shares their experience on the blog. For May, we sent Kirsten and her date to Velvet Sessions. Here's what she had to say about the experience:
On the last Thursday of each month (typically) the Velvet Bar at the Hard Rock Hotel at Universal Orlando opens its doors to hundreds of local music fans for Velvet Sessions, an event that has become something of an institution having hosted scores of chart topping 70s and 80s, 90s bands.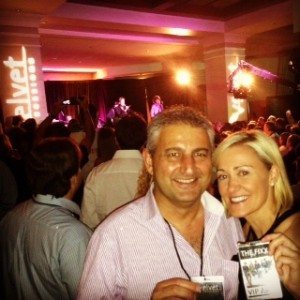 The live performance we attended was for The Fixx, an English new wave band best known for hits "Red Skies at Night!", "One Thing Leads to Another." Perfect for an 80's girl like me!
For your reference, tickets are $29 online, $35 at the door and include specialty drinks and finger foods from 6:30 pm until show time, live music and cash bars from show time onward, and valet parking. After the show, guests can hang out in Velvet Bar, where a DJ plays until 1am.
DATE NIGHT TIP: The VIP tickets are an extraordinary deal. Priced at $50 (online only), this package includes access to a special viewing area with private bar and specialty drinks all night. Definitely worth the upgrade!
Dinner at The Kitchen
Upon entering the hotel, we were surrounded by the legendary costumes, instruments and rock 'n' roll memorabilia that the Hard Rock bars and hotels are famous for in their 'rock star chic' venues. We walked through the bedazzled lobby to begin our date at The Kitchen, which offers comfort foods like chicken pot pie, flat breads,
burgers and, if you are really in the mood, a fabulous filet! This was my date's choice and he was not disappointed. The meat was cooked to perfection and served on a bed of spinach, potato puree, port-glazed mushroom. To die for!
For myself, I chose a delicious appetizer of fire roasted mussels, cooked in a Pernod almond lemon garlic butter sauce. Very yummy! My main course, pan seared grouper accompanied by corn and leek cream, was incredible. One word of caution: be careful not to fill yourself up with the homemade soft pretzels and baked cornbread as they are extremely addictive!
My date and I were very impressed with The Kitchen's eclectic decor and the service was fantastic.
The Show
For every Velvet Sessions event, the main lobby of the hotel is transformed into a cool concert venue. We really felt like celebrities with our VIP tickets, which granted us access to an exclusive VIP entrance, great seats, and complimentary specialty drinks all night. Before the headliner takes the stage, small bars featuring drink specials are dotted throughout the venue where you can grab the drink specials included in the Velvet Sessions ticket price until show time.
The Fixx came onto the stage at 8:30pm and immediately took us all back in a time machine to the 1980s with their flawless performance of their classic hits. The crowd seemed to know all the words.
We would 100% recommend this for a great date night. There is plenty to do and see, the crowd is full of energy, and you can make it an early evening or stay a bit later for the DJ in the Velvet Bar or just relax on the Veranda. There is no better local venue to party like a rock star.
For more details about upcoming events, visit VelvetSessions.com.