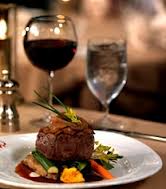 WINNER CHOSEN. Congratulations Brad and Christina Reed!
Each month, Great Dates Orlando sends a different couple on an awesome date night. The pair becomes the "Couple at Large" and are charged with reporting back to readers the details of their night.
May's lucky couple will be heading to the Rosen Centre Hotel to take part in the monthly Vine & Dine wine pairing dinner series inside the renowned Everglades Restaurant.  Scheduled for Friday, May 17 at 6:30pm, this five-course feast will feature a wine pairing with each course all centered around this month's theme: "It's All a Blend," which will focus on fusion food and blended wines.
Now in its seventh year, the Rosen Centre series invites foodies to bring their sense of adventure and their appetite to an epicurean affair designed to delight as well as educate. These events, which usually last three to four hours, feature a wine speaker who engages the attendees in casual conversation about the food and the
wine during the five-course gourmet dinner.
All Vine & Dine events begin with a welcome reception featuring wine or unique wine cocktail. Also expect wonderful raffle prizes including free bottles of wine and other wine gifts. The cost of each Vine & Dine dinner is $75 per person, plus tax and 20 percent gratuity. Valet parking is complimentary. With the exception of gratuity, Mays' Couple at Large will be attending at no cost.
TO ENTER: CONTEST CLOSED First, make sure you're actually available to attend the Friday, May 17th Vine & Dine dinner.
Second, leave a comment on this blog post that says "pick me!" You and your sweetie can each enter… double your chances.
For extra entries, go to the Great Dates Orlando Facebook page and like the post announcing that this month's Couple at Large selection has begun. You can share that Facebook post for added entry but you need to come back to this blog post and leave a comment telling me that you shared. Because of privacy settings, I can't see all shares.
The winner will be chosen on Friday, May 10th using the random number generator at Random.org. Watch your email that afternoon; that's how I'll be contacting the winner. I'll also be announcing the winner on Twitter.
Good luck!
By the way, you should follow GDO on Twitter and Facebook for even MORE great date night ideas!