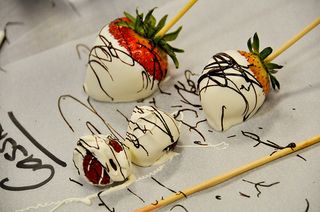 The very first offer has been launched at Orlando Date Night Deals and it's featuring one of my absolute favorite Orlando date night experiences.
$16 for a romantic chocolate experience for two.
Farris and Foster's Chocolate Factory, now with three locations across the city, hosts Chocolate Date Nights every Friday at 7pm and 9pm. These fun and romantic events give budding chocolatiers the chance to whip up some yummy treats—like truffles, peanut butter cups, and chocolate dipped strawberries—while sipping their BYO wine.
For $16, you get to participate in one Farris and Fosters' Chocolate Date Night, Fridays at 7pm and 9pm, available at all three locations. Chocolate Date Night is also scheduled on Saturday evenings at the Dr Phillips location.
Buy now! Only a limited number of these vouchers are available.