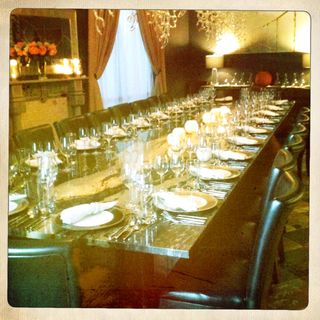 Maybe it's me, but I think that the massive explosion of social media sites and apps have revealed an intrinsic characteristic of our culture… we are all craving connection. Which is why the classic supper club is suddenly poised for a major revival.
Part dinner party, part chef's table, supper clubs are popping up in cities all over the country, capitalizing on a trend that is quickly reaching craze status. The concept is simple: one communal table, 10 to 20 preregistered strangers and a multi-course mystery menu that's not usually revealed until arrival. Add to that frequent visits to the dining room by the chef during this 3 to 4 hour feast and you've got an evening you won't soon forget.
Don't think for a second a foodie adventure like this is only found in big cities like NYC and Chicago. Nope… just drive to Sand Lake Road where you'll find The Table, Orlando's newest supper club dining spot and one of the coolest restaurants to hit this town in a very long time.
A few weeks ago, my husband and I joined 18 other fearless foodies inside The Table's lavish dining room located a few doors down from Cantina Laredo. We were treated to champagne and apps when we arrived at 7 p.m., followed by 5 unbelievably delicious courses all paired with wine. Chef Loren wandered out of the kitchen as each new course was presented to share some details about the food while her husband, Tyler, kept our wine glasses full and chatted with guests about his wine choices for the evening.
Four hours later, we had very full tummies plus a few new friends. I loved it. It's not dinner; it's an event.
To try this experience, you need to make a reservation and pay the $100 per person fee in advance. Sure, that might seem a little steep to some, but when you consider it includes 5 courses plus 5 wine pairings plus tax and gratuity, it's actually quite a deal.
What you'll love too is that when you're at The Table, you're treated like family. The dinner party vibe Loren and Tyler have created gives diners the sense that they've just been invited to an exclusive occasion that only the most interesting and amiable people are allowed to attend. And trust me, everyone gets interesting and amiable after five glasses of wine. I can't wait to go again!
The Table
8060 Via Dellagio Way, Suite 106
Orlando, FL 32819
Reservations: 407-900-Dine
www.thetableorlando.com
———-
Pssst…. we're tweeting an additional 30+ Orlando date night ideas each week on Twitter. Make sure you're following @OrlandoDateNite