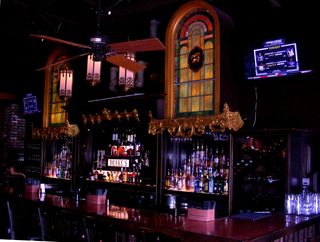 This past Saturday, I was in the mood for live music and a thirst-quenching mojito. I don't know about you, but I've had a tough time finding my ideal live music locale in Orlando.
It's not that I'm all that particular. In fact, I really only have three items on my wish list: (1) it can't smell like a frat house, (2) the seating shouldn't compel me to whip out my sani-wipes (um hello, I'm a mom. Of course I keep sani-wipes with me at all times), and (3) they must be able to make a good mojito and/or French martini.
So, I was pleasantly surprised when my hubby and I arrived at Drakes in Winter Park and all my three wishes were granted. Drakes is the drinking hole adjacent Boathouse, the new-ish "southern inspired" eatery right by the train tracks on Fairbanks Avenue.
I like Drakes. Leather couches and a polished wood bar give it a classy feel without making the place feel pretentious. It gets busy but not crowded. It's lively but not loud. Chat, people watch, listen to the band… it's a great no-pressure, no-fuss date night.
Check it out along with a few other easy peasy live music date night spots such as…
Circa 1926 (starting back up in the fall)
Have a few more suggestions? Send them my way!