UPDATED August 2017
Sunset at the Zoo, a seasonal adults-only event at the Central Florida Zoo is back this fall on select dates from September 7 – October 19, 2017. This 21+ event invites you to step into the zoo after hours for adult beverages, food, live music, and animal sightings.
Taking place after the zoo closes for the day, Sunset at the Zoo is a creative alternative to the usual happy hour for adults. Wander the zoo grounds while sipping on beer and wine, feasting on snacks and food truck fare from Smoke in the City BBQ, and spotting your favorite zoo animals. Live music provided by Joshwayy Productions will create perfect sunset ambiance.
This special event at the zoo will take place five times between September 7 and October 19, 2017. Admission is $5 and parking is free. Beer, wine, and food are available for an additional purchase.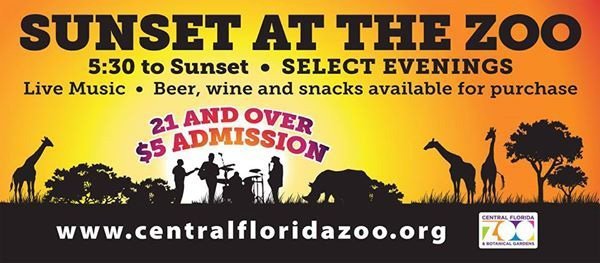 DETAILS
Sunset at the Zoo will take place at the Central Florida Zoo & Botanical Gardens:
September 7, 5:30-7:35pm
September 21, 5:30-7:20pm
September 28, 5:30-7:15pm
October 5, 5:30-7:05pm
October 19, 5:30-6:50pm
All events begin at 5:30pm and end at sunset. The zoo will close at 5pm and reopen at 5:30pm for each event.
Admission
$5 per person, FREE parking
Location
Central Florida Zoo & Botanical Gardens
3755 N.W. Highway 17-92
Sanford, FL 32771
Note: This is a 21+ event.
MORE ZOO HAPPENINGS
Night Hikes at the Zoo
Experience the zoo after dark during a guided flashlight tour, along with up close animal encounters. Attendees must be 5 years or older.
September 16, 2017
$15-$25
Stay up to date with the latest zoo events and get more information at http://www.centralfloridazoo.org/events.