Brunch food and cocktails…you can't have one without the other. Lucky for us, there's no shortage of options for brunch in Orlando when it comes to seriously great food and drinks. However, not all brunch spots are created equal. The standard menu offerings work well in a pinch, but what constitutes a truly great brunch in our eyes is combination of several things: a great atmosphere, exceptional food, and quality brunch sips that can be had at a fair price for what you're served.
We're focusing in on local favorites that offer endless brunch cocktail deals alongside savory and unique menu offerings. Whether you love mimosas, Bloody Marys, sangria, or crafted cocktails, these options are all sure to impress your date, your wallet, and your palate.
1. Seasons 52
I recently visited Seasons 52 for the first time and now I understand what the fuss is about. The mini indulgence dessert menu is definitely enough to keep me coming back, but brunch is equally impressive. The brunch cocktail options are plentiful: peach or raspberry bellinis, Bloody Marys, mimosas, and sangria. And for those who can't decide, the endless brunch sips option ($14.90) allows you to mix and match the previous four options to your heart's content. This option is available at both the Sand Lake Road and Altamonte Springs locations in the Orlando area.
Backing up the cocktails is a seasonally inspired food menu, which boasts a wide variety of cuisine despite being relatively small in offerings. I recommend the shakshuka or short rib hash. Just don't leave without sharing at least one mini indulgence!
Brunch is offered Sundays from 10am-1pm.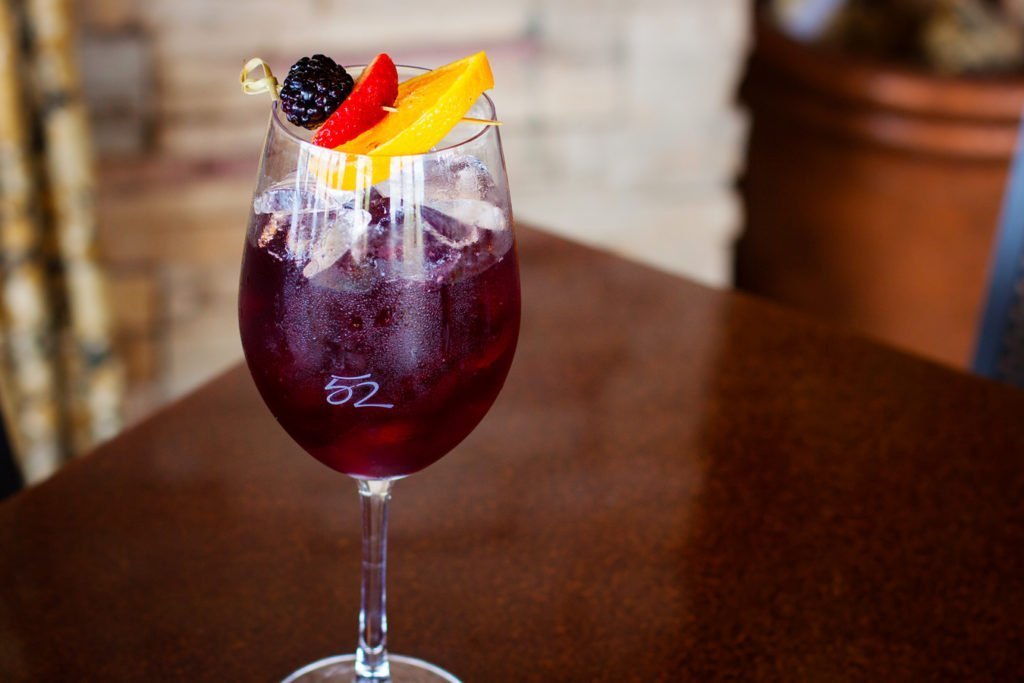 2. Soco Thornton Park
Thanks to fun daily specials, we'd gladly hang out at Soco Thornton Park all week long. Dinner is a date night affair, but brunch makes for an excellent daytime date on a lazy weekend where you can't bother to get out of bed for breakfast until well after 10am. Soco has one of the best outdoor patios in Orlando, which pairs perfectly with the fantastic Florida weather in Spring, Fall and Winter. Sitting outdoors with the sun in your face and a slight breeze, $10 bottomless mimosas make the experience all the more sweet. Brunch cocktails by the glass are also available, with six libations on the menu.
Speaking of the menu, you won't want to miss out on the excellent Sunday fare. Homemade pop tarts, Korean-style fried chicken, quail & waffles, stuffed French toast, and a wide variety of equally fun dishes dot the extensive menu of small plates, salads, and hearty main dishes. The chicken-fried cauliflower steak is worth a try.
Brunch is served Sundays from 11am-3pm. Saturday brunch begins May 13, 2017.
3. TR Fire Grill
Park Avenue in Winter Park usually gets all the credit when it comes to dining options, but stepping off the avenue is worth your while. TR Fire Grill (located on Orlando Ave past Trader Joe's) serves a top-notch brunch. Drink options are endless–both literally and figuratively–ranging from the photo-worthy Bloody Mary (garnished with candied bacon) to craft cocktails and $11 endless mimosas.
The menu is full of hearty brunch food, including my personal favorite: the red velvet pancakes. The ½ lb Sunday Morning Burger is also a noteworthy menu item, served with a fried egg, cheese, hash browns, tomato jam, and greens. Finish on a sweet note with some wonuts, a funky cross between a waffle and a donut.
Brunch is served every Saturday and Sunday from 11am-2pm.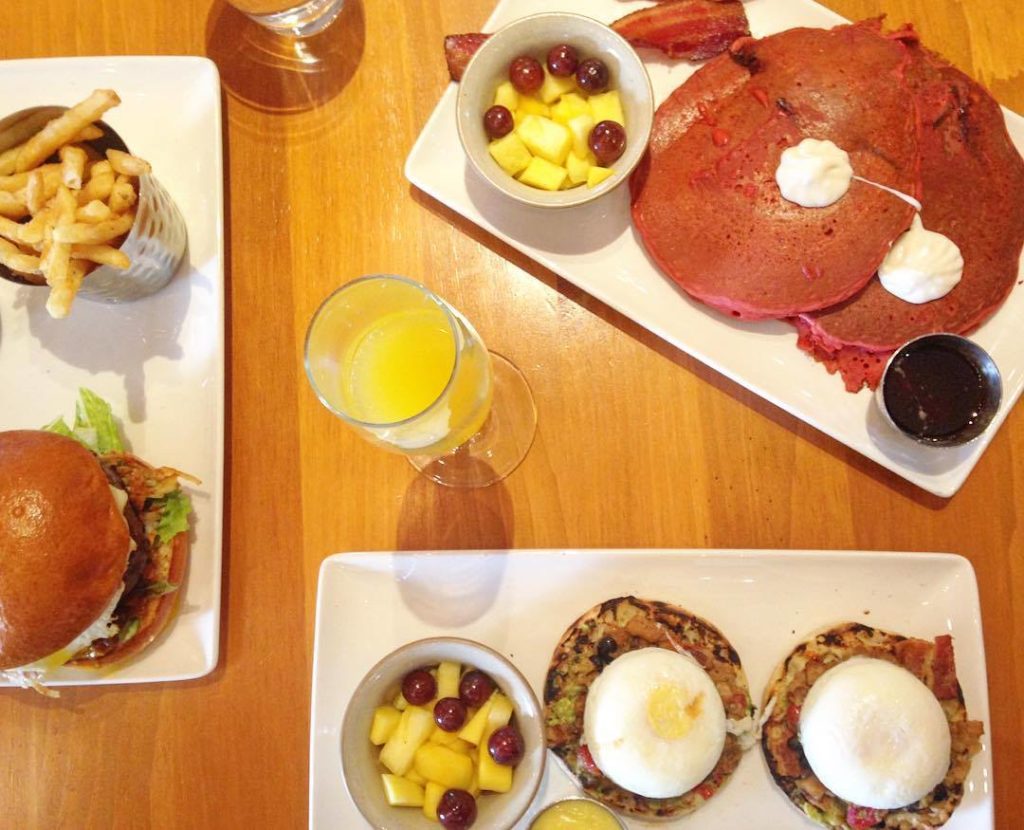 4. DoveCote
I keep telling myself I'll try lunch and dinner at DoveCote, but I can never seem to resist the siren call of their Sunday brunch. The colorful interior, natural light, and dining alcoves for two make it such an inviting space for a Sunday morning meal. Brunch favorite cocktails are in large supply, too, with fresh mimosas (orange, apple, or grapefuit served by the glass or magnum), $15 bottomless rosé, and house Bloody Mary's by the glass or 32oz jug. If you're looking for a signature cocktail to add on to your bottomless fun, give the DC Corpse Reviver a try; it's got a slight zing that will wake you right up after all that indulgent brunch feasting.
Speaking of brunch feasting, the food at Dovecote is far outside of typical brunch fare in the best possible way. The fine herb omelet is creamy, light, and addictive, and the vanilla crème brulee is great for dessert.
Brunch is served every Sunday from 10:30am-2:30pm.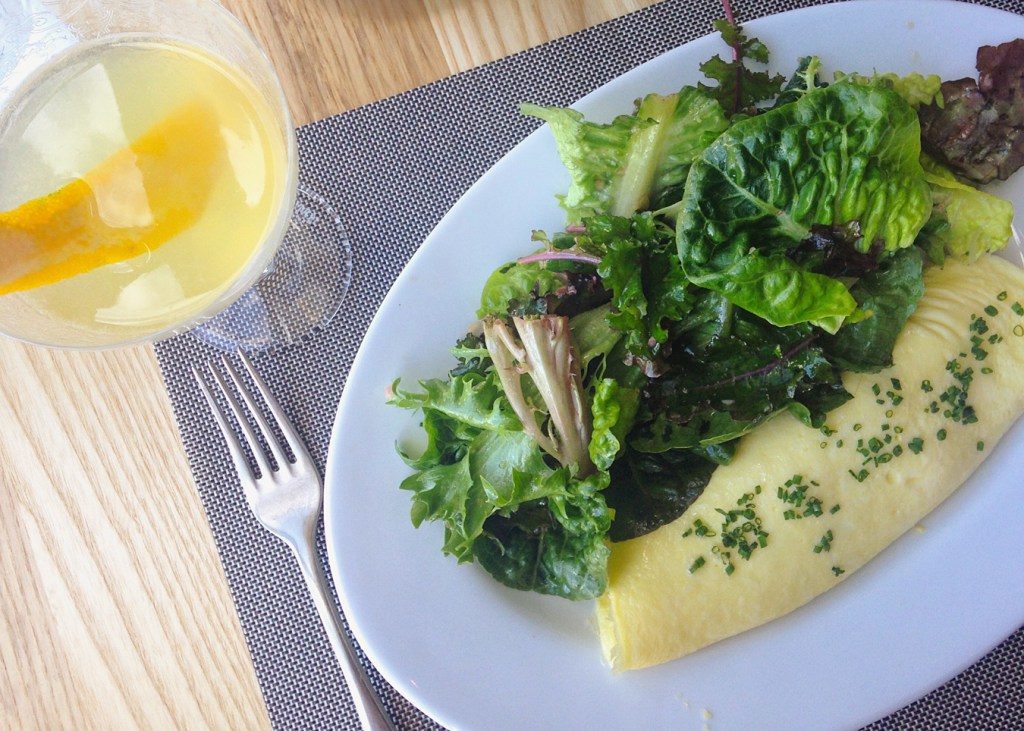 5. North Quarter Tavern
The vibe at this neighborhood restaurant is relaxed and casual, creating the ideal environment for a late Sunday meal. Bottomless mimosas are $10, or you can drink your fill of $5 Bloody Marys from the Bloody Mary bar. North Quarter Tavern makes their Bloody Mary mix in house.
The brunch menu is heavy on hearty indulgences like the tasty breakfast poutine; brunch pizza topped with bacon, an egg, arugula, tomato, mozzarella, and mushroom; and the savory brunch burger. There's something for every brunch-loving foodie to enjoy.
Brunch is served Sundays beginning at 11am.
6. Kasa
Kasa serves creative tapas in a bright, natural space in the heart of downtown Orlando. While you could previously only get your brunch fix on Sundays, Kasa recently extended their brunch to include Saturdays. For $32, enjoy the brunch buffet, plus bottomless mimosas and sangria. Get creative at the sangria bar, where you can build your own perfect sangria with a variety of mixers, fruit, garnishes, and fresh herbs.
Taking the "make your own" concept one step further, you'll also find a made to order station for tacos and fresh donuts.
The brunch buffet is served Saturdays and Sundays from 11am-4pm.
7. The Stubborn Mule
We already love The Stubborn Mule in Thornton Park for happy hour and dinner, so brunch is just the icing on the cake. True to Thornton Park style, this restaurant has an awesome and spacious outdoor patio, although the stylized interior is just as inviting. Bottomless mimosas are offered for $10 in addition to $5 Bloody Marys, red or peach sangria, and the mule of the day. I highly recommend trying at least one Moscow mule while you're there; it's what they're known for!
The brunch menu is full of hearty options ranging from French toast to steak & eggs. The sticky pork belly appetizer isn't a brunch exclusive, but it's a must-try.
Brunch is served Saturdays and Sundays from 11am-2:30pm.
8. Tapa Toro
The area of International Drive that Pointe Orlando and I-Drive 360 call home has become a go-to walkable hub for dining, shopping, live music, and activity enjoyable for locals and tourists. Amid the dining options is Tapa Toro, known for their delicious paella and live flamenco dancing performances. On Sundays, you can enjoy the live entertainment while feasting on a special brunch menu. Take your pick of unlimited mimosas and sangria (classic and white) for $15.
Pair your unlimited libations with a selection from the special brunch menu. Some of the more inventive options include the Dona Quixote (a Spanish twist on a croque madame) and the hearty avocado toast, which comes topped with grilled shrimp.
Brunch is served every Sunday from 11am-3pm.
9. The Osprey Tavern
There are so many experiences with date night potential at The Osprey Tavern. The Chef's Table, happy hour, and brunch are just a few of our favorites when it comes to a meal that goes above and beyond the usual. In addition to a specialty brunch cocktail menu, bottomless mimosas are yours to enjoy for $15. Brunch cocktails include a rum brunch punch, tavern Bloody Marys, and more priced from $8-$12 each. The warm tavern atmosphere creates a space where you can easily settle in and linger over your meal.
The menu is rich with fresh, seasonal American fare. You'll find three unique eggs benedict options: Canadian bacon, smoked salmon, and chicken confit; alongside inventive dishes like the pork belly tartine. There are plenty of pastries to go around if you're in the mood for a sweet start.
Brunch is served Sundays from 10:30am-2:30pm.
10. Carmel Kitchen & Wine Bar
Another "off the Avenue" option in Winter Park, Carmel Kitchen & Wine Bar serves up a delicious brunch worth exploring. Cozy dining booths, colorful art on the walls, and natural elements create the perfect atmosphere for a relaxed brunch. The bar opens at 11 if you'd like to unwind with a brunch cocktail or two (no judgment). The brunch cocktails are exclusive to Sundays. For a more traditional brunch beverage that will keep on flowing, opt for $12 bottomless mimosas.
The brunch menu stars all your favorites with some fun twists along the way. The crab eggs benedict and shrimp & grits are both excellent choices. In addition to your brunch feast, you'll get a free order of house-made mini muffins to share. Brunch perk!
Brunch is served Sundays from 10am-2pm.
Honorable Mention: Dexter's of Thornton Park
This is one of my favorite brunch spots in Orlando. The ambiance is wonderful, there always seems to be something new on the menu, and the mimosas are cheap at just $2.95/glass. Dexter's has several locations throughout Orlando, but I love the Thornton Park location for its close proximity to Lake Eola. It's the perfect spot to brunch after the farmers market or Sunday yoga in the park.
While the brunch menu changes periodically, past dishes I've tried and loved are the make your own omelet (stuffed with savory cheese and veggies of course!) and the chicken and waffles. You'll find all the brunch classics alongside some more creative dishes to suit any brunch food mood you find yourself in.
Brunch is served Saturdays 10am-3pm and Sundays 11am-3pm.
More places to add to your brunch bucket list: