Your Ultimate Guide to Gasparilla
Gasparilla is BACK for 2023! The Seminole Hard Rock Gasparilla Pirate Fest is the quintessential uniquely Tampa holiday, festival, event, party, boat show, costume contest, and most of all party. Don't let the Tampa residents be the only ones who have fun, Gasparilla is a great weekend getaway from Orlando.
This is your Ultimate Guide to Gasparilla, covering everything you need to know in one place. There is so much going on you'll want to check out these Gasparilla Survival Tips too!
Need help finding a Gasparilla hotel? Check out these Top Picks for Gasparilla hotels
Written in collaboration with TampaBayDateNightGuide.com
---
Children's Gasparilla, the Gasparilla Parade of Pirates, and the Knight Parade – are lumped together. These are commonly referred to as the Gasparilla Parades, or just Gasparilla. Two of the parades occur during the day on the last two Saturdays in January along Bayshore Blvd in south Tampa.
The third parade takes place on the second Saturday in February, at night, in Ybor City, just north/north-east of downtown Tampa.
Key Gasparilla event dates for 2023 are:
Even though the Children's Gasparilla weekend takes place the weekend before the main event, Gasparilla Pirate Fest, we're going to start off with the main event.
After all, if your goal is to have an awesome weekend away from Orlando at Gasparilla 2023, the Pirate Fest on January 28, 2023 is what you're after. But keep reading and we'll fill you in on the Gasparilla Children's events too.
---
Gasparilla Pirate Fest: January 28, 2023
This is the Big Deal – THE Gasparilla event that put Jose Gaspar (and maybe Tampa Bay) on the map! The Seminole Hard Rock Gasparilla Pirate Fest takes place on Saturday, January 28, 2023 from 10am-8pm in Tampa.
Sponsored by Seminole Hard Rock Casino, this main event features the 105th Gasparilla Invasion and Parade of the Pirates presented by Ye Mystic Krewe of Gasparilla. Expect between 500k to a million people to take part.
The Seminole Hard Rock Gasparilla Pirate Fest officially consists of three primary events:
The Gasparilla Invasion – the pirate ship Jose Gasparilla invades the

City

of Tampa with cannons firing!
The Gasparilla Parade of Pirates – having again successfully invaded Tampa, the Pirates of Ye Mystic Krewe of Gasparilla celebrate with a parade down Bayshore Blvd.
Gasparilla Pirate Fest – although the Parade of Pirates ends around 5pm, that doesn't mean the partying stops!
Related: Gasparilla Survival Tips
Both the festival and other third-party hosts have ticketed brunch options available for purchase online around Gasparilla to better convenience families and other swash-bucklers looking for a bite to eat.
Our guide to the best Gasparilla Brunch Spots will satisfy your appetite!
Gasparilla Invasion Brunch
9:30am-1pm at the Tampa Convention Center
The Gasparilla Invasion Brunch provides the best view of the historic Gasparilla Invasion. The pirates of Ye Mystic Krewe of Gasparilla sail up Seddon Channel aboard the Jose Gasparilla accompanied by a majestic flotilla and dock tableside at 1 pm at the Tampa Convention Center. The Gasparilla Invasion Brunch includes a buffet brunch with a cash bar and reserved table seating.
Tickets are $140 per person. Children two years of age and under do not need a ticket, as long as they remain in the lap of an Adult Ticket holder at all times. Children must have a ticket if they will be occupying a seat. Click here to purchase tickets.
Related: Answer the question "What is Gasparilla?" here!
Gasparilla Invasion
11:30am – 1:00pm at the Tampa Convention Center
The world's only fully rigged pirate ship, the Jose Gasparilla, will set sail from the south end of Hillsborough Bay. Shouts of "Land, ho!" will ring out from the ship, once it magically appears, poised to invade and conquer Tampa (but in a friendly way, of course). To defend itself, Tampanians will launch a defending flotilla of ships, boats and watercraft of all kinds to defend the city and stop the pirate invasion.
You'll see over a thousand boats and watercraft of every kind in the water along Hillsborough Bay as they prepare to meet the invading pirates.
Although in years past, boaters have thrown beads to those on land, this year may look a bit different. Tampa Mayor, Jane Castor, and community organizers are relaunching "Bead Free Bay" as a way to help marine animals by keeping plastics out of the water. But don't fret – you'll have plenty of chances to catch some loot at the actual parade later that day!
The Gasparilla invasion flotilla is an unbelievable site to behold. Said to be the largest annual boat parade in the United States, more than 1,300 boats, ships and yachts of all kinds are estimated to take part in the invasion. It sure is a heck of a party if you're lucky enough to be on a boat during the Invasion!
Although the waters are heavily patrolled by federal, state and local law enforcement to prevent boat DUIs and injury, it seems like everybody except the boat pilots are drinking, socializing and having a great time.
Upon docking the Jose Gasparilla at the Tampa Convention Center at 1pm, the Mayor will surrender the Key to the City of Tampa into the hands of Ye Mystic Krewe of Gasparilla's Captain Peter Lackman.
Where is the best place to watch the Gasparilla Invasion?
The best place to view the invasion is on a boat in the invasion. Other great spots are:
American Social and Jackson's Bistro on Harbour Island
The Sail
Tampa's Riverwalk
Tampa Convention Center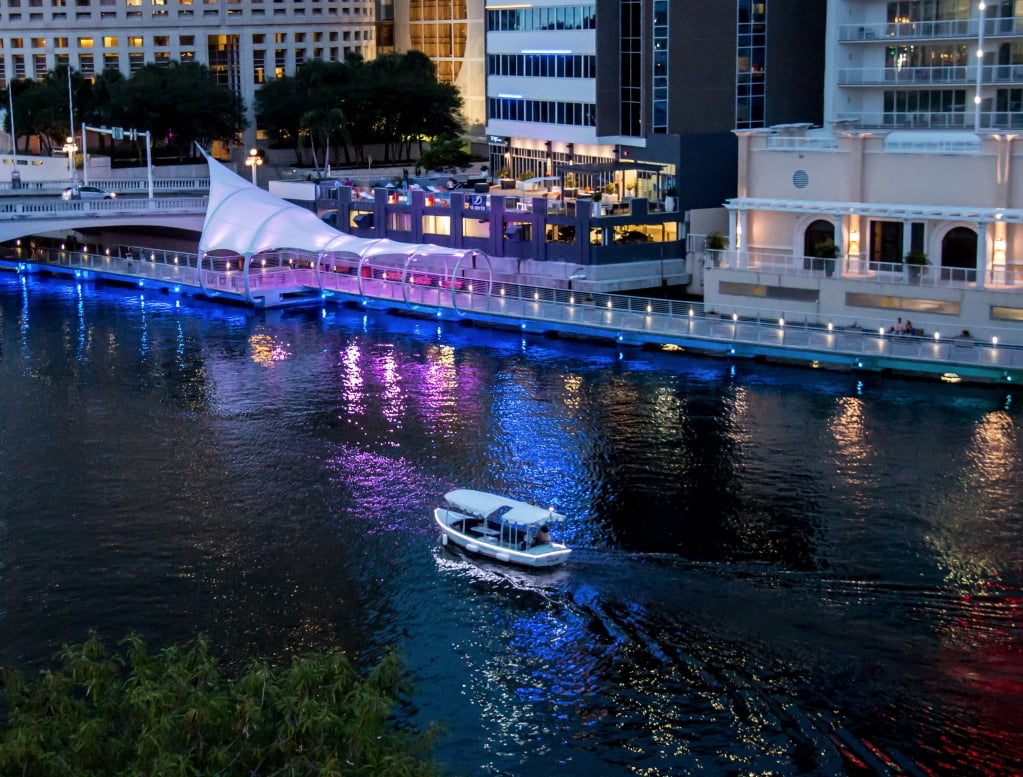 No matter which location you choose, be prepared for the crowds!
If you can snag an invite to a party on Harbour Island or Davis Island, that's a great bet too as the ships all pass along the Seddon Channel heading to the Convention Center. Many parties begin in the downtown Tampa high rises – which have stellar views of the water and provide a true birds-eye view of the invasion.
Related: There's the Official Gasparilla Brunch, and then there are other brunch options
Gasparilla Parade of Pirates: 2pm
To celebrate their stunning victory, these friendly pirates parade down the streets of Tampa, showering the crowds with treasures along the 4.5-mile parade route.
The parade begins at 2pm at the intersection of Bay to Bay and Bayshore Blvd and proceeds down Bayshore Blvd. towards downtown. With over 140 groups participating in the Parade of Pirates – consisting of over 103 high tech, elaborate floats, 5 marching bands, and over 50 Krewes, the parade is a cool and unique Tampa spectacle.
First time at Gasparilla? You'll need some survival tips!
Staging
The first float is staged along Bayshore just south of Bay to Bay – but with 140+ units in the parade, the staged units extend more than 2 miles all the way south to Gandy Blvd and Bayshore Blvd. Federal, state, and local law enforcement enforce a tight security zone around the staging area. Access is often limited to parade participants on floats or in groups with special passes.
Lots of people line up along Bayshore south of Bay to Bay, but there's a reason the crowds are thin.
The floats and Krewes cannot interact or throw beads before the official starting point at Bay to Bay.
Alcohol and Safety
The City of Tampa typically establishes temporary wet zones along the parade route. These wet zones are the only safe places to consume alcohol.
Unofficially, the law enforcement officers working the parade tend to be pretty cool as long as you're respectful. There are some certain don'ts – which can basically be summed up by saying don't be an idiot. If you're underage, don't drink; the police can and do make underage drinking arrests every year. Don't pee in public – there are porta-potties throughout the route, use those, don't pee on the shrubs and houses around the parade route.
Don't have glass, don't bring coolers, don't bring weapons, etc. Check out the City of Tampa's Gasparilla Safety Page for more info.
Beads
The pirates and krewes in the parade celebrate by throwing beads and trinkets to the crowds (think Mardi Gras). Most of the beads are cheap "throw beads", but if you're lucky enough to catch the attention of somebody in the parade, you might end up snagging a really cool set of beads – some of them are pretty fancy!
Where can I watch the Gasparilla Parade of Pirates?
The non-water side of Bayshore Blvd is mostly open to the public, whereas large chunks of the water side of Bayshore are restricted and reserved for private paid seating or viewing areas, corporate tents, and these areas are limited access to the public.
Reserved seats can be purchased from Gasparilla Treasures.
Weather
Gasparilla is in January, and while it is Tampa, the parades along the water on Bayshore can get chilly sometimes. If there's a wind coming off the water it'll feel cooler. Dress appropriately – in pirate garb of course!
Parking
With almost a million people descending on a 4.5 mile route, there's barely any room for people to move, much less park tens of thousands of cars. Best bet is to not park if possible. Grab a hotel, carpool, Uber/Lyft, bus, etc. If you simply must drive and park, allow ample time to arrive to your destination and secure parking.
Road and Event Safety Initiative
There's no better place to enjoy the outdoors in January than Tampa, but on event day, they want to make public safety priority number one. That's why they're asking anyone considering visiting the parade by bicycle or scooter to put their safety and the safety of others first by following recommended guidelines.
Always wear a helmet while bicycling or scootering.
Do not ride your bike or scooter while under the influence of alcohol or any other

substance

that might impair your judgment.
Be cautious when riding, and do not ride in large crowds.

Map

your route to the parade, as many roads may be closed.
Most importantly, do not ride your bicycle, scooter or golf cart on Bayshore Blvd on

event

day. Although roads are closed, Bayshore is a very active

event

production space, which should only be accessed by authorized vehicles. Ye Mystic Krewe of Gasparilla, the

City

of Tampa, and local law enforcement ask riders to use alternate routes.
Need help finding a Gasparilla hotel? We detail some great Gasparilla hotel options for you!
Pirate Fest: Beginning at 10am
Before and after the Parade, official Gasparilla parties and stages showcase music performances at Curtis Hixon Waterfront Park and MacDill Park.
The official lineup for 2023 can be viewed here.
Where is the best place to watch the Gasparilla Invasion + Parade?
This is an excellent question, considering how crowded the parade is each year. If you are interested in a more low key afternoon, where you can collect a lot of treasure, you should try and get as close to the starting point as possible. Once the Gasparilla Invasion lands at the Convention Center, the starting point is Bay to Bay Boulevard and Bayshore Boulevard. Other than that, any spot is a good spot for the parade. Just make sure to get there early in order to get a good place to stand.
Advice from our resident Pirate, "The best way to watch is by purchasing bleacher seats through Gasparilla Treasures. You can also arrive early and line up on the land side of Bayshore blvd between Bay to Bay blvd and Rome to find a section of grass and line up against the barricades along Bayshore. Another good Section is downtown along the barricades."
Do expect heavy traffic during the day of the Gasparilla invasion and parade. There are trolleys which can take you from your parking spot to the actual parade if you choose to drive. However, Uber is always an option, and may be a bit easier for you and your significant other. Plus, if you plan to drink, which we know is a very important hobby for a pirate, you may be better off just hopping in an Uber.
Children's Gasparilla: January 21, 2023
Known as the "alcohol-free" parade, the Children's Gasparilla consists of family-friendly and kid-orientated activities, followed by a parade along Bayshore Blvd. You'll find it commonly referred to as the "Kids Parade" (although it's grown to be more than just a parade).
This event always occurs a week before the primary "adult" Gasparilla pirate invasion and parade. Children's Gasparilla provides a family-friendly, alcohol-free environment for families to see over a hundred floats, collect throw beads, engage in a preschooler stroll or a bike safety rodeo. Alcohol is prohibited along the parade route.
For detailed info on the Gasparilla Children's Parade, check out Tampa Bay Parenting's detailed article on the best way to enjoy this family-friendly event for kids of all ages!
---
If you can't make it to the big weekend on January 28, 2023 then consider heading to the pirate city in February. The Gasparilla Knight Parade or Night Parade is lots of fun too!
GASPARILLA KNIGHT (NIGHT) PARADE IN YBOR: FEB 11, 2023
Another featured parade in Tampa Bay's Gasparilla season is the Knight Parade. Officially titled the Sant' Yago Illuminated Knight Parade, it's unofficially known as the Gasparilla Night Parade. This nighttime light up parade takes place on 7th Avenue in Ybor City, usually two weeks after the Gasparilla Pirate Fest (a.k.a the "Day Parade").
Friday and Saturday, February 10 and 11, 6 p.m., 8 p.m. and 10 p.m.
The Cuban Club
The Pirates and Rum Experience is an interactive show, where the dead tell their tales based on the real-life events and legends of the Pirates of the South Seas. Sip on four different rum cocktails.
Age requirement: 21+ with valid ID
$55, includes four rum drinks