For a book lover, finding the right book club is akin to finding the right hairdresser. It just has to click. And when the stars align and you find the right one, you've suddenly got a tribe of like-minded people with whom you can discuss the latest bestsellers and commiserate about the pain of book hangovers. And to them, having a book boyfriend in addition to your real life boyfriend is totally normal.
I actually found my book club years ago through Orlando Date Night Guide. And one of the things I love most about it is that rather than meeting at someone's house, we meet at different bars and restaurants around Orlando. (Shoutout to Brittany, my awesome book club leader!) So if you've got a book club of your own and want to shake things up, consider meeting up at one of these awesome book club-friendly spots around the city.
Where to Host Your Book Club
The Cloak & Blaster
Occasionally, my book club is able to match our book of the month with a corresponding bar. After reading Ready Player One (ripe with 80s gaming and pop culture references), we hosted our meetup at a vintage bar arcade, for example. Another fun option with a geeky atmosphere: The Cloak & Blaster. This pub features table games, fandom memorabilia everywhere you look, plus delicious food and 20+ craft beers on tap. It's the perfect location for a sci-fi or fantasy book discussion.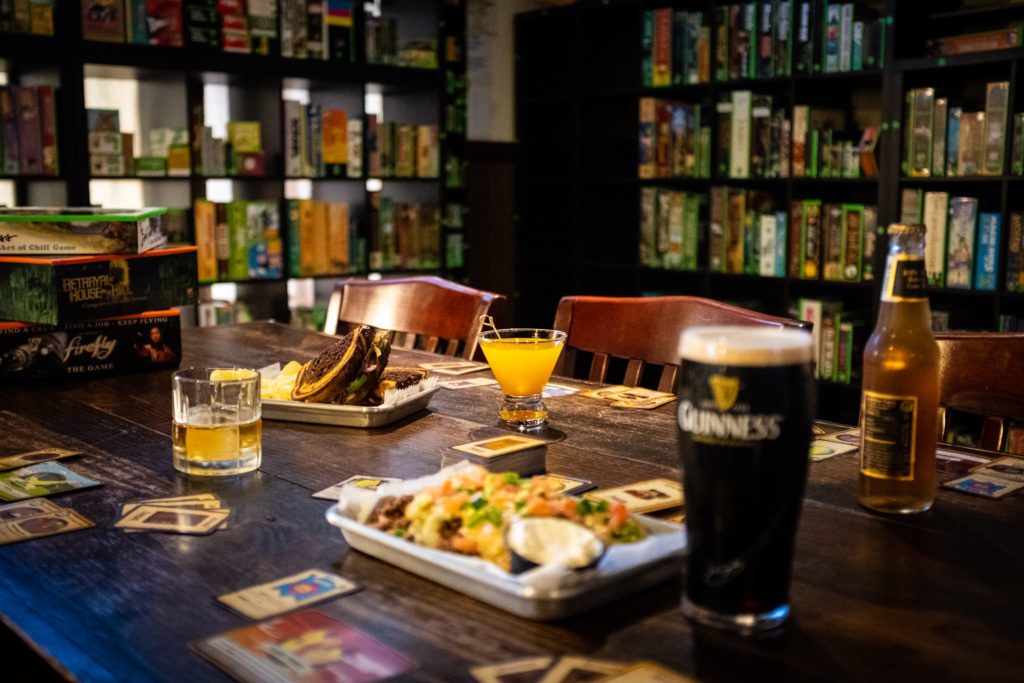 Quantum Leap Winery
A chill and relaxed choice, Quantum Leap Winery is ideal for small book club groups. Sip on sustainable wines blended on site while swapping opinions about your chosen book. Bonus book club outing: Quantum Leap Winery and Writer's Block Bookstore host a monthly Wine, Wisdom and Words event at the winery featuring a different guest author each time.
The Nook on Robinson
The Nook on Robinson regularly hosts out-of-the-ordinary events, but it's also ideal for small book club meetups. You'll feel instant nostalgia as you enter the space and spot the unique seating arrangement: old school desks and chairs that will remind you of your gradeschool days. There's also a community library along the wall, contributing to the bookish atmosphere. It looks more like a cozy study than neighborhood bar.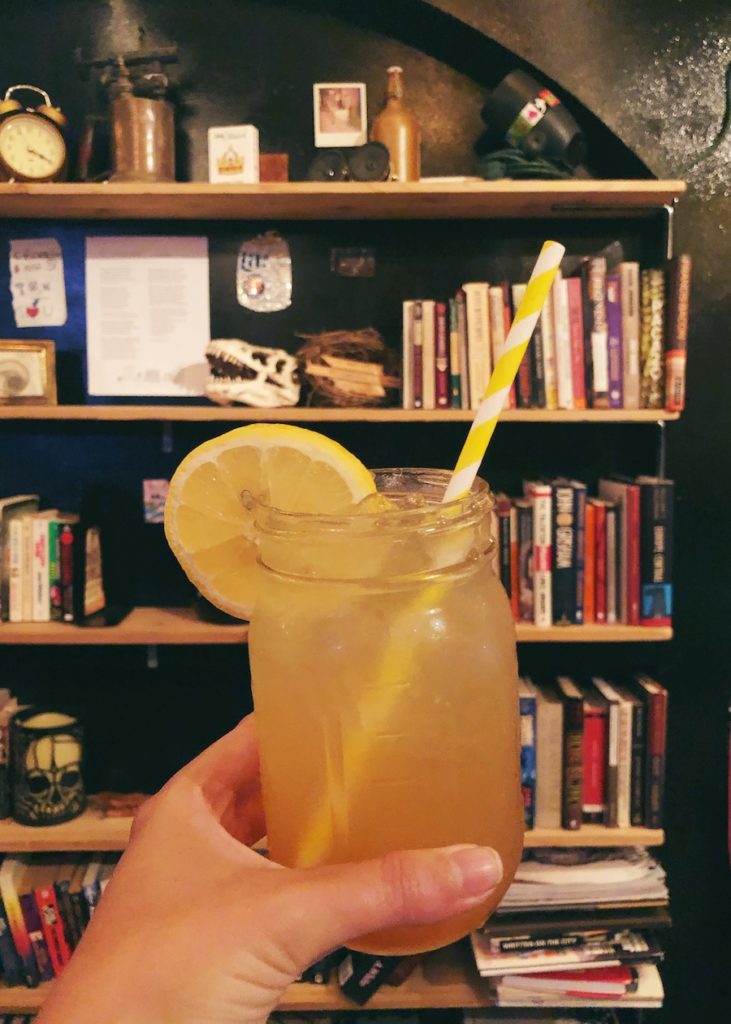 Roque Pub
Another personal book club favorite, Roque Pub is a casual bar located steps away from Ocean Sun Brewery. Make sure to call ahead and let them know you'll be visiting with a large group, and make sure to avoid events like Open Mic Night (Thursdays at 8:30) and Trivia Night (Wednesdays at 7pm). They're got yummy bar bites to accompany drinks and lively book discussions!
Marlow's Tavern Winter Park
Few Orlando restaurants rival the expansive bar area that takes up more than half of Marlow's Tavern in Winter Park. The space offers plenty of high tops and regular tables, but the most coveted spots for book clubs are the two living room areas located in the back right corner of the bar. Groups of 8 – 10 will have no trouble cozying up in couches and comfy chairs while they sip fun cocktails and nibble on a ton of solid appetizer options. Check the events page to see when live music and half price bottles of wine are scheduled.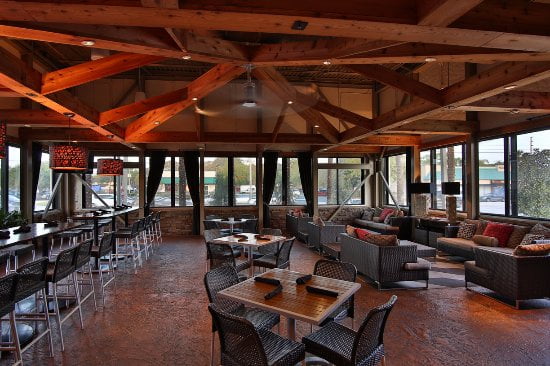 Eden Bar
Attached to Enzian Theater in Maitland, Eden Bar's large outdoor patio under live oak trees is magical and quiet at night. Push a few tables together to accommodate your group size and line your visit up with happy hour (until 6pm daily) for extra savings. There are also daily drink specials. Enzian Theater hosts occasional Book to Big Screen movie nights, a fun extra outing for your book club.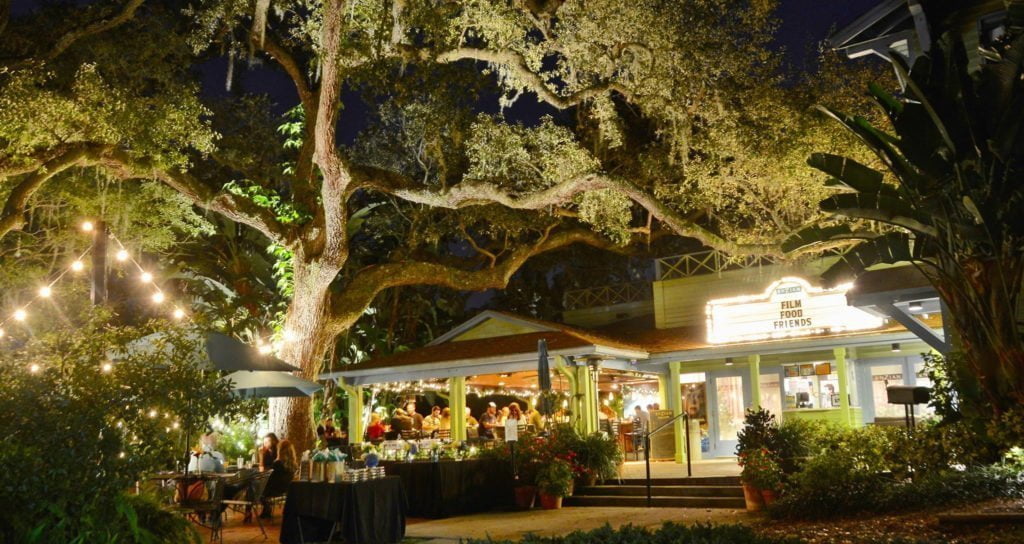 Garp & Fuss
Awesome food: check. Drinks: check. A private space to host your meeting: check. Garp & Fuss is located just off Park Avenue in Winter Park in an intimate courtyard known as the Hidden Garden Shops and Restaurants. Upstairs above the bar, there's a small lounge (with full service) that can be rented for private events.
Imperial Wine Bar & Beer Garden Orlando
Hanging out in Balinese lounge chairs inside (you can buy them, by the way) or head outside to the beer garden lit with sparkly hung lights… either way Imperial is such a sweet little spot to meet. Pair your choice of craft beers or wines (the choices are vast) with one of Orlando's best cheese and charcuterie plates.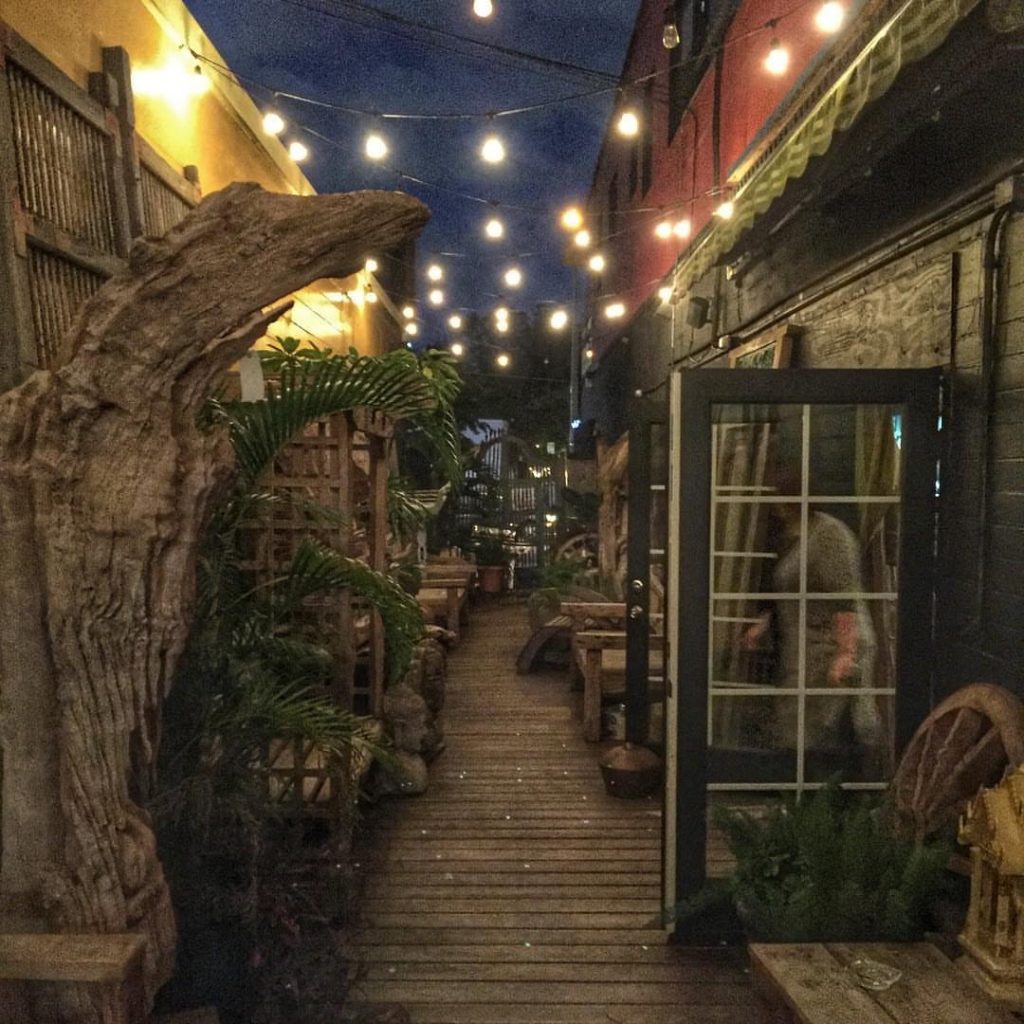 Vinia Wine Bar
Vinia Wine Bar is a charming and inviting wine bar + restaurant located in the heart of Hannibal Square in Winter Park. Sip delicious European wines and share cheese and charcuterie while chatting about your latest read. This is an intimate space best suited for smaller groups. Call ahead to request the large dining table, or the cozy booths facing one another near the front of the space.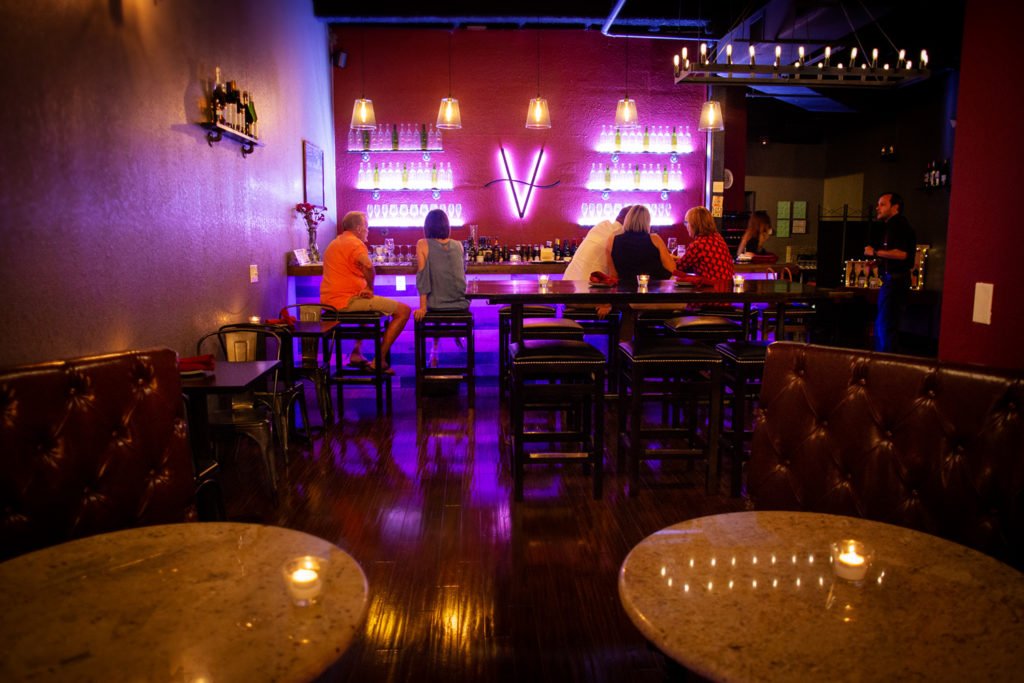 Barley & Vine Biergarten
If you've got a big book club group, seating can be a challenge. But Barley & Vine Biergarten in the Milk District has a cute outdoor patio with multiple communal tables, ideal for larger groups. As with any bar, check the events calendar ahead of time to make sure your meeting doesn't coincide with a weekly event.
À La Cart Orlando
If food and drinks are a big part of your book club experience, head to À La Cart, a bar and food truck park in one. Your best bet for seating is to head indoors to snag seats at a communal table. And if you and your book club are big Harry Potter fans, keep your eyes out for occasionally Harry Potter movie nights.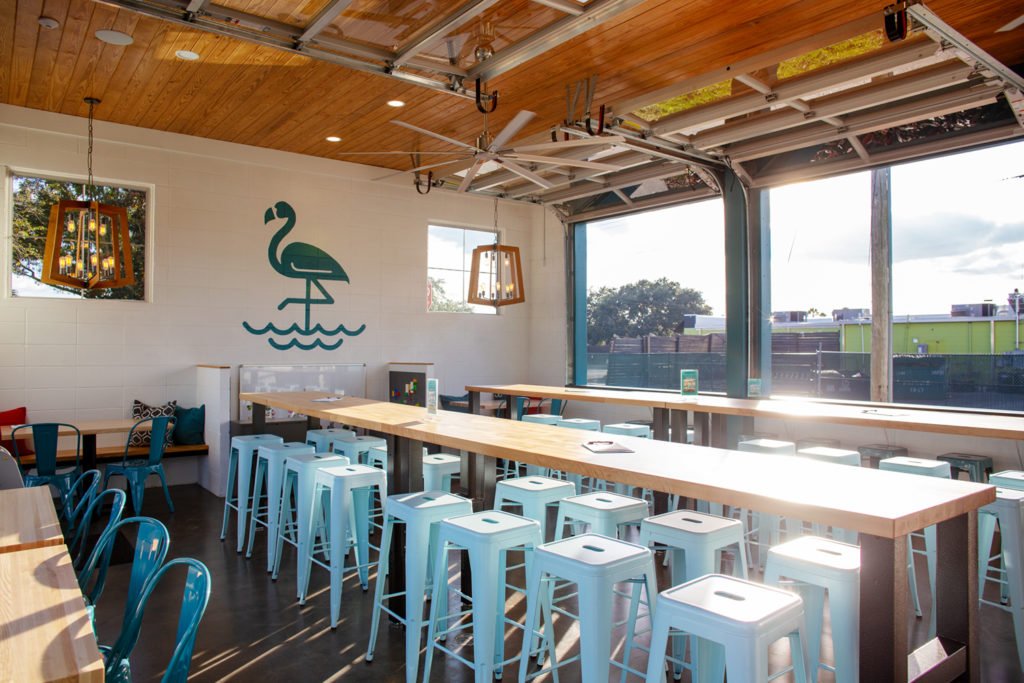 Plant Street Market
Plant Street Market is a date destination in its own right, and the patio is perfectly suited for large book club gatherings. It can get busy, but weekdays are generally more relaxed. My bookclub didn't have any trouble finding a table on the patio on a Tuesday night. Pair your book with a brew from Crooked Can Brewing Company or fare from one of the handful of vendors serving everything from acai bowls to made-to-order mac and cheese.
Soco Thornton Park
Need a space for up to 22 people? Soco Thornton Park has a semi-private dining room that can be reserved for larger groups. It's best to visit on a quieter evening like a Monday, Tuesday, or early on Sunday nights. You'll need at least 10 people to lock in the space. Make sure to work out the details in advance by calling the restaurant directly at 407-849-1800.
East End Market
While it's a popular and busy spot on the weekends, East End Market's outdoor patio is notably less crowded during the week. If you have a larger group, arrive a bit early to stake out enough seating.
More ideas:
Are we missing any? Let us know! Email us! kristen@orlandodatenightguide.com
Recommended Reading
Here are some past reads from my book club that are sure to spark fun and stimulating conversation: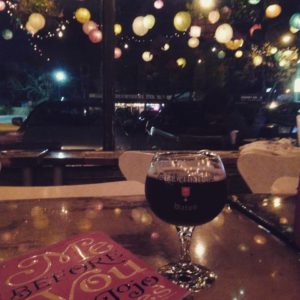 Florida by Lauren Groff
Dark Matter by Blake Crouch
Modern Romance by Aziz Ansari
The Hate U Give by Angie Thomas
Ready Player One by Ernest Cline
The Nightingale by Kristen Hannah
The Handmaid's Tale by Margaret Atwood
Behold the Dreamers by Imbolo Mbue
Neverwhere by Neil Gaiman
Everything I Never Told You by Celeste Ng
The Martian by Andy Weir
Me Before You by Jojo Moyes
Educated by Tara Westover
PS: Need a book club to join?
Writer's Block Bookstore in Winter Park is a cute independent bookstore that also hosts multiple book clubs. Join the regular book club ( last Wednesday of each month at 6pm), or the new Sci-Fi/Fantasy book club (first Tuesday of each month at 6pm). You can also register your own book club for 10% off the chosen book of the month, a space for discussions, and 10% off an additional item in store.
You can also check your local library and Meetup.com. Or, gather a group of friends and start your own. Happy reading!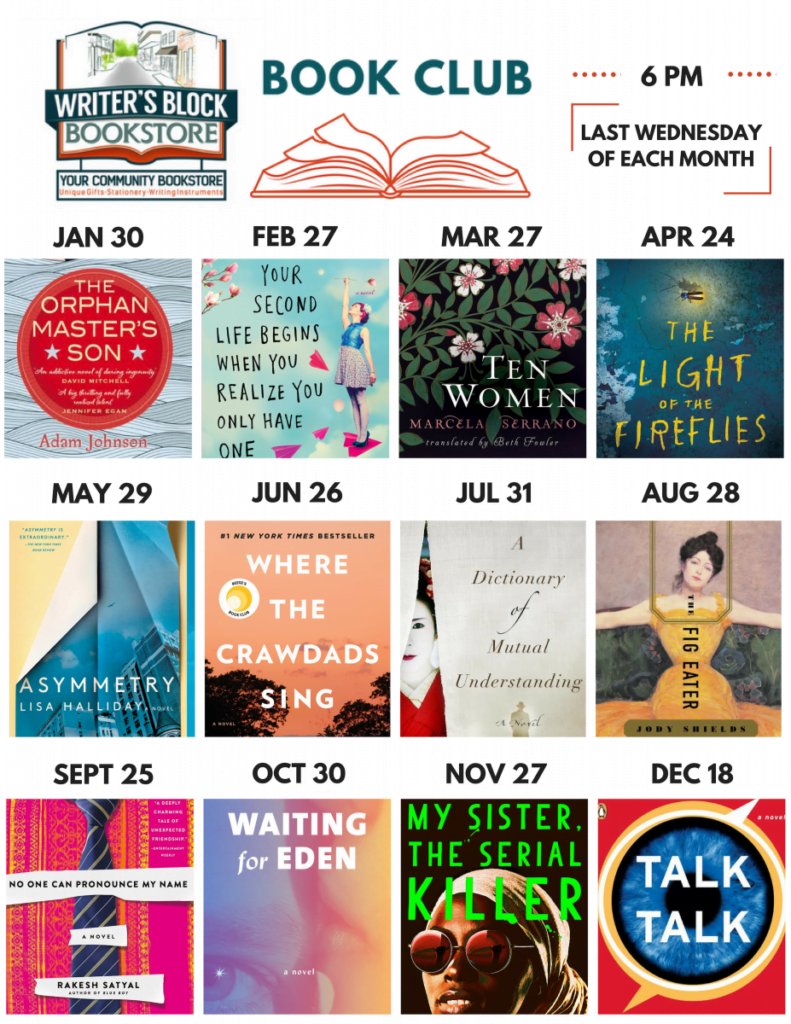 Feature image credit: Brittany Reinholt
Disclosure: Writer's Block Bookstore, Vinia Wine Bar, Quantum Leap Winery, Garp & Fuss, and The Glass Knife are some of our valued advertising partners.