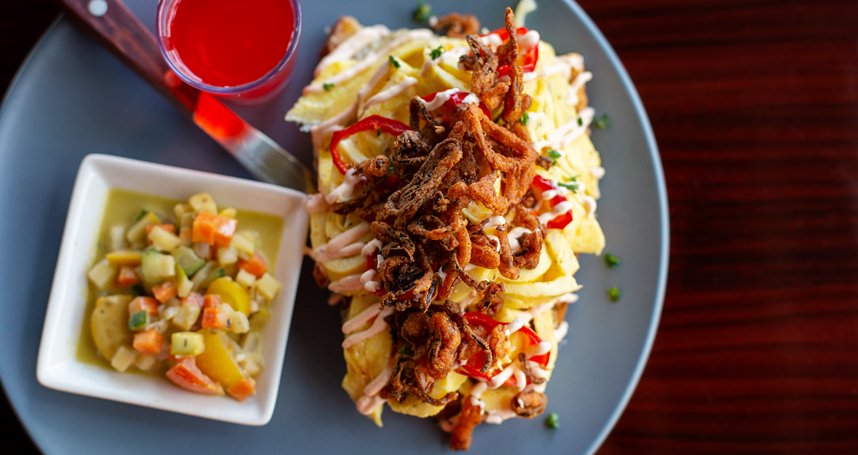 A newcomer to Orlando's College Park District, Tartine is a breath of fresh air amongst Orlando's ever-evolving dining scene.
First daters and couples who have been together for years will find comfort in the refined yet casual atmosphere. The cozy interior houses just a handful of tables and a few bar seats.
If al fresco dining is more your speed, head to the covered outdoor patio which is dog-friendly and gives you a front row seat to the comings and goings along Edgewater Drive.
While I highly recommend stopping in for a dinner date (wine and charcuterie never fails), brunch is the perfect jumpstart to the day whether you're with your partner or your closest group of girlfriends.
Served Saturdays and Sundays from 10am-3pm, brunch includes an assortment of bottomless champagne cocktails plus tartines, light bites and sweets. Check the specials board for brunch specials, too.
DRINKS
I've got three words for you: bottomless champagne cocktails. Better yet, the cost is a reasonable $15 and you can mix and match to your heart's content. Priced at $6-$8 each, it's silly not to opt for the bottomless deal if you're planning one having more than one drink with your meal.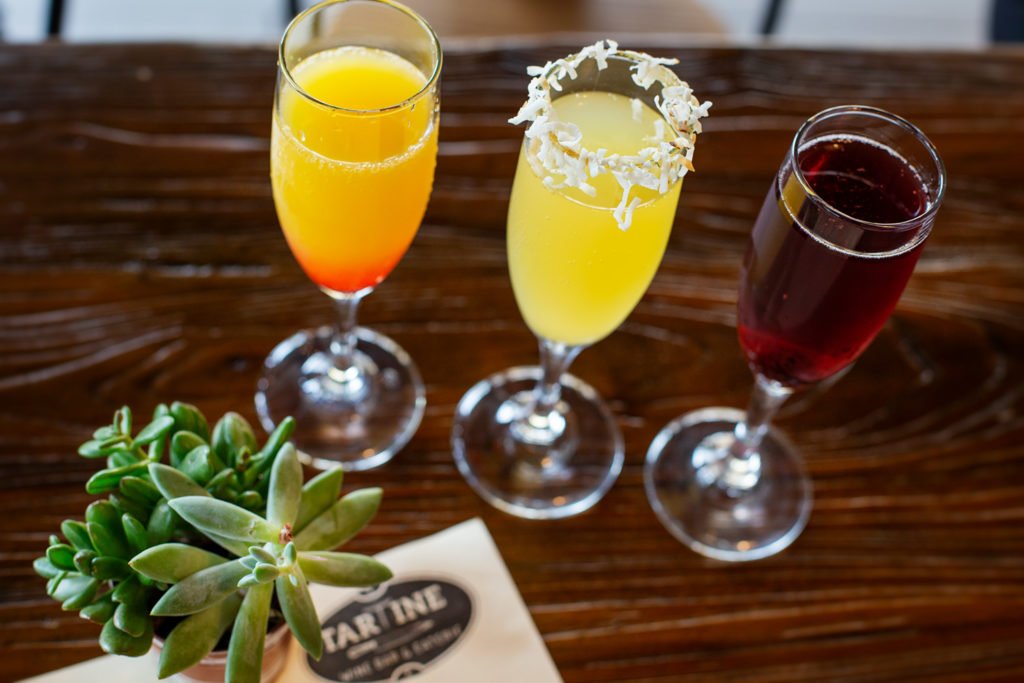 Take your pick from classics like the mimosa and bellini, or branch out to sip on the Kir Royal (my favorite) made with crème de cassis, sparkling wine and maraschino cherry.
The Mango Mint was another favorite; made with mango puree, mint simple syrup, sparkling wine and candied lime.
Here's the full champagne cocktail lineup:
Mimosa  – orange juice, sparkling wine, strawberry
Bellini – peach nectar, sparkling wine, cantaloupe
Kir Royal – creme de cassis, sparkling wine, maraschino cherry
Tropical Fizz – pineapple juice, sparkling wine, toasted coconut rim
Mango Mint – mango puree, mint simple syrup, sparkling wine, candied lime
Champagne Sunrise – orange juice, pineapple juice, grenadine, sparkling wine, candied orange
Sparkling Julep – sugar cube, mint simple syrup, sparkling wine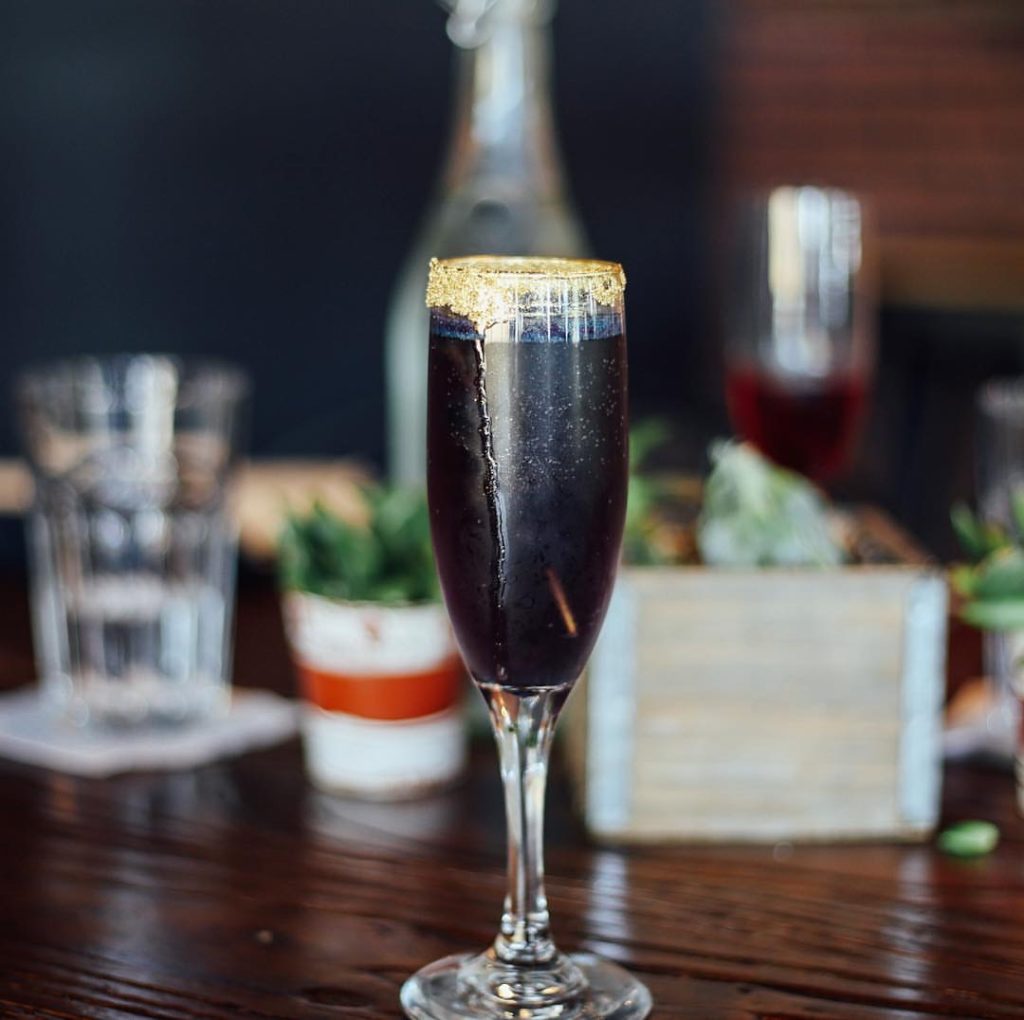 Orlando City fans will want to try the Lion's Pride champagne cocktail, a current special made with blueberries and blackberries and dusted with a gold sugar rim.
A loaded Bloody Mary adorned with Slim Jims, cornichon, pearl onion, celery, cheddar cheese, cherry tomato and a grilled cheese wedge is also available, although it isn't included in the bottomless deal.
FOOD
Expect to find croissant sandwiches, inventive tartines and over-the-top sweet dishes on the menu. The out of the ordinary options are refreshingly unique compared to the typical brunch fare.
While I found it hard to choose between the Croissant Burger and The Hangover tartine, I eventually went with the latter and wasn't disappointed. A tartine is an open-faced sandwich; the toppings are piled high atop a piece of bread and eaten with a fork and knife.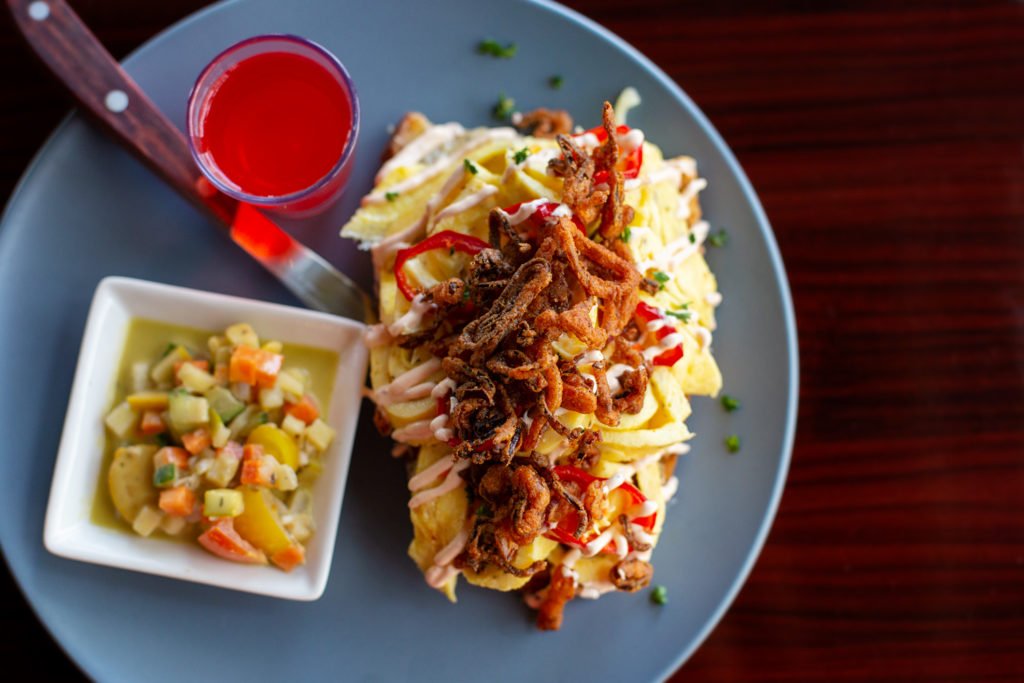 The Hangover is loaded with country sausage gravy, a French cheddar omelet, pickled Fresno peppers (watch out, they're spicy!), roasted potatoes, bacon, shallots and crème fraiche. And, on the side, a shot of red Gatorade because, electrolytes! Kudos for the excellent presentation and taste. Use this dish as a cure for your ailments from the night before, or as a precautionary measure alongside those endless champagne cocktails.
Others in my group were kind enough to share a few bites of their choices, including the no-fail Omelet Croissant (customize it with your choice of two omelet ingredients), Croque Madame tartine (a French classic) and the Croissant Burger.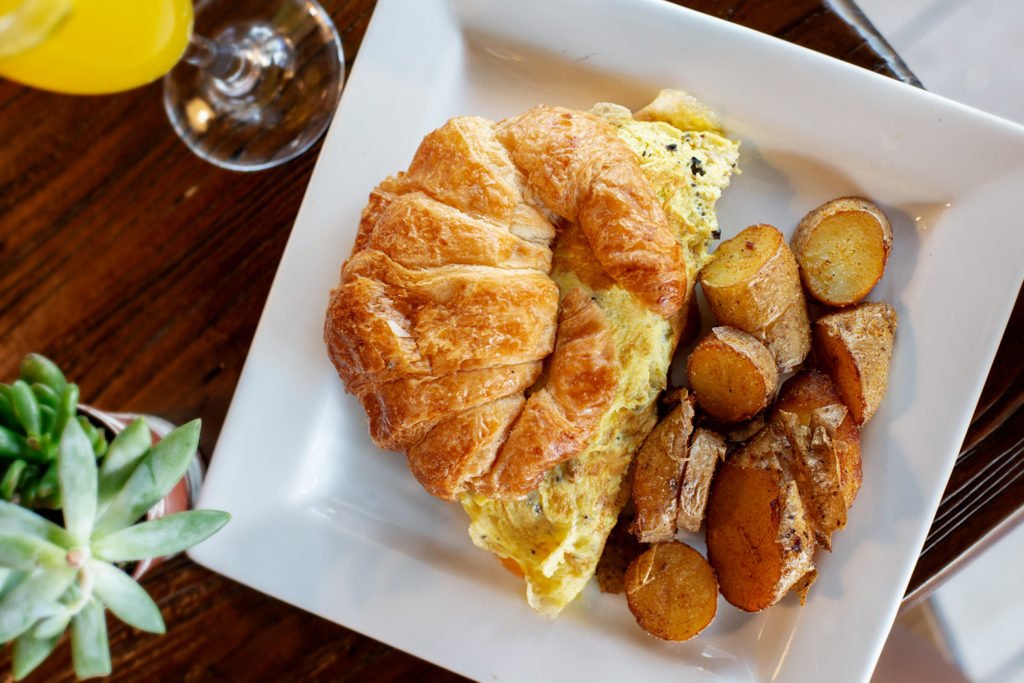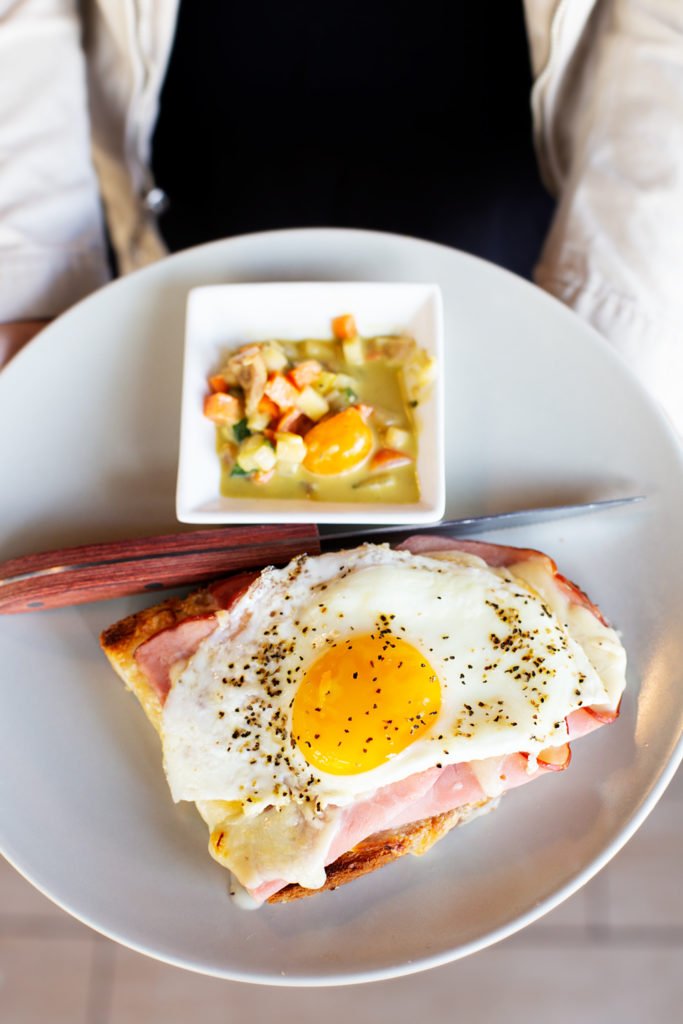 The burger is a sight to behold, topped with caramelized onions, cheddar, a sunny side up egg, green tomato jam and apple-wood smoked bacon. You'll gobble up every last bit of the accompany fries served with an out-of-this-world gravy for dipping. You might never want ketchup on fries again.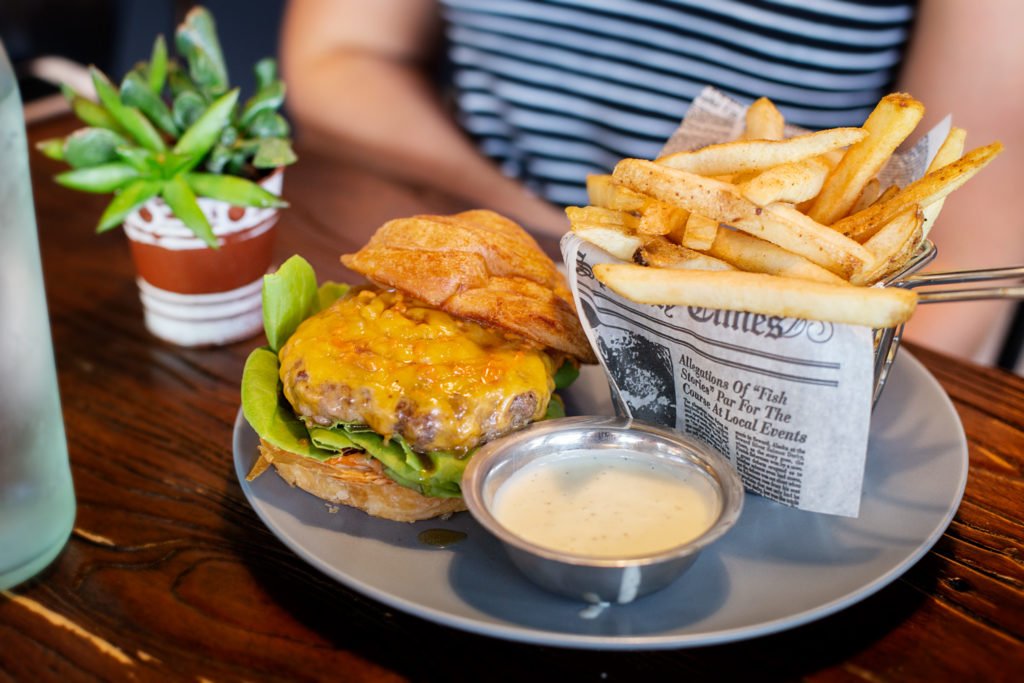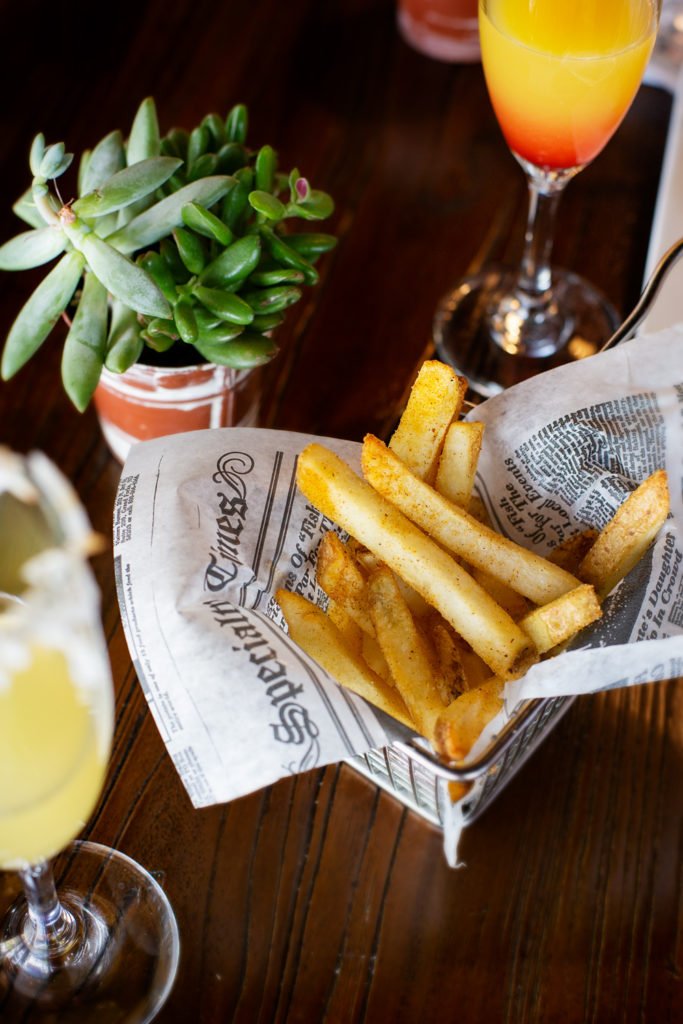 Tartine makes their own bread, so you can't go wrong ordering something that incorporates one of their heavenly baked goods.
Although it will be hard, resist the temptation to press your face against the glass of Tartine's pastry display. Your server will be happy to tempt you by bringing over a full-blown pastry board to assist you in making your decision up close.
I decided to split a chocolate croissant with one of my brunch mates. The buttery, flaky, chocolate-filled bites were delightful, although we both agreed there wasn't quite enough chocolate inside.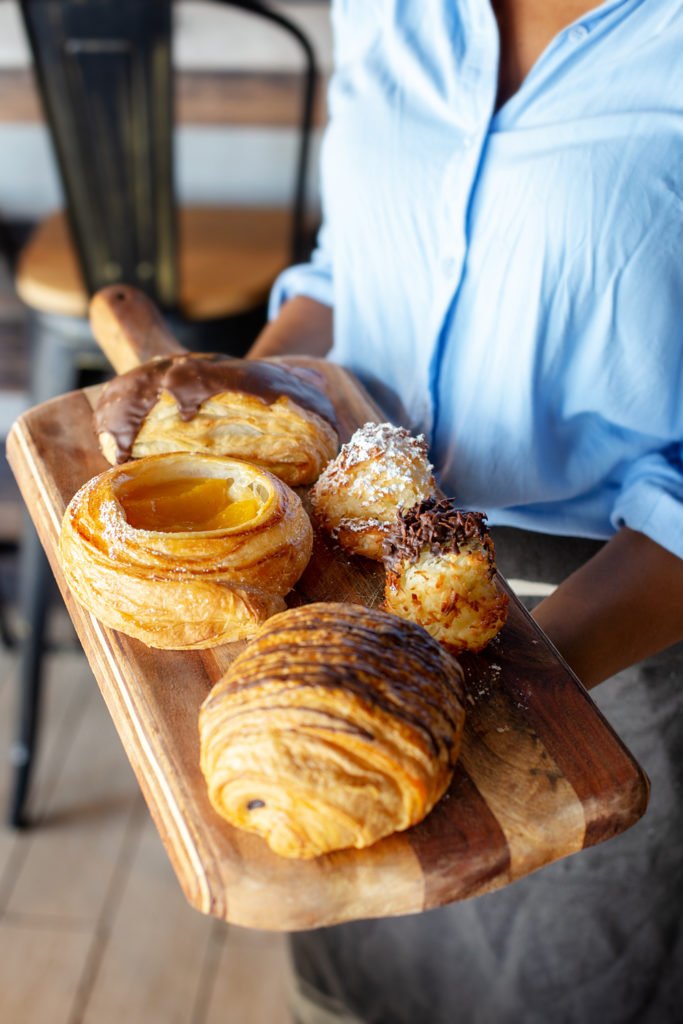 DETAILS
Brunch is served every Saturday and Sunday from 10am-3pm.
To make a reservation, call the restaurant at 407-845-0016.
Tartine
2445 Edgewater Dr
Orlando, FL 32804
tartineorlando.com
For more brunch ideas, read our guide to the Best Restaurants for Brunch in Orlando and check out the rest of our Brunch Buzz series.
All images by Stephanie Patterson unless otherwise noted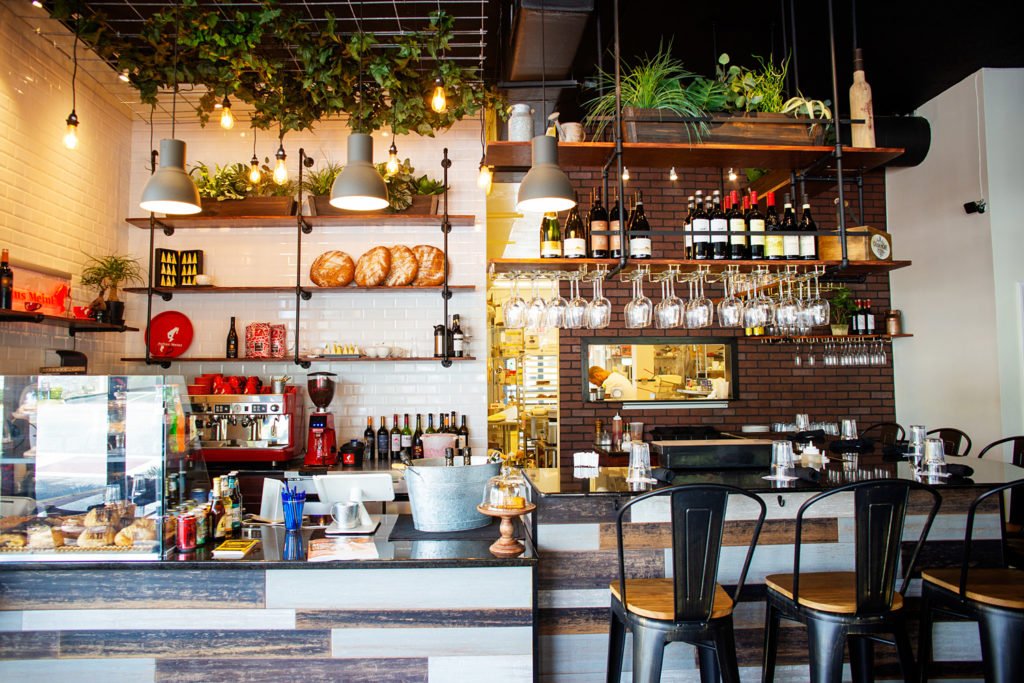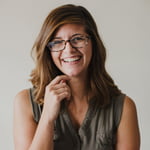 About the Author/Photographer:
Stephanie Patterson is the managing editor of Orlando Date Night Guide. She's a talented professional food and travel photographer and writer with a passion for creativity, the beach and great eats. When she's not taking photos or writing, you can find her exploring the state for her Florida travel blog, Travel Taste Click. Find her online at www.spattersonphotography.com and www.traveltasteclick.com.