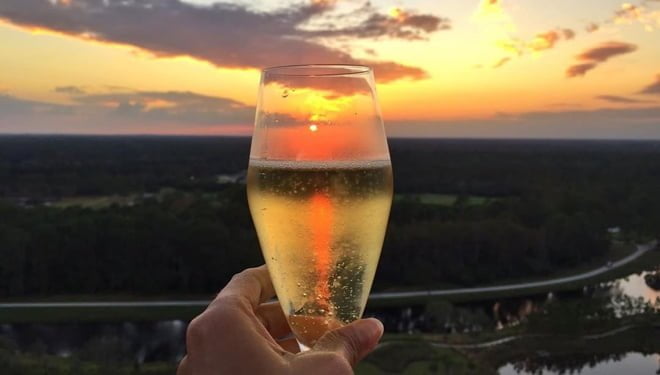 Disney World is more than a family destination. With the revitalization of Disney Springs into a hub for foodies and a new focus on adult-friendly options like late-night entertainment, Disney is also transforming into a date night hotspot.
Perhaps the most classic date for any couple is the romantic wine and dine combination. What better way to impress that special someone than with a delicious meal paired perfectly with a nice bottle of wine? Disney has plenty options for you and your date to enjoy, regardless of your tastes and your budget. There are so many to choose from, but here are five favorites.
For Getting Your Seafood Fix
Paddlefish
Disney Springs
1670 Buena Vista Dr., Lake Buena Vista
This hip seafood spot has something for everyone, whether you're looking for classic New England fare like Maine lobster and clam chowder, southern specialties like shrimp & grits and blackened catfish, or even San Francisco style cioppino. There is even a special sunset rooftop menu allowing you and your date to wine and dine outside at dusk. Live music begins at 9pm every Friday and Saturday.
Oysters and sparkling wine are a classic aphrodisiac combo, so start with a glass (or bottle!) of Cava, Prosecco, or Champagne, depending on your budget. Plenty of other raw bar options are available if oysters aren't your thing.
Other great white wine pairing options for seafood include a zesty and refreshing Sauvignon Blanc; a crisp Spanish Albariño; mineral-rich rosé, or for richer seafood dishes, creamy Chardonnay. If you prefer red wine with your seafood, there are plenty of excellent choices.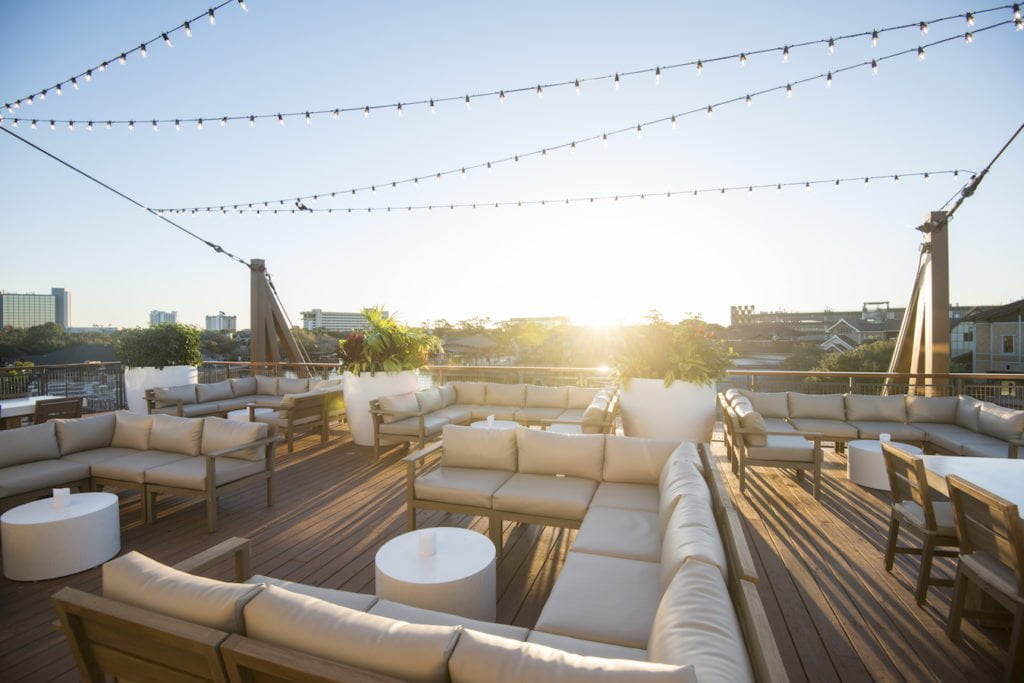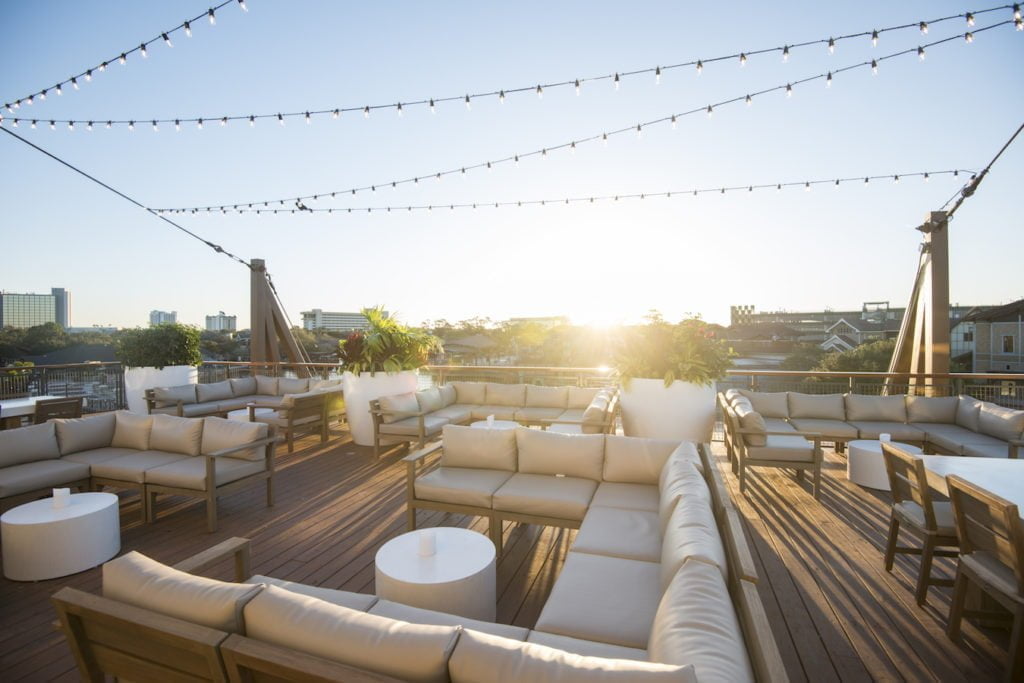 For Celebrating American Food & Wine Tradition
California Grill
Disney's Contemporary Resort
4660 World Dr., Orlando
California Grill is consistently ranked as one of the best dining destinations at Disney by Travel + Leisure, TripAdvisor, Eater and more. Here you'll find modern, seasonal American cuisine with global influences meant to reflect the melting pot of American culture and society.
On the menu, expect Italian-inspired wood-fired pizzas, charcuterie with French accents, a unique assortment of sushi, and entrees that highlight the best ingredients that America has to offer. Finish your meal with an assortment of desserts that are just as creative and internationally inspired as the dinner menu. Farm fresh cheeses also make an appearance if you're craving something savory.
The wine list is a celebration of American winemaking, as seen with the large selection of wines from California and Washington – the two largest wine producing states in the U.S. On the list, you and your date will find well-known labels such as Cakebread, Caymus, Chateau Montelena, Duckhorn, Harlan, Hundred Acre, Opus One, Orin Swift, Screaming Eagle, Seghesio Family, Silver Oak, Tablas Creek and so many more.
If you want to venture outside of America for your wine drinking pleasure, there are just as many quality options from all of the top producing wine regions of the world. You can even indulge in the restaurant's priciest bottle – a Petrus Pomerol from France. Just bear in mind that the Judgement of Paris in 1976 proved that in a blind tasting competition, California wines actually outperformed their French counterparts!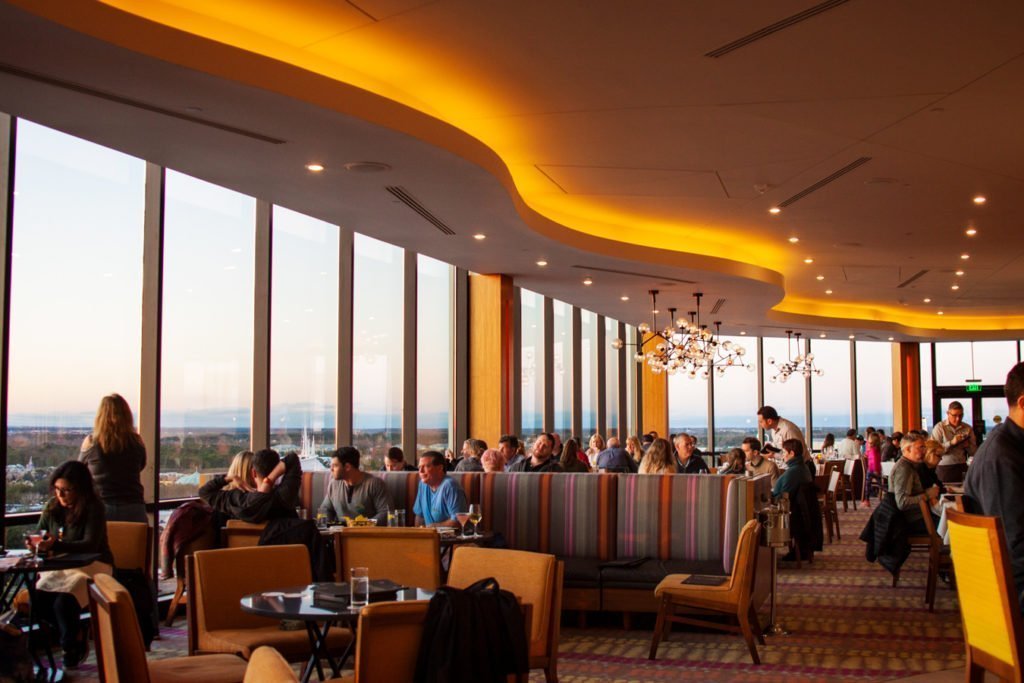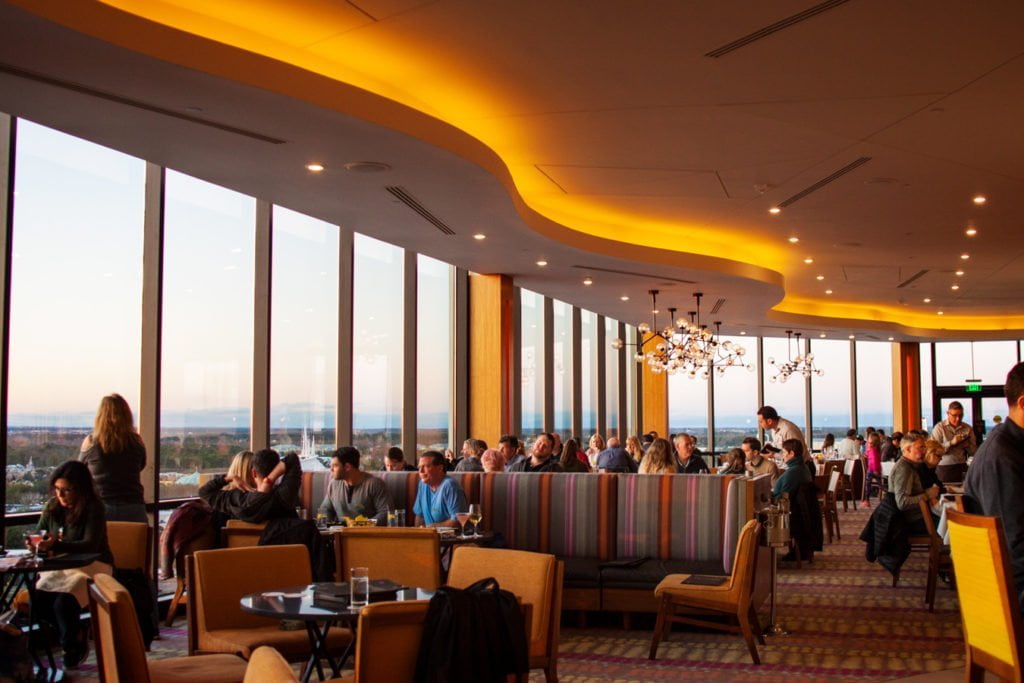 For Trying Something New
Jiko – The Cooking Place
Disney's Animal Kingdom Lodge
2901 Osceola Pkwy, Orlando
For a romantic date that is still a bit on the wild side, head over to Jiko for exotic African dishes served in a warm and tribal atmosphere. The floor to ceiling windows provide a view of the resort's savannah, while the open concept and large wood-burning stoves offer a glimpse into the kitchen.
Start your meal with something familiar to acclimate yourself, such as the cheese selection or charcuterie board (always perfect for pairing with wine). Otherwise, dive right into the bold flavors with dumplings, wild boar tenderloin or the Taste of Africa. For entrees, try Moroccan tagine, seafood curry, richly spiced steaks and chicken, or exotic meats such as elk. Complete the meal with the Malva Pudding, Kilimanjaro for chocolate lovers, or the Safari Sunset for a unique take on the traditional carrot cake.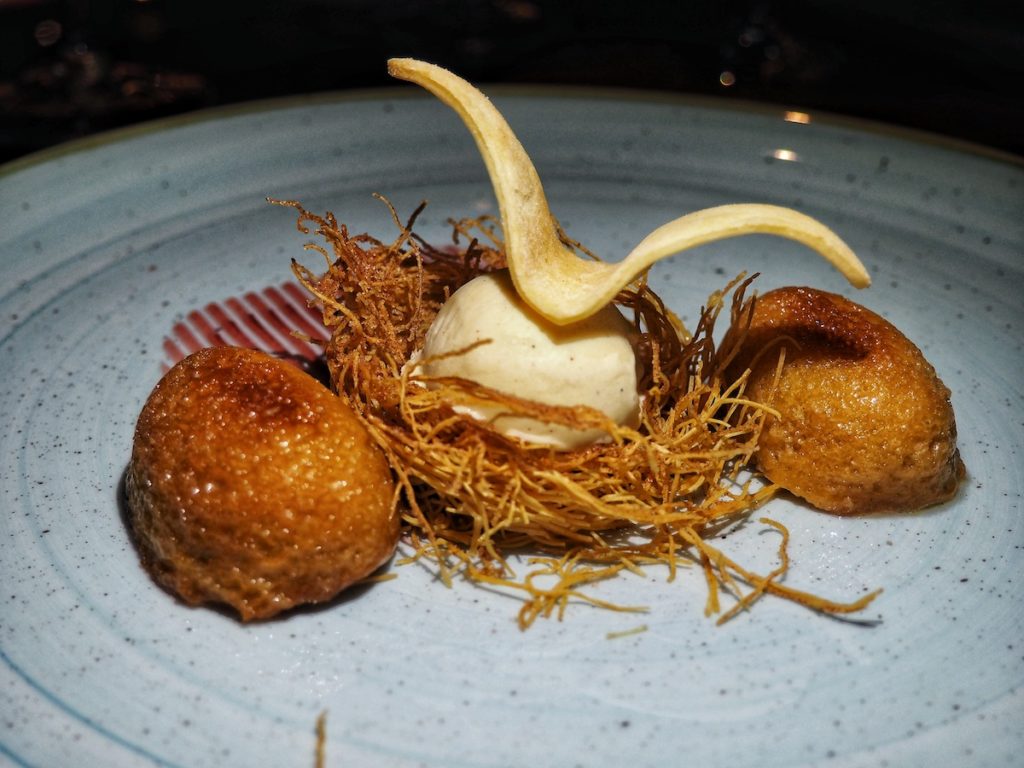 The wine list at Jiko is entirely South African – a wine region that is rich in history and tradition, yet often underappreciated. There are plenty of traditional wine offerings, such as Chardonnay, Pinot Noir, and Cabernet Sauvignon. I suggest really immersing yourself in the Jiko experience by ordering a wine that is classically South African such as Chenin Blanc or Pinotage. Great South African producers include Graham Beck, Kanonkop, Mulderbosch, Raats, and Warwick. To learn more about South African wines and really impress your date, check out this guide to savoring the wines of South Africa.
Every Wednesday Jiko offers a special wine tasting and pairing event, so if this is more your style for date night, be sure to book a reservation at (407) WDW-DINE.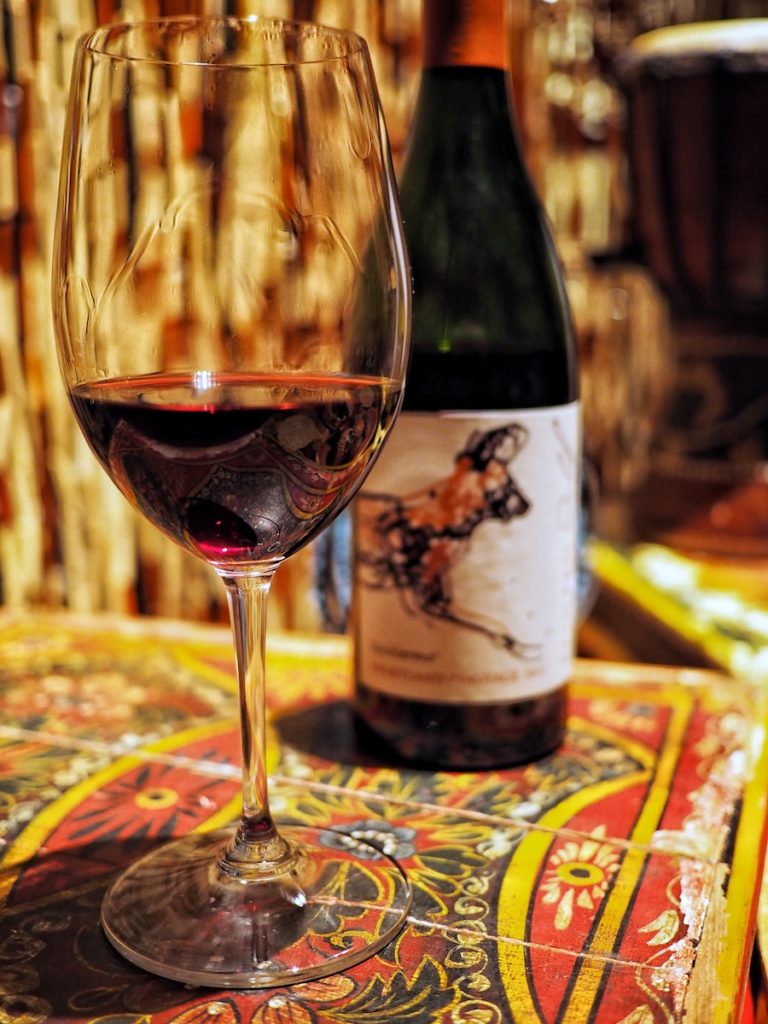 For Dinner With a View
Capa
Four Seasons Resort Orlando
10100 Dream Tree Blvd., Lake Buena Vista
Plan ahead for this date night by making a reservation to watch the nightly fireworks from a table on Capa's rooftop patio. The view is the perfect backdrop for a romantic meal paired with one of the most indulgent wine lists in all of Orlando. Wine Enthusiast consistently ranks Capa's wine list as one of the best wine lists in the country.
At this Spanish steakhouse and tapas restaurant, begin your meal with an assortment from the raw bar (including caviar) and then slowly make your way through the menu. There are Spanish cured meats and cheeses, traditional tapas such as patatas bravas and croquetas, and indulgent small plates including octopus, wagyu beef, and foie gras. For your main dish, an assortment of steaks, lamb, pork, and lobster are cooked on the grill along with entrees of seasonal fish, duck or chicken breast and a vegetarian paella option.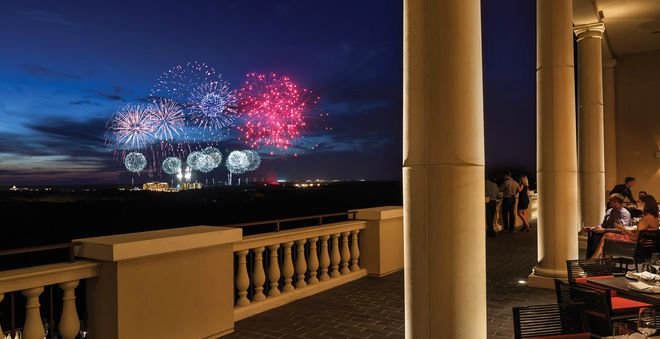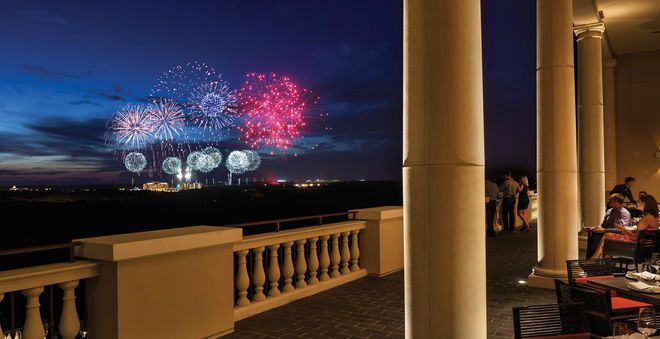 The best part of dining at Capa, however, is the exceptional wine list. By the glass, you can order some of the most sought after Champagnes that are usually only sold by the bottle: Dom Pérignon, Dom Pérignon P2, and Krug. There is an emphasis on Spanish and Latin American styles (Albariño, Godello, Malbec, Tempranillo, Verdejo) for the diverse wines available by the glass.
If you are seeking to purchase by the bottle or half-bottle, you will not be disappointed in the selection. A wide variety of sparkling wine options from France, California, Italy, and Spain share the spotlight. The white wine selection is predominantly New and Old World Chardonnay and Sauvignon Blanc, with other popular varietals from Italy and Spain. The red wines include plenty of Cabernets, Pinots, Merlots and red blends from the U.S. and France. There are numerous Argentinian Malbecs, along with plenty of Italian and Spanish offerings. There is something for every wine drinker on this list, and you will not be disappointed in the selection as you sip along with your honey amidst the wonder of Disney's fireworks.
For Exploring as Many Wines as Possible
Wine Bar George
Disney Springs
1610 East Buena Vista Dr., Lake Buena Vista
Wine Bar George, a wine bar created by Master Sommelier George Miliotes, is slated to open in the spring of 2018. Miliotes is no stranger to the Disney scene – he first worked with California Grill at Disney's Contemporary Resort before becoming the Beverage Director for The Capital Grille and Seasons 52.
Although the food and wine menus have yet to be finalized, couples can expect to find small plates with seasonal flavors, created entirely with the wine list in mind. There will be more than 100 different wine selections available by the glass and bottle. Well-known favorites will be featured alongside smaller up-and-coming labels, and less-explored wine regions will be showcased as well. Miliotes also hopes to offer educational classes and special events with winemakers.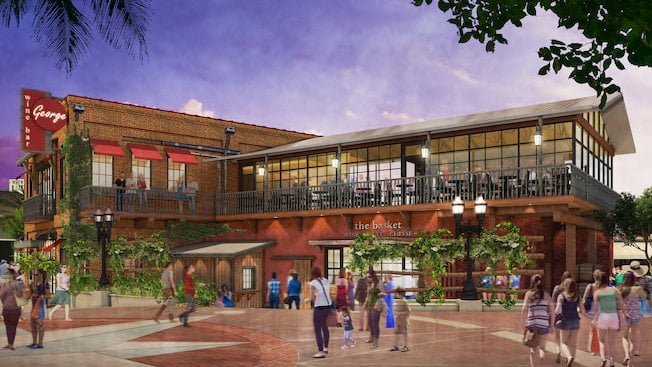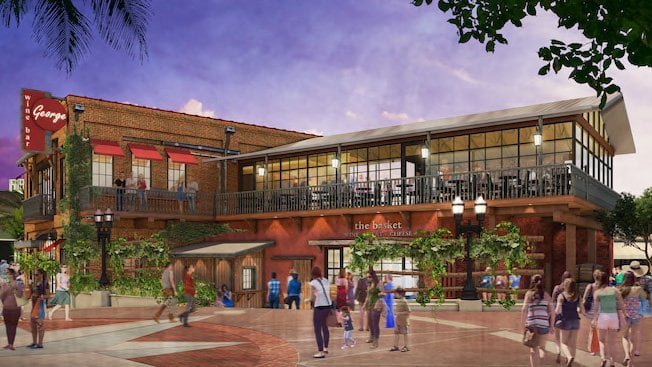 About the Author
Amanda Dabrowski is a wine enthusiast and blogger at The Glorious Grape – a website dedicated to exploring wine regions, learning about unique wine styles, and pairing food with wine in fun and new ways. Based in the Orlando area, Amanda loves trying new restaurants and finding the best spots in Central Florida for wine lovers.
Feature image credit: Christina Thomas, Go Epicurista