By Erica Thomas
There's something about biting into a soft, doughy cake with divine goodness drizzled, sprinkled, or spread on top. What makes donuts even better is that these tasty bites are acceptable to eat any time of day. Dive into these date outings geared toward donuts in Orlando!
Donuts and Beer
I know what you're thinking. Donuts and beer?! But just as you would pair wine with cheese or chocolate, you can pair beer with a sugar-coated cake confection. Since coffee and donuts go together like macaroni and cheese, try a coffee beer with its roasted, bitter notes to pair with your sweet snack. May we also suggest a pale ale to contradict chocolatey flavors with its citrusy notes? Cheers!
Nestled in the Mills 50 District, Ten10 Brewing Company believes in crafting beer from pure, clean ingredients with a brewing system that mimics those values. After a late night, enjoy a breakfast of champions with beer and donuts. Every Sunday morning starting at 11:30am, Ten10 Brewing offers freshly baked donuts from Bakery Plus, ideal for pairing with a Ten10 beer flight or pint.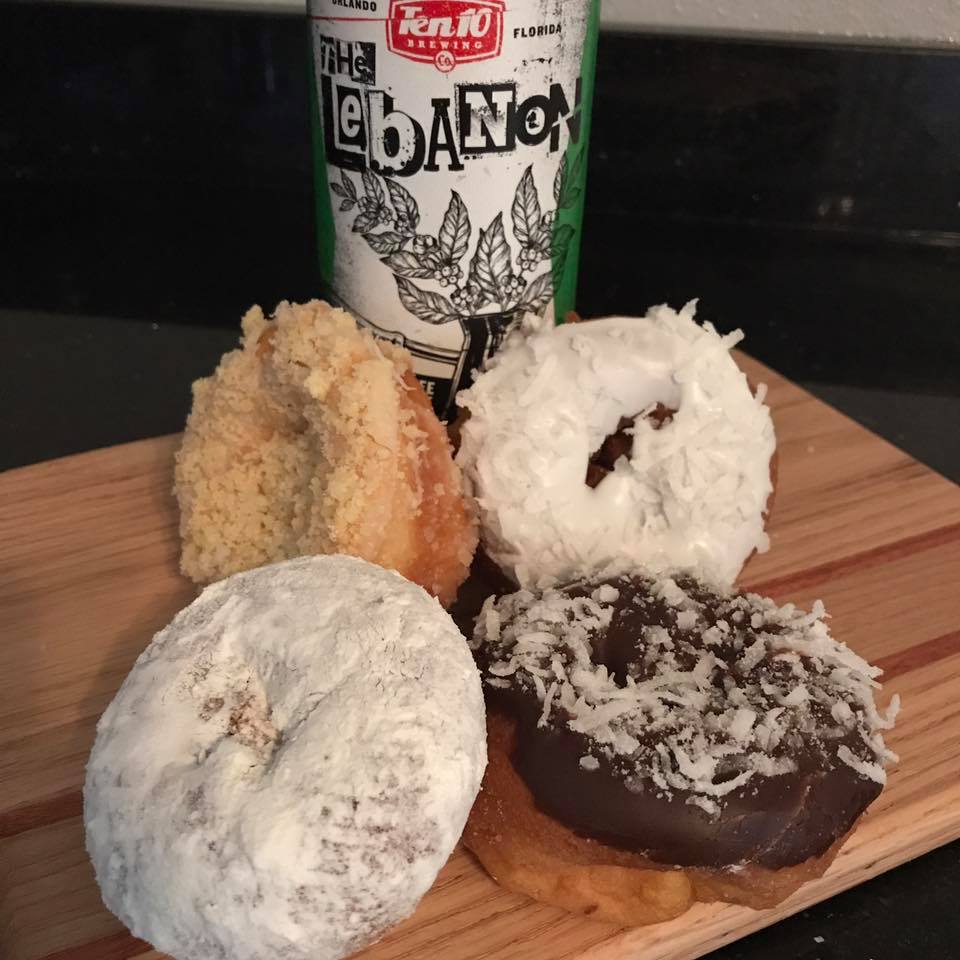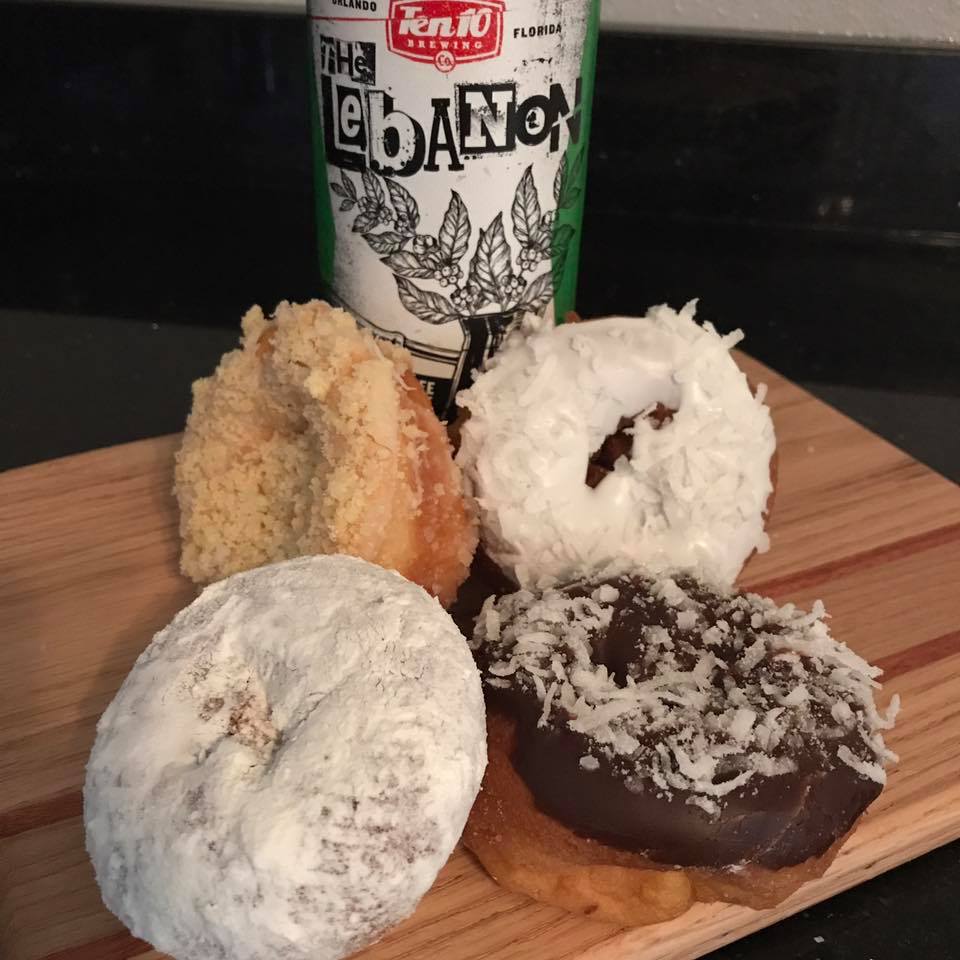 Food Truck Dates & Pop-Up Shops
Food trucks are all the rage and for good reason. You can sample different styles of foods in one stop and you and your sweetheart will never have to answer the dreaded question, "Where do you want to eat?" There's plenty of options all in one location! With their original and unique flavors, convenience, and fun atmosphere, food trucks are a date must. Check out these trucks specializing in donuts.
This cafe of delightful morsels on wheels offers up innovative concoctions that will melt in your mouth with each bite. Cinnamon roll, S'mores, Peanut Butter Cup, and Sriracha Peanut are just a few of the 13 flavors made fresh on the truck. You can also peruse their order form to design your own masterpiece. Be sure to check their Facebook page for details on where Little Blue Donut Co. will be popping up next.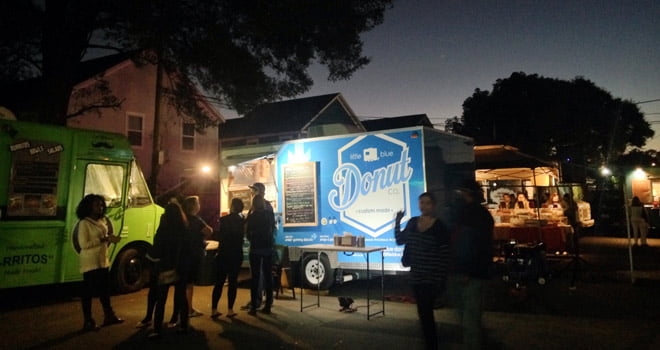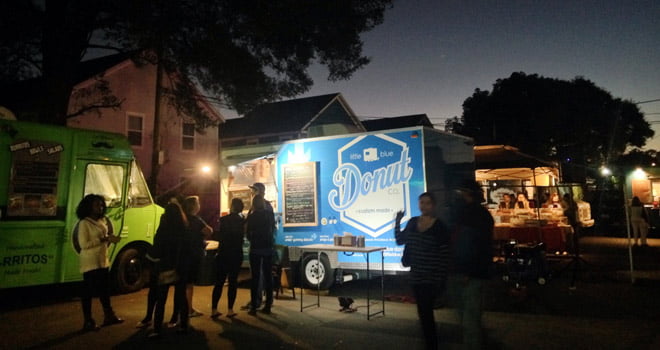 Get up early for a breakfast date to experience this delectable delight. Joy Donuts, or the little pink truck, is a food truck typically located on a vacant lot at U.S. Highway 441 and Wolf Branch Road in Mt. Dora. They are regularly open on weekends from 8am until they are sold out. Blueberry Cake and Frosted Crack are among their signature flavors and fan favorites. After grabbing donuts, make a day trip of it by exploring the charming streets of Mt. Dora. Joy Donuts is currently on summer vacation, but follow their Facebook page for updates on donut research and when they will be returning to the truck.
Tasteful delights by Orlandough can be found at the College Park Farmers Market and pop-ups around town. The owner, Liz, creates her goodies from brioche, old-fashioned, vegan, vegan old-fashioned, gluten-free old-fashioned, and vegan gluten-free doughs. There literally is a sweet treat for anyone and everyone! Since the location and flavors change frequently, follow Orlandough on Instagram or Facebook so you don't miss out. You can also place orders by email at info@orlandough.co.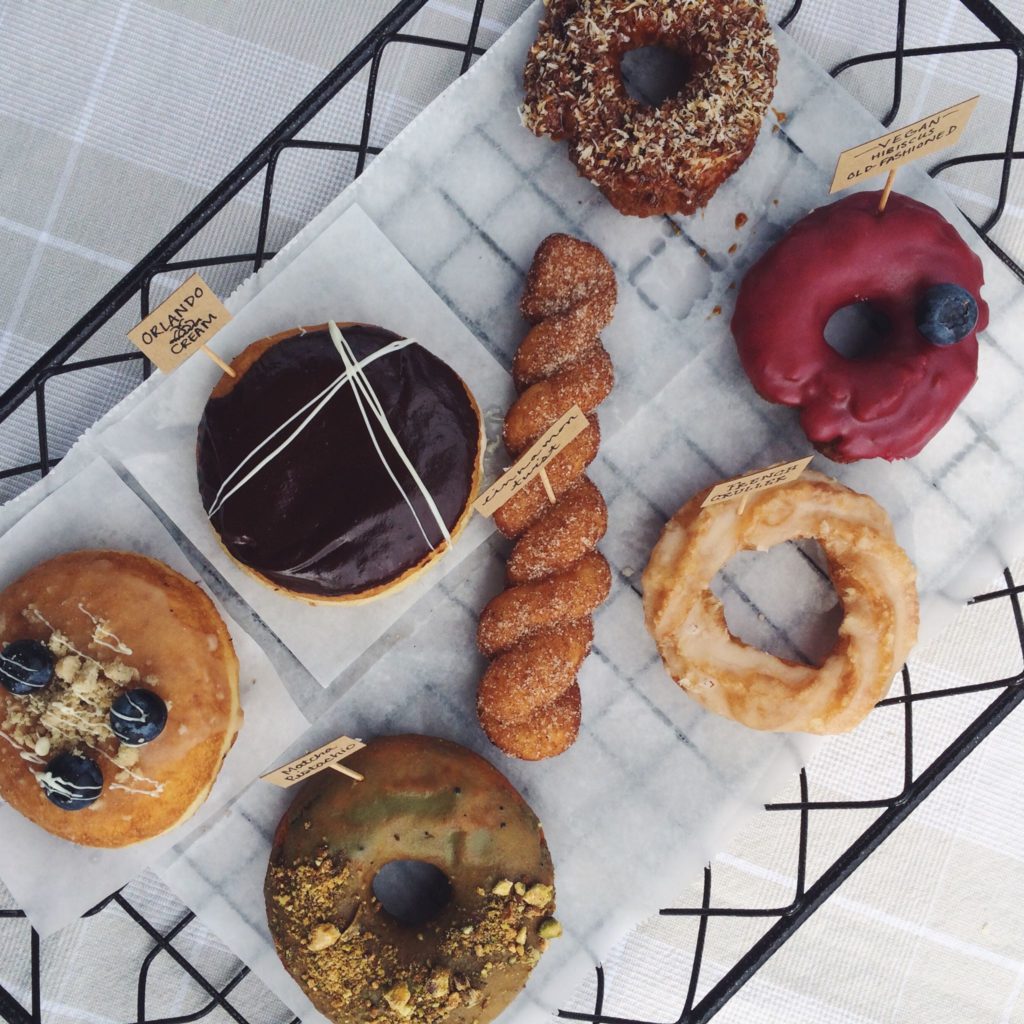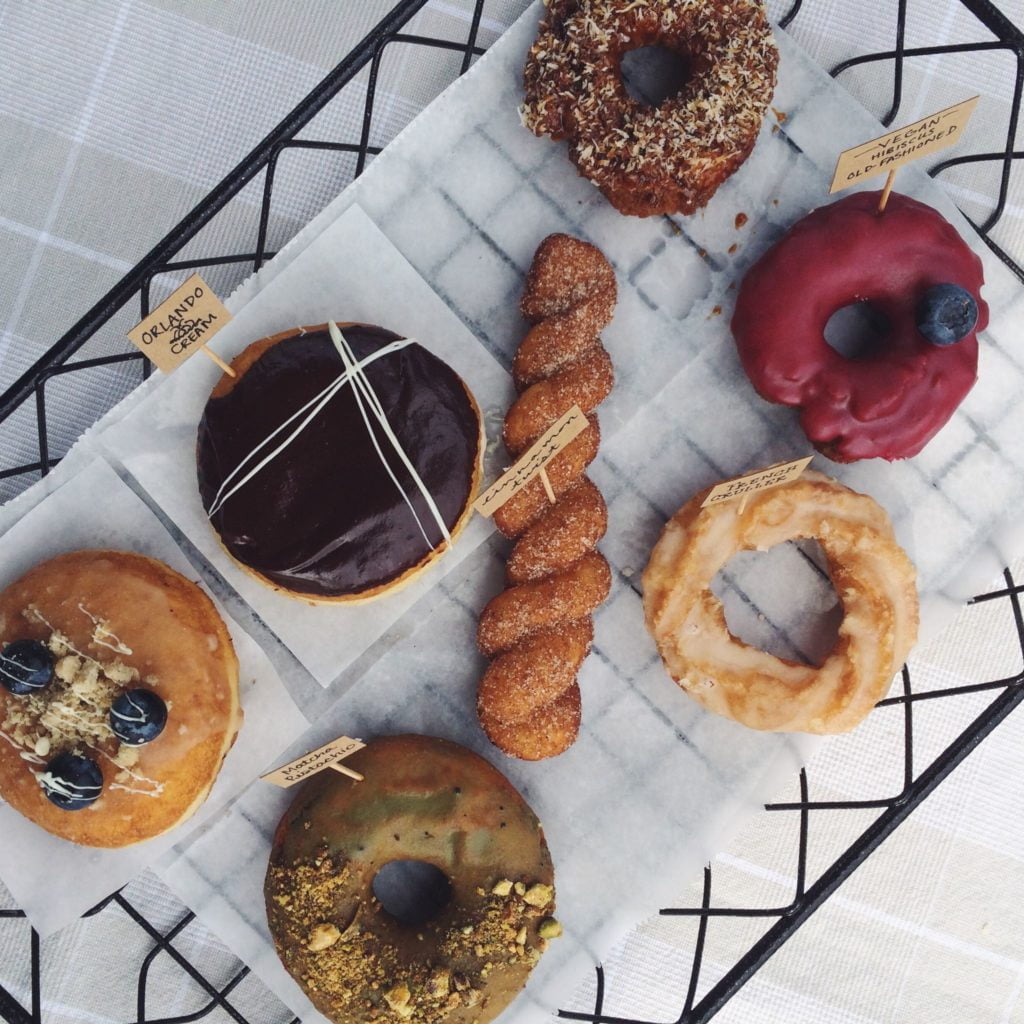 Donut Sandwiches
Smoke & Donuts offers a truly unique experience with their combination of barbecue, beer, and craft donuts. With creations like RCB (Red Cypress Brewery) Deathroll Glaze donuts and sandwiches with barbecue brisket stuffed between two donut halves, your taste buds are sure to explode from the smoky, sweet flavors. You can occasionally find this pop-up at Red Cypress Brewery's Food Truck Friday and Beer Me Saturday events, along with other regional events. Follow their Facebook page so you'll know where they will be rolling to next.
This 50s-themed ice cream shop in Davenport may be a bit of a drive, but it's worth it for a savory, over the top donut ice cream sandwich. The "Donut Bliss" treat consists of two giant scoops of ice cream (you pick the flavors) stuffed between two fresh donut halves. You can also add toppings like chocolate syrup, sprinkles, nuts and more to personalize your creation. Stop at this charming shop on your way to Tampa or the gulf beaches, or make a day trip of it by starting your day with a hot air balloon ride and finishing your visit on a sweet note.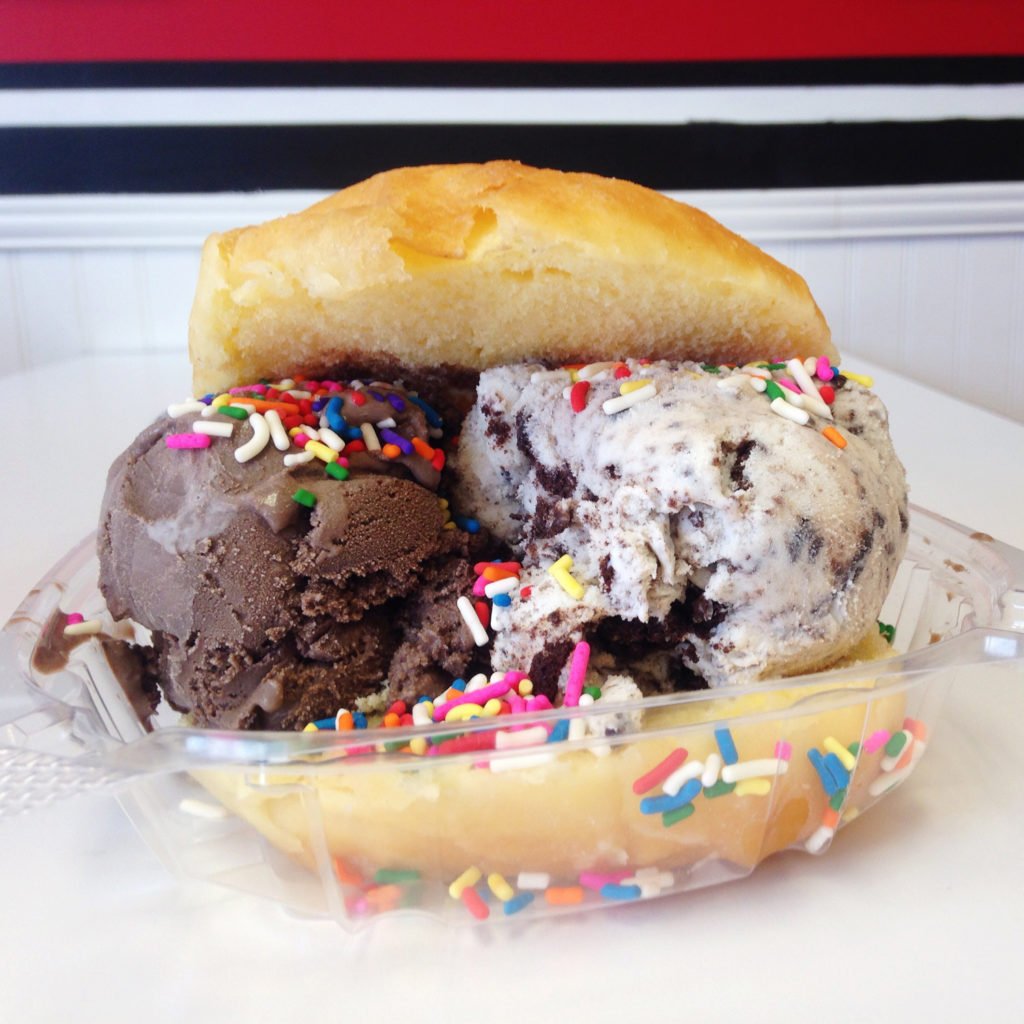 Brick-and-Mortar Bakeries
There's nothing quite like strolling into a bakery and inhaling the aroma of sweet treats wafting through the air. Sure, you could stop into Krispy Kreme or Dunkin Donuts but they will not have the originality of local shops. Plus, we all want to shop local, right? These businesses and the people who own them are what makes our city so stellar. Here are a few favorites to test out on your next date adventure.
In just a few short months since The Glass Knife opened in Winter Park it's quickly shot to the top of favorite date night spots. Offering oodles of goodies, including savory items (such as delicious salads, sandwiches, and egg dishes) plus cakes, pastries, cookies and more, the sleek space is also home to artisanal doughnuts. Check out the following flavors to enjoy with sparking wine, craft beer or amazing coffee:
Pistachio Orange
Peanut Butter Cup
Lemon Meringue
Glazed
Crème Brulee
Sprinkle
Apple Fritter
Strawberry Chocolate
DG Doughnuts is a small family-owned bakery in Oakland with a passion for making good donuts. They are open from 7am – 2pm, or until they sell out, so you will want to stop in first thing to snag your gourmet goody. Or better yet, enjoy a morning cuddled next to your sweetie as you await goodies arriving at your door thanks to DG's delivery service. Yes, they deliver! Check out their Facebook page for their current flavors as they change weekly.
The mastermind and owner of Valhalla Bakery, Celine Duvoisin, opened Valkyrie Doughnuts earlier this year. All products are free of dairy and egg but loaded with sweetness. Glorious Glazed, Fruity Pebbz, and Berry Good Time are a few of the flavors you can expect to encounter on your visit. Follow along on Instagram for the various donuts offered each day. If you yearn for over the top treats, check out the donut ice cream sandwiches (soft-serve gelato topped with mini donuts or gluten-free brownies). Valkyrie is open late so you can end your dinner date on a sweet note!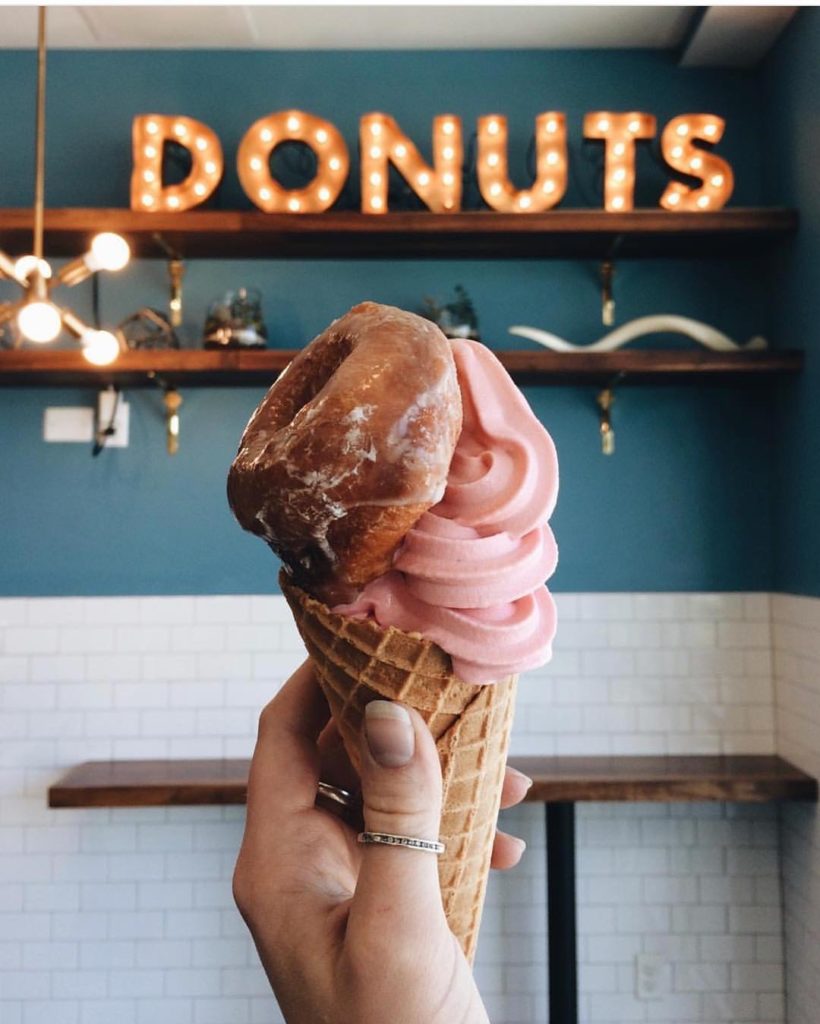 This hole-in-the-wall is a hometown bakery that has been around for years. You can anticipate finding diverse flavors such as Nutella, Chocolate Coconut, or Oreo Cookie and since these tasty bites are inexpensive, you can nosh on an array of donuts. Bakery Plus closes before dinner so grab your goods beforehand and enjoy them later.
Step into the newly opened Duck Donuts in Kissimmee to try one of the featured donuts or to create your own. The canvas begins with a signature vanilla cake donut made as soon as it's ordered. You, as the artist, then choose the coating, a topping, and a drizzle. If you're feeling adventurous, make sure you check out their breakfast sandwiches. A warm donut is cut in half then filled with sausage, egg, and cheese or bacon, egg, and cheese. Add a glaze or more bacon on top and voila! You'll have a perfect marriage of sweet and salty made your way. What a creative and fun way to spend your next date outing!
More options:
Donut King
Sip n' Dip Donuts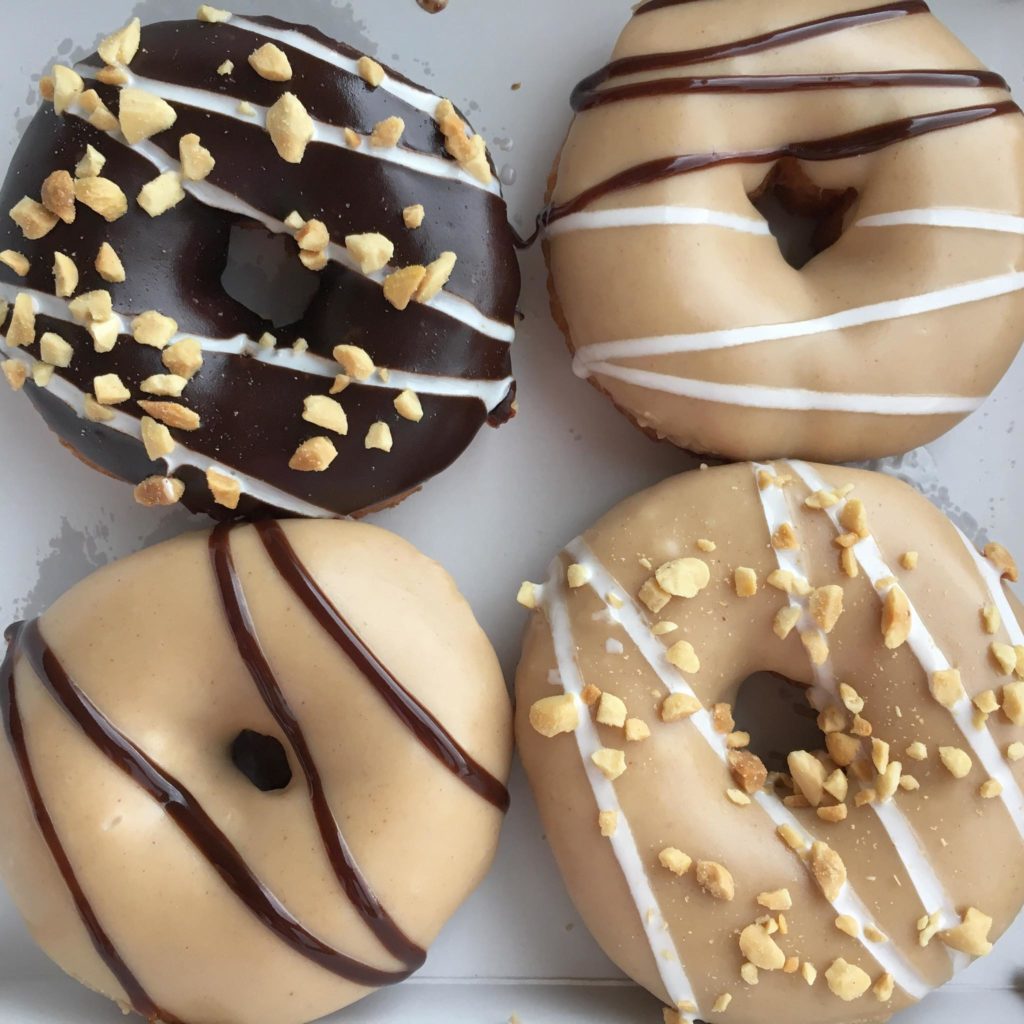 Theme Park Delights
It's a must to enjoy sweet treats when visiting the local fair; a day at the theme parks is no different! Check out these donut options that will not disappoint.
You won't have to travel far to arrive in Springfield at Universal Studios where you will find Lard Lad Donuts and the symbolic pink sprinkled donut. Donut lovers shouldn't just settle for the pink donut, though. Dive into a pink sprinkled donut cut in half with soft serve ice cream in the middle and a topping of your choice. The Brain Freezin' D'oh-Nut Sundae is sure to give you a sugar boost that will last the entire day!
Sprinkled throughout the Disney theme parks are Joffrey's Coffee and Tea Company kiosks. These stands are tucked among the buildings dressed to match their surrounding area but are typically labeled, "Coffee, Espresso & Pastries." You can expect to find donuts at these kiosks as well. While they look rather simple with sprinkles atop white, chocolate, or vanilla icing, their taste packs a punch. Expect to bite into a soft donut with icing dripped around the sides. Mmmmm! The perfect pick-me-up for the donut lover.