Spending quality time with the hubster and handing over cooking duties for a night are two of my favorite things when it comes to date night. But geez, it's super easy to rack up a $100 bill at some of our favorite restaurants. On nights when we're watching the wallet but we don't want to sacrifice quality and value, we head to one of our favorite inexpensive Orlando restaurants, where chefs consistently deliver a top-notch meal minus the hefty price tag.
Our Top Picks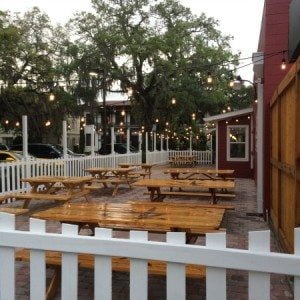 The Coop
610 W Morse Blvd, Winter Park
John Rivers ditches the smoker for his new restaurant concept focused on southern-style cuisine with chicken in the starring role. The dining room feels like a cozy country kitchen and food is served at the counter. Be sure to save room for dessert; the hand-held pies are superb. Entrees with 2 fixins' start at $8.99.
Marlow's Tavern
Winter Park & International Drive
A pub-type vibe with a menu of elevated casual favorites, Marlow's raises the bar of inexpensive dining with a totally made-from-scratch kitchen and fun offering of craft cocktails. The restaurant recently unveiled new winter/fall menu items, including the unbelievably delicious Crispy Chicken Stack ($15), which is set atop a mixture of sugar snap peas, baby organic shiitake mushroom, grape tomato, orzo and fresh herbs. Entrees, tavern burgers and sandwiches from $9.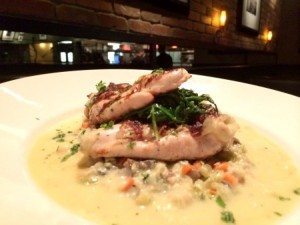 Ravalia's
3579 Lake Emma Rd, Lake Mary
Owned and run by two brothers from Italy, this bistro-style restaurant in Lake Mary is renowned for its homemade pasta, spectacular pizzas and huge wine pours. Everyone feels like family at this super friendly eatery and local gem. Entrees and pizzas from $11.90.
Food Trucks
A series of monthly and weekly food truck events happening all over the Orlando area make it easy to have a meals-on-wheels date night. Favorites include Tasty Tuesday in the Milk District and Casselberry's monthly Art & Music in the Park event, as well as monthly events in Windermere, Lake Mary, Sanford, Florida Mall and Kissimmee. Prices can fluctuate wildly, but you can expect to pay around $10 per entrée. http://www.thedailycity.com/p/orlando-food-trucks.html/p/orlando-food-trucks.html
Need more suggestions? Here are some favorites from a few of our local food and restaurant gurus:
Katie Farmand
Editor, Edible Orlando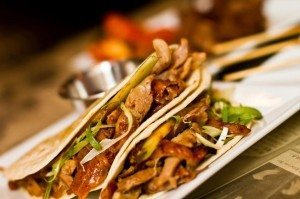 We love Hawkers for a tasty, fun and inexpensive meal. We love to taste a few different dishes—we have our favorites, but we always try something new, too. It's great for groups, too, if you're all into sharing!
Black Bean Deli never disappoints. You can get a full meal and drinks and come out well under $50. It's casual but cool, and the food is always delicious.
Everyone seems to have their favorite Vietnamese spot, but ours is Pho88. Their pho and banh mi are outstanding, but we like to venture out of our normal order when we're in the mood for something new. The staff is friendly, and it's very budget-friendly—even with beers, tax, and tip.
One of our favorite late-lunch spots is Prato. Dinner bills certainly add up to more than $50, but for lunch, we love to split a caesar salad and a pizza or a pasta dish and each have a glass of wine, and we're out the door—with a tip—for under $50.
Rona Gindin
Dining Editor, Orlando Life Magazine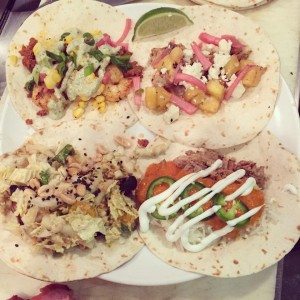 My new #1 choice is Pig Floyd's Urban Barbakoa. Amazing food, really creative and top quality. The service is polished, too, even though the place is "fast casual"—you order at a table then have the food delivered.
That little Trevi Pasta shop in College Park is good for a light, affordable lunch. And you can have a great dinner of tapas at Mi Tomatina, that great little Spanish place in Hannibal Square.
Ricky Ly
Author of The Food Lovers' Guide to Orlando and Founder of TastyChomps.com
For an inexpensive date night out, I'd definitely go with Pho Vinh on Primrose, where dining guests can get an appetizer, like Vietnamese fried spring rolls (cha gio) and a satisfying bowl of noodles from the Pho, Vietnamese beef noodle soup, or Bun Rieu, a Vietnamese spicy pork and crab noodle soup, all for less than $15 per person.
Another favorite is Sushi Tomi, where you can order fresh nigiri sushi by the piece or a whole futomaki roll, fried chicken karaage, a plate of Japanese beef curry rice, and traditional fried tempura ice cream dessert all for under $50.