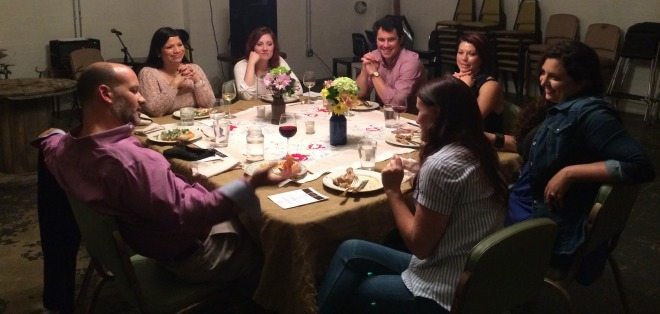 Dinner with seven, random strangers in a converted warehouse space turns out to be a fabulously fun night of unexpected delights.
If you ask me, I believe we are in the midst of a cultural revolution where our obsession with the digital world and connecting online has actually caused many of us to crave human, face-to-face connection more than ever.
You may not agree with me on this but the seven people I dined with last week at The Dinner Party Project were all about stepping outside of their worlds to make real, authentic connections with strangers and maybe even planting the seed of new friendships.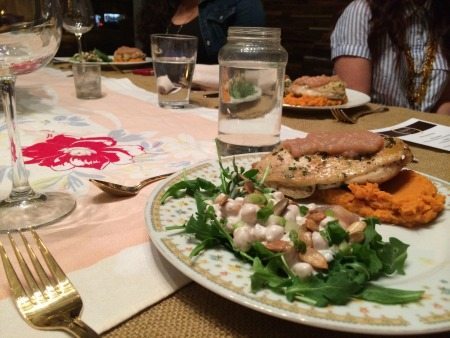 The brainchild of vintage clothing and swap & shop meet guru Dana Marie Roquemore, The Dinner Party Project was born from the sentiment that when random people meet, share a great meal and some fabulous wine, magic can happen.
That magic can be as simple as an eye-opening conversation that has you seeing something or someone in a new light. Or meeting someone that opens the door to a new job, a new hobby or a side of Orlando you never knew existed.
At our dinner last week, we met Michelina Wingerter, who works seasonally at Disney as a dancer but pursues her true passion for improv dance through solo shows as well as burlesque shows at The Venue and Stardust Lounge. She was so interesting and inspiring.
In fact, everyone we ate with that night—the lawyer, the wine rep, the executive assistant, the project manager—were all so interesting and inspiring in their own way. Everyone, when you stop to look and listen, has a great story to tell.
And Marc and I would have never met these people if not for The Dinner Party Project. It's so wonderfully and perfectly random.
Dana hosts The Dinner Party Project in a converted warehouse space directly behind Santiago's Bodega in the Ivanhoe Village district every other Tuesday or Wednesday evening. The four-course meal is cooked onsite, often by Farm Haus, a company that delivers delicious, made-from-scratch, locally sourced meals right to your doorstep. You can learn more about them here.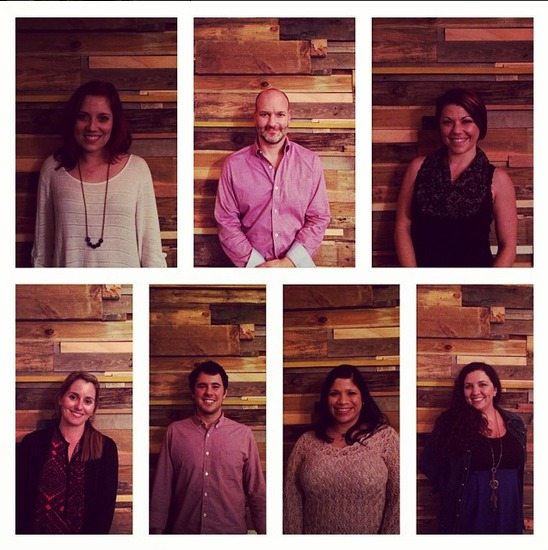 She also hosts these dinners in her College Park home every other Sunday when she does the cooking. I'm told she's a whiz in the kitchen.
Throughout the night, Dana, an expert host I must say, tosses in a few interesting conversation starters, such as: "if you could enact one law, what would it be?" These make for such fun dialogue.
The dinners, which cost a suggested donation of $30-$60 per person (you PayPal to Dana ahead of time), include four delicious courses paired with red and white wine. The event typically begins at 6:30pm and goes for about three (ish) hours.
A few days after the event, Dana sends out an email with everyone's contact info so you can stay in touch, if you like.
To get access to The Dinner Party Project, simply send an email to [email protected] and wait for your name to be chosen at random.
If you're hoping to attend as a couple—as I am sure many of my readers are—be sure to mention this in the email to Dana, who usually adds just one couple to the mix for each dinner. Oh, and when you go, don't sit together. It's so much more fun to sit apart and get to know new people for a few hours.
Dinner out at any number of fabulous Orlando area restaurants is great, but if you're looking for something different, maybe even something that could shake up your world a little bit, try The Dinner Party Project and head out with an open mind and a hungry palate. You won't be disappointed.
To learn  more, follow The Dinner Party Project on Instragram at http://instagram.com/_thedinnerpartyproject_