It's always a good time at Maxine's on Shine, the bohemian eatery clandestinely tucked into a quiet downtown neighborhood north of Thornton Park. Open for dinner Tuesday through Sunday as well as brunch and lunch on the weekends, this small, locally owned restaurant features live music most nights on the zebra-skinned stage on the edge of the whimsical dining room.
"It's supposed to feel like you're coming to a friend's house for dinner," says Maxine, who opened the restaurant with her husband a few years ago. You might catch her playing hostess or even grabbing the microphone to belt out a Beatles tune. That's the sort of thing that has made Maxine's such a favorite and has people returning again and again to fill up the restaurant's 15 tables.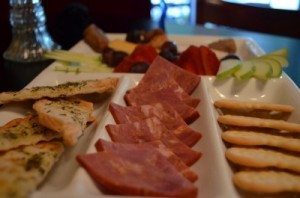 One of my favorite things on the menu is the Wine Lover's Board, which comes with a selection of cheese wedges, fruit, nuts, meat and breads. This and two glasses of wine from the well-chosen wine menu would make for a perfect date night experience.
But if you're hungry for more, there are lots of fantastic items to choose from including Lobster Ravioli, Chicken Maxine's, and several tempting weekly specials.
The Rejucination Brunch
On Sundays, Maxine's presents The Rejucination Brunch from 11am to 2pm, featuring omelets, breakfast sandwiches, and a fabulous selection of creative brunch cocktails. Nursing a hangover? Try the Warnin' In Da Mornin' cocktail, a spiced up Bloody Mary with a beer floater, bacon stir stick, and smoked shrimp and olive skewer.
Finds on Shine (now Suzette's One-of-a-Kind-Finds "Parisian Flea Market) 
On the last Saturday of every month from 11am to 5pm, Maxine's hosts Finds on Shine, an upscale Parisian flea market that fills the adjacent parking lot with all sorts of cool antiques, pottery, and artsy items.
Serendipity Supper Club
Taking place every Sunday night, Maxine's Serendipity Supper Club features three courses plus one wine or beer pairing for just $25 per person. The catch is that each course is a surprise. "We call is the Magical Mystery Meal Tour," Maxine says. The event also features an acoustic music showcase featuring three talented musical acts. Reservations suggested.